How to Start a Professional ACM-W Chapter
The professional chapters of ACM's Committee on Women in Computing (ACM-W) serve to increase recruitment and retention of women in computing fields at the university level. An ACM-W chapter offers professionals activities and projects that aim to improve the working and learning environments for women in computing.
Start an ACM-W Chapter in 4 easy steps.
* Entries made during the application process may be saved and completed at a later time by visiting the URL sent to the chapter email address.
Step 1: Enter chapter name, chapter email address, chapter type, and chapter sub-type.
Step 2: Enter the names of the individuals to serve as Chair, Vice Chair and Treasurer. These individuals must be ACM Professional Members
Step 3: Enter chapter contact information (postal address and phone number).
Step 4: Enter the names of at least ten (10) individuals willing to carry out the chapter's mission and participate in activities. A CSV file (comma-separated values) containing the last name, middle, first name, and email addresses of these members will be required through the automated charting application (Example: "Doe," "John," "johndoe@domain.com"). You may also enter each member name individually.
Once the completed application is submitted, ACM-W Professional Chapter's require additional approval by volunteers; this secondary approval process will take up to 2 weeks. You will be notified via email on the approval of your chapter.
Note:
FOR UNITED STATES CHAPTERS: The IRS requires chapters operating in the United States to have an Employer Identification Number (EIN). The EIN will serve as proof of a chapter's nonprofit status and allow ACM to include the chapter in our annual group filing with the IRS. ACM will request an EIN on your behalf which you will receive upon chartering.
Why I Belong to ACM
Hear from Bryan Cantrill, vice president of engineering at Joyent, Ben Fried chief information officer at Google, and Theo Schlossnagle, OmniTI founder on why they are members of ACM.
ACM is a volunteer-led and member-driven organization. Everything ACM accomplishes is through the efforts of people like you. A wide range of activities keep ACM moving, including organizing conferences, editing journals, reviewing papers and participating on boards and committees, to name just a few. Find out all the ways that you can volunteer with ACM.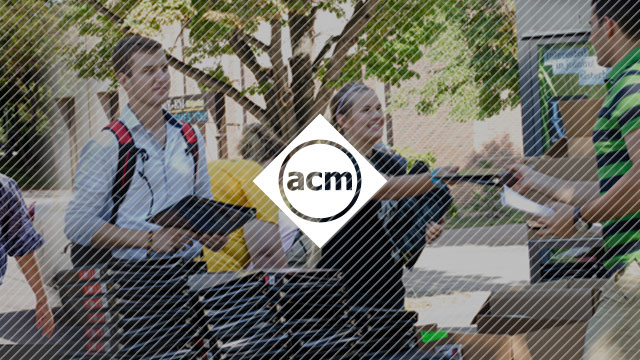 You can use your technical skills for social good and offer volunteer support on software development projects to organizations who could not otherwise afford it. SocialCoder connects volunteer programmers/software developers with registered charities and helps match them to suitable projects based on their skills, experience, and the causes they care about. Learn more about ACM's new partnership with SocialCoder, and how you can get involved.