About ACM's Public Policy Office
Global Policy, Government, and Public Affairs
ACM has a dynamically diverse and global reach. The ACM Public Policy Office coordinates the association's activities to inform and improve public policy. ACM seeks to educate policymakers, the computing community, and the public about policies that will that foster and accelerate innovations in computing, computing education, and related disciplines in ways that benefit society.
How ACM Engages in Public Policy
As the world's oldest and largest membership society for technology and computing professionals, ACM brings more than six decades of leadership experience within the computing community. ACM's diverse membership bridges interests across government, industries, academia, nonprofits, and consumer interests groups.
ACM provides independent, nonpartisan, and technology-neutral research and resources to policy leaders, stakeholders, and the public about public policy issues. ACM's contributions to public policy are drawn from the deep technical expertise of the computing community. Our policy members apply their expertise and experience to bring relevant scientific research, best practices, and foresight of technology advances to public policy issues. Through policy statements, issue briefs, white papers, and reports, ACM delivers knowledge-based analysis and educational materials to advance policy leaders' understanding.
ACM's Public Policy Entities
ACM's network of policy entities work to advance policy leaders' understanding of topical computing-related issues. The ACM entities that focus on policy issues include three global policy groups that enhance ACM's commitment to excellence and inclusion in computer science and computing-related education, workforce development, and research and development: the ACM Education Policy Committee, the ACM Council on Women in Computing (ACM-W), and the Coalition to Diversify Computing. A fourth entity, the ACM Committee on Computers and Public Policy (CCPP), similarly has an international reach and serves as an expert advisory group on computer-related risks.
ACM's geographically distributed policy entities in Europe and the United States help support informed public policies within local, national, and regional contexts. For policy issues requiring in-depth expert analysis, these entities work with specialists within ACM's Special Interest Groups and substantive committees. ACM's policy entities also coordinate their efforts across national, regional, and international policy arenas.
Advocacy Coalitions
ACM and its public policy committees participate in several education, science, and technology policy coalitions.
Connect with Us
Contact the ACM Public Policy Office
For more information, please contact:
Renee Dopplick
ACM Director of Public Policy
acmpo@acm.org
Stay informed of ACM's technology policy activities and the latest public policy developments. Learn how ACM promotes computing policy issues, educates policymakers, and shapes public policies in areas important to the computing community and society.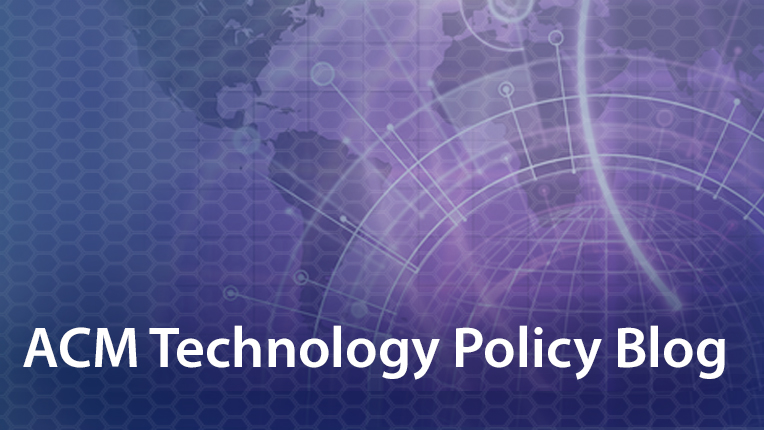 ACM is sponsoring a new three-year initiative by the National Academies of Sciences on data science postsecondary education. A series of roundtable discussions will bring together representatives from academia, industry, funding agencies, and professional societies to explore the transformative impacts of data, the needs of the diverse data science communities, the implications for employers, and ways to define and strengthen postsecondary education programs and opportunities for students.
2016 ACM AM Turing Award recipient Sir Tim Berners-Lee's seminal 1994 paper "The World-Wide Web," published in Communications of the ACM and co-authored with Robert Cailliau, Ari Luotonen, Henrik Frystyk Nielsen, and Arthur Secret, elegantly describes the simple structure that still serves as the foundation of the Web we use today. Read this work in the ACM Digital Library.