Developing Minority Computing Professionals for a Rapidly Growing Field
The Coalition to Diversify Computing (CDC) is an organization jointly sponsored by the ACM, Computer Research Society, and IEEE-Computer Society. Major progress in computing technologies over the last decade has been accompanied by vast improvements in computing middleware, hardware and networking. An unexpected consequence of these advancements has been a shortage of a highly trained workforce of scientists and engineers capable of understanding and implementing the resources.
CDC seeks to address the shortfall through the development of a diverse community of professionals that can effectively meet the computing demands of an evolving society. CDC projects target students and faculty with the expressed intent of increasing the number of minorities successfully transitioning into computing-based careers in academia, federal laboratories and industry. The membership of CDC is comprised of professionals from each of these sectors, enabling a variety of different perspectives and approaches to be used in achieving the society's goals.
Additional projects seek to increase the available pool of faculty members through partnerships and mentoring. Current emphasis is placed on the following three areas:
Recruitment of minority undergraduates to MS/PhD programs

Retention of minority graduate students enrolled in MS/PhD programs

Transition of minority MS/PhD graduates into academia, industry, and government careers
Why I Belong to ACM
Hear from Bryan Cantrill, vice president of engineering at Joyent, Ben Fried chief information officer at Google, and Theo Schlossnagle, OmniTI founder on why they are members of ACM.
ACM is a volunteer-led and member-driven organization. Everything ACM accomplishes is through the efforts of people like you. A wide range of activities keep ACM moving, including organizing conferences, editing journals, reviewing papers and participating on boards and committees, to name just a few. Find out all the ways that you can volunteer with ACM.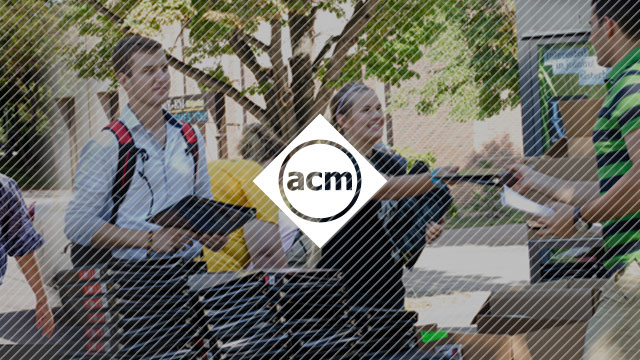 You can use your technical skills for social good and offer volunteer support on software development projects to organizations who could not otherwise afford it. SocialCoder connects volunteer programmers/software developers with registered charities and helps match them to suitable projects based on their skills, experience, and the causes they care about. Learn more about ACM's new partnership with SocialCoder, and how you can get involved.