EUACM Addresses Critical Policy Issues in Europe
The ACM Europe Policy Committee (EUACM) promotes dialogue and the exchange of ideas on technology and computing policy issues with the European Commission, member states' governmental bodies, and the informatics and computing communities. Chaired by Fabrizio Gagliardi of the Barcelona Supercomputing Centre, the Committee engages in policy issues related to the importance of technology in boosting jobs, economic growth, competition, investment, research and development, education, inclusive social development, and innovation.
The Committee promotes sound public policy and public understanding of a broad range of issues at the intersection of technology and policy. Its policy statements reflect the expertise of ACM Europe professional members from the public and private sectors experienced in informatics, computer science, and other computing-related subjects. Among its recent activities, the Committee is active in promoting the interests of the computing community in the implementation of the Investment Plan for Europe, which the European Parliament approved in June 2015, and the three policy pillars of the EU Digital Single Market initiative.
As the Internet is global, the Committee works with other ACM entities on publications, projects, and policies related to emergent cross-border issues, such as e-privacy, cybersecurity, cloud computing, big data, the Internet of Things, and Internet governance. Representing ACM's regional policy groups in Europe and the United States, Dr. Gagliardi testified last year on computing-related security and intellectual property issues that government negotiators should consider when finalizing the proposed Transatlantic Trade and Investment Partnership Agreement between the European Union and the United States.
EUACM Committee Members:
Fabrizio Gagliardi (Chair)
Michel Beaudouin-Lafon
Hervé Bourlard
Michel Yves Cosnard
Judith Gal-Ezer
Oliver Grau
Wendy Hall
Chris Hankin
Paola Inverardi
Joaquim Jorge
Gerhard Schimpf
Paul Spirakis
Alex Wolf
Robert Schnabel, ACM CEO and Executive Director, ex officio
Renee Dopplick, ACM Director of Public Policy, ex officio
Research Assistant: Maarja Meitern
Why I Belong to ACM
Hear from Bryan Cantrill, vice president of engineering at Joyent, Ben Fried chief information officer at Google, and Theo Schlossnagle, OmniTI founder on why they are members of ACM.
ACM is a volunteer-led and member-driven organization. Everything ACM accomplishes is through the efforts of people like you. A wide range of activities keep ACM moving, including organizing conferences, editing journals, reviewing papers and participating on boards and committees, to name just a few. Find out all the ways that you can volunteer with ACM.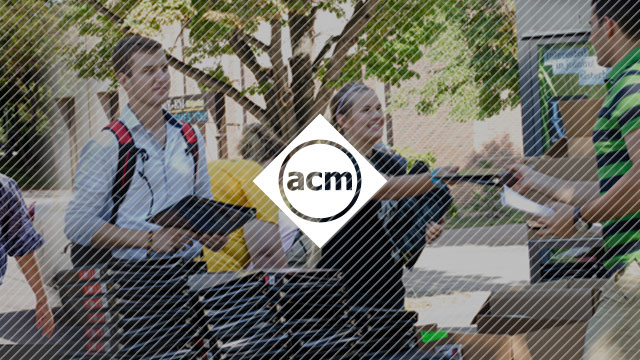 Publish Your Work
ACM's prestigious conferences and journals are seeking top-quality papers in all areas of computing and IT. It is now easier than ever to find the most appropriate venue for your research and publish with ACM.