About the ACM Digital Library
The ACM Digital Library is the premier source for computing literature. Over 430,000 articles. Over 3,500 conference proceedings. Content from 88 journals, magazines, and newsletters. All with a curated index containing over 2.3 million citations to the world's computing literature.
Our Complete Collection: The world's most renowned computer scientists, scholars, researchers and practitioners volunteer their time to help ACM provide the global computer science community with the highest quality resources from conferences and workshops, to magazines, newsletters, and many of the field's highest impact scholarly journals – all through a subscription to the ACM Digital Library.
Each year over 20,000 newly published articles from our journals, magazines, and newsletters, as well as over 500 annual conference volumes – representing nearly 20% of the world's scholarly computing literature – are added to the complete full-text archive of over 430,000 ACM articles dating back to 1951.
The Greatest Minds: ACM publishes research from the leading names in computing, much of which has proven crucial to developing technology in widespread use today – including key achievements from Vint Cerf, Shafi Goldwasser, Silvio Micali, Charles Thacker, Marvin Minsky, and other prominent researchers recognized by the A.M. Turing Award.
Covering the Breadth of Computing: ACM's 37 Special Interest Groups (SIGs) represent virtually every major area of computing, from Artificial Intelligence to the Web. Most SIGs publish regular newsletters designed for practitioners, in addition to sponsoring a number of conferences and workshops. The ACM Digital Library includes the complete archive of each SIG's publications, proceedings from relevant events, and supporting multimedia materials.
Key Facts about the ACM Digital Library: Every 2 seconds, a researcher, practitioner, educator or student downloads an article from the ACM Digital Library! Our users come from over 190 countries and rely heavily on the ACM Digital Library for their daily work.
Circulation
dl.acm.org
Website Quickstats (Jan - Dec 2015)
5,000,000 Users Worldwide Each Years
20,000,000 Fulltext Downloads Per Years
19,500,000 Unique Searchers in the ACM Digital Library
The ACM Advertising Media Kit contains all the informaiton that you'll need to reach the world's leading technologists.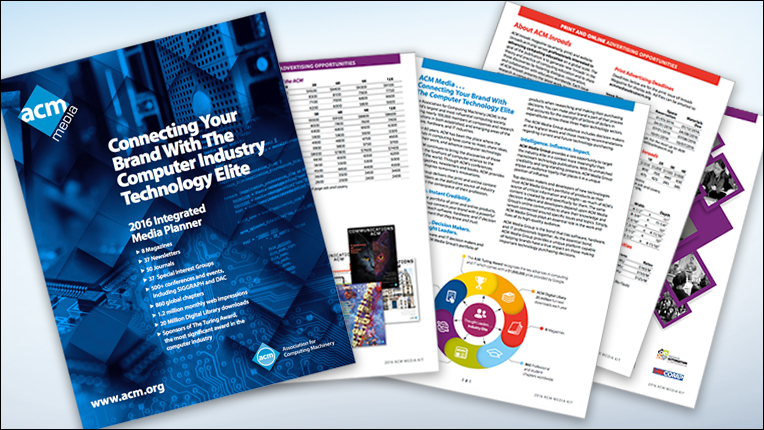 Display and Banner Advertising Contacts