Users of the ACM Digital Library are asked to abide by the ACM Author Rights and Publishing Policy, paying particular attention to the permissions statement.

You may make digital or hard copies of the individual articles that you are entitled to access for personal or classroom use, as long as the copies are not sold to the students and they bear the appropriate ACM copyright or license notice. You may assemble and distribute links that point to works in the ACM Digital Library.

Do not republish these ACM works, or post them on other servers, or redistribute them to lists, without first getting explicit permission from ACM. Contact [email protected]. Please do not abuse your access rights to the ACM Digital Library by wholesale duplication of all or substantial sections of the ACM Digital Library.

Do not use robots or intelligent agents: they degrade the performance of the system for everyone, and are not a proper use of the ACM Digital Library. ACM reserves the right to suspend, or even cancel your subscription, if systematic downloading is discovered. ACM also reserves the right to block access to the Digital Library for IP addresses from where such activities are found to be originating. For a full statement of institutional, librarian, and individual usage rights, see: Digital Library Usage Policies
ACM is a volunteer-led and member-driven organization. Everything ACM accomplishes is through the efforts of people like you. A wide range of activities keep ACM moving, including organizing conferences, editing journals, reviewing papers and participating on boards and committees, to name just a few. Find out all the ways that you can volunteer with ACM.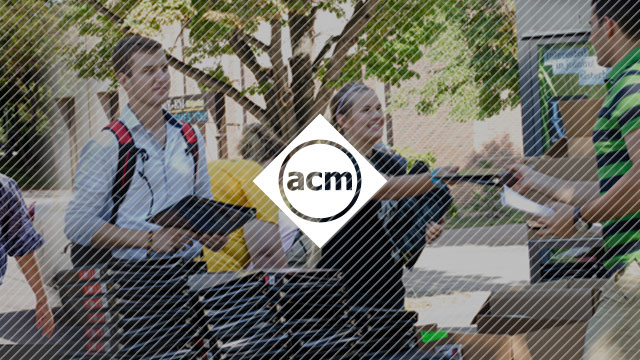 Why I Belong to ACM
Hear from Bryan Cantrill, vice president of engineering at Joyent, Ben Fried chief information officer at Google, and Theo Schlossnagle, OmniTI founder on why they are members of ACM.
You can use your technical skills for social good and offer volunteer support on software development projects to organizations who could not otherwise afford it. SocialCoder connects volunteer programmers/software developers with registered charities and helps match them to suitable projects based on their skills, experience, and the causes they care about. Learn more about ACM's new partnership with SocialCoder, and how you can get involved.