Section 3.2.2
Registration Chair-Including ACM's Preferred Vendor "Reg Online"
Principal Contact: Conference Treasurer
Duration of Appointment: 9-12 months
Purpose: To coordinate both the advance and on-site registration processes. Conference leadership may handle registration directly or utilize ACM's preferred vendor. In either case, Registration Chair is required.
Major Activities if utilizing ACM's preferred vendor: RegOnline
ACM recommends RegOnline as a preferred vendor for registration services and has negotiated preferred rates for the use of this registration system.
The set up and management of the actual registration site is handled by the volunteer registration chair or conference management vendor, if applicable. The RegOnline system is easy to use and there are help buttons at every stage as well as "tutorials" embedded in the application. Web-based training is available weekly.
RegOnline handles multiple registration types (e.g. member, non-member, student) and will process them by date (early, late and on-site). It will also process refunds based on criteria you set and collect any other types of payments we requested; for example, exhibitor booth sales or sponsorships. There are capacity controls for sessions and the application also has a waitlist feature. The system handles multiple administrators and multiple users with no limits. You can also set varying levels of access privileges.
Maintenance and support is available via e-mail and toll-free phone access from 7:00 AM to 6:00 PM Mountain Time. The application has a preview button in each section so you can approve each section as you build it and an HTML Editor so you can simply cut and paste anything you like (tool bars, logos, etc.) into the HTML editor and it will process the code for you. Finally, their free "Event Setup Review" option ensures that your registration pages will run optimally when you are ready to go "live".
There is unlimited access to over 15 standard reports and the ability to generate an unlimited number of custom reports with only the fields you want, all at no extra cost. These reports are available in numerous formats: Excel, Text, PDF, HTML and XML.
Lastly, there is an ONSITE Module that can process transactions onsite through a self-serve kiosk. All that is required is high speed internet access for the terminal, a laptop, and a printer.
Volunteer Requirement:
Volunteer Registration Chair to set up and manage the event.
Financial:
Finance will be setting up an exclusive merchant account for all conferences that use RegOnline.
All charges would post directly to this account and be identified by both a unique transaction ID number as well as an event number (CIP Cost Center) which would assist accounting in reconciling the funds to the different events.
Based on our volume, credit card fees would be lower at Visa/MasterCard: 2.80% American Express: 3.47% (estimate).
All funds would post directly to our merchant account as they took place.
Billing goes directly to ACM Headquarters.
Cost (Self-Service):
USD: No set-up fee, $2.25 per registration with credit card fees at 3%
EURO: No set-up fee, 2.25 Euro per registration with credit card fees at 3%
CAD: No set-up fee, $2.25 CND per registration with credit card fees at 3%
No License Fees
No Maintenance Fees
No Training or Support Fees
Set Up:
Simply direct the conference leaders to our account administrator, Office of SIG Services (regsupport@acm.org) to initiate an account.
No credit card for pre-payment required from the volunteer, as is the current standard; we will be billed per event.
Equipment and Supplies:
On-site Printer
On-site Computer w/Internet Access
Badge Stock and Holders
Tickets
Ribbons
For more information on:
Major Activities if handling registration directly or through a non-ACM vendor:
Administer registration process based on conference history and ACM policy.
Prepare guidelines for complimentary registration, cancellation refunds, press, special registrations, dates, etc.
Work with treasurer to set up registration procedures.
Work with ACM to set up credit card processing procedures.
Order all forms, badges, ribbons.
Order conference bags and attendee tokens at the direction of the Conference Chair.
Prepare advance registration form and registration information for advance program and send to Promotion Chair.
Develop web registration system.
Handle telephone and fax inquiries concerning registration.
Process and acknowledge advance registrations received via hard copy with checks or credit cards, faxes with credit cards and the web with credit cards.
Provide weekly registration reports and comparisons to budget.
Determine on-site registration equipment and volunteer needs and report to appropriate chairs.
Assemble registration kits for distribution at conference.
Secure volunteer or paid temporary staff for on-site registration handling.
Oversee the processing of on-site registration and handling of cash receipts.
Prepare registration final report and reconcile report with treasurer's records.
Qualifications:
Registration chair must have support of the employer due to time demands of handling registration.
Additional support should be available for clerical needs, telephone expenses, occasional correspondence, etc. ACM and its subunits rely on this 'in-kind' support in order to keep conference fees in line with sister society fees.
Familiarity with the registration process and needs of conference participants.
Customer - oriented attitude required.
Why I Belong to ACM
Hear from Bryan Cantrill, vice president of engineering at Joyent, Ben Fried chief information officer at Google, and Theo Schlossnagle, OmniTI founder on why they are members of ACM.
ACM is a volunteer-led and member-driven organization. Everything ACM accomplishes is through the efforts of people like you. A wide range of activities keep ACM moving, including organizing conferences, editing journals, reviewing papers and participating on boards and committees, to name just a few. Find out all the ways that you can volunteer with ACM.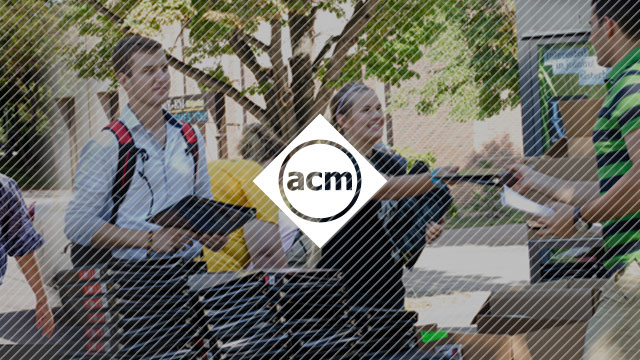 You can use your technical skills for social good and offer volunteer support on software development projects to organizations who could not otherwise afford it. SocialCoder connects volunteer programmers/software developers with registered charities and helps match them to suitable projects based on their skills, experience, and the causes they care about. Learn more about ACM's new partnership with SocialCoder, and how you can get involved.