Section 4.5
Sample Promotions
Below are samples of various conference promotions. These templates are to be used for informational purposes only.
Postcards
Postcards are typically used as a low-cost way to annouce Open Registration or to point members or recipients to a specific website.
Call for Papers (CFPs)
POPL 2004 - 4 page, 8.5 x 11, one color job, tri-folded and sealed with tabs
Advance Program (AP)
SIGUCCS 2004 - 6 page, 8.5 x 11, 2 color job.
Final Program (FP)
KDD 2003 - 26, 4 x 11, internal offset 1-color pages with a full color glossy cover.
For more information on what to include in the CFP, AP or Final Program, see the Commonly asked Questions in Section 4 (Publicity and Promotions) of the Conference Manual.
ACM is a volunteer-led and member-driven organization. Everything ACM accomplishes is through the efforts of people like you. A wide range of activities keep ACM moving, including organizing conferences, editing journals, reviewing papers and participating on boards and committees, to name just a few. Find out all the ways that you can volunteer with ACM.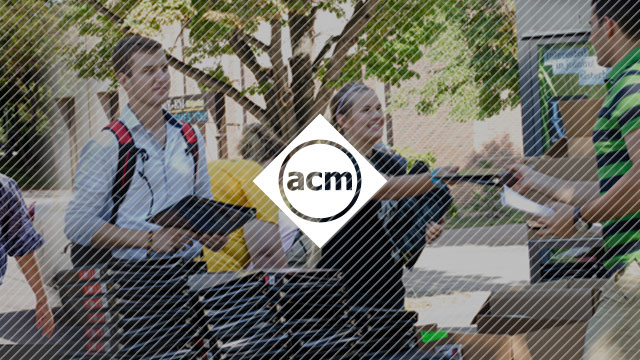 Why I Belong to ACM
Hear from Bryan Cantrill, vice president of engineering at Joyent, Ben Fried chief information officer at Google, and Theo Schlossnagle, OmniTI founder on why they are members of ACM.
Career Resource
ACM offers lifelong learning resources including online books from Safari, online courses from Skillsoft, webinars on the hottest topics in computing and IT, and more.