Section 5.6
Hotel Contract Negotiations
Initial Contact
When you are ready to choose a location for your conference, please contact the SIG Services department at ACM. This should take place 16-24 months prior to the conference depending on the needs of the particular meeting. The Program Coordinator for Site Selection will assist the Conference Chair with the readying of meeting requirements based on accurate conference history. The meeting requirements will be used to form a Request for Proposals (RFP) issued to cities being considered to host the conference.
Request for Proposals
The RFP will be issued to all major hotel chains as well as independent properties through the Convention Visitors Bureaus in the cities being considered. Potential venues will respond directly through the ACM online response system including information on rates, concessions and legal clauses. The ACM online response system generates a report allowing ACM as well as the conference leaders to easily compare terms for multiple locations within a city as well as compare cities against each other. The Program Coordinator for Site Selection at ACM will receive and follow up on all proposals as well as make recommendations to the Conference Chair based on ACM's industry knowledge and conference history.
Contracting
As the legal and financial sponsor of the conference, all contracts should be reviewed and signed by ACM. The Program Coordinator for Site Selection will work with hotel or other venues using ACM's standard hotel agreement or venues agreement ensuring that all necessary legal clauses are in place. No contracts will be signed without prior approval from the Conference Chair. Once all terms are agreed upon and approval has been given from the Conference Chair, ACM will execute a copy of the agreement with the venue.
Should you have any questions regarding the Site Selection sector, please contact a SIG Services liaison.
Why I Belong to ACM
Hear from Bryan Cantrill, vice president of engineering at Joyent, Ben Fried chief information officer at Google, and Theo Schlossnagle, OmniTI founder on why they are members of ACM.
ACM is a volunteer-led and member-driven organization. Everything ACM accomplishes is through the efforts of people like you. A wide range of activities keep ACM moving, including organizing conferences, editing journals, reviewing papers and participating on boards and committees, to name just a few. Find out all the ways that you can volunteer with ACM.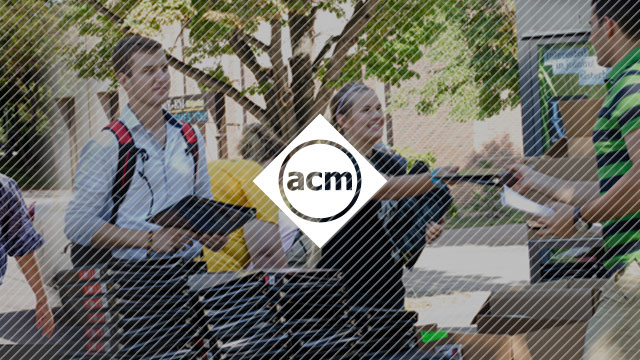 Publish Your Work
ACM's prestigious conferences and journals are seeking top-quality papers in all areas of computing and IT. It is now easier than ever to find the most appropriate venue for your research and publish with ACM.