Section 5.7.3
Food and Beverage Functions
Food and beverage (F&B) functions can make a major contribution to the success of your meeting. In addition to breakfast, lunch and dinner, F&B functions can include theme events, receptions and cocktail parties, and refreshment breaks.
Work closely with the hotel to plan quality menus that fit your budget. If your meeting lasts two days or longer, be sure to offer a variety of foods. Each meal should be nutritionally balanced and colorful. Be health-conscious; avoid heavy sauces and keep lunch light. If possible, include regional specialties for a memorable touch.
Also, be aware of your attendees' backgrounds and needs. If they'll require special foods for dietary or religious reasons, you might want to include a space on the registration form for this information. Be sure to check the hotel catering staff of these requests well in advance and, when possible, let the waiter or captain know where the people with special requests are seated.
REFRESHMENT BREAKS
Refreshment breaks last from 15 to 30 minutes, depending on the size of the group, and take place in mid-morning and mid-afternoon between meeting sessions. Be sure to schedule enough time for people to leave and return to the meeting room, obtain and consume their refreshments, and visit the restrooms. Standard time is 15 minutes for small meetings; 20 to 30 minutes for larger ones. To create less of a distraction, try to schedule coffee breaks outside the meeting room.
Coffee (regular and decaffeinated), tea, soft drinks and mineral water are standard fare.
RECEPTIONS AND COCKTAIL PARTIES
Functions that offer both alcoholic and non-alcoholic beverages as well as some type of snacks or hors d'oeuvres are often part of a meeting program. Select the plan that's most economical for your group. You might consider offering just beer and wine and/or "cocktails" (non-alcoholic cocktails). When hiring bartenders, figure on one for every 75-100 people (even one for every 50 people if many of your attendees are converging all at the same time).
Be aware of any local restrictions on alcoholic beverages. Also, recognize the liability that your organization undertakes as host should someone consume too much alcohol and become involved in an accident. Laws vary from state to state.
HORS D'OEUVRES
If dinner follows your cocktail reception, limit hors d'oeuvres to 6-8 pieces per person. Allow 10-12 pieces per person if your event is cocktails only. "Butlered" hors d'oeuvres (having waiters pass them on trays) is more economical than a buffet. With larger groups, however, you may want to have both buffet and butler service.
GUARANTEES
Facilities require that you submit a "guarantee" of the number of people at each meal function so they know how many places to set and how much food to prepare. Depending on the facility, the guarantee is usually required at least 48 hours in advance of your event. If you know your group will be smaller than you originally estimated, be sure to change your guarantee before the deadline or you'll be charged for the original number.
One thing to keep in mind when you submit your guarantee is that hotels generally set places for an additional 3% to 5% over your guaranteed meal number. So, if you guarantee 100 people for dinner, the hotel may set 105 place (5%). Consult your Convention Service Professional to determine the right numbers for your group and the hotel's over-set policy.
DINNER CRUISES AND BOATING ACTIVITIES
ACM's insurance policy does not cover boating events and due to the recent cruise ship issues, maritime insurance is no longer available for purchase. As a result, ACM will not enter into contracts for social events or conference activities on dinner cruises or boats of any kind.
Why I Belong to ACM
Hear from Bryan Cantrill, vice president of engineering at Joyent, Ben Fried chief information officer at Google, and Theo Schlossnagle, OmniTI founder on why they are members of ACM.
ACM is a volunteer-led and member-driven organization. Everything ACM accomplishes is through the efforts of people like you. A wide range of activities keep ACM moving, including organizing conferences, editing journals, reviewing papers and participating on boards and committees, to name just a few. Find out all the ways that you can volunteer with ACM.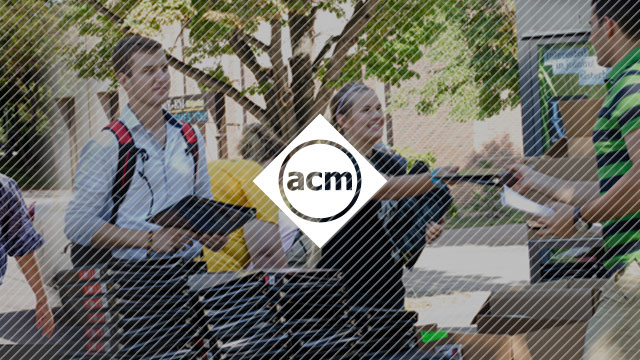 Career Resource
ACM offers lifelong learning resources including online books from Safari, online courses from Skillsoft, webinars on the hottest topics in computing and IT, and more.