Section 5.7.4
Final Details
Signage
This is also the time to determine what signage you'll need at your meeting. Signage is very important to avoid confusion and misunderstandings during the meeting; do not assume your attendees will just figure out where to go. Be sure all meeting and function room areas have well-lettered signs and that directional information is well-placed in public areas. Consider putting ACM's logo on your signs for easy identification and a professional touch. Be aware that some hotels have policies regarding the size and appearance of signs. So work with your Convention Service Professional to determine what will be most effective. If you'll need easels for your signs, be sure to ask the hotel to supply them.
Pre-Conference Meeting
Even though you've had ongoing communication with the hotel staff, it is still a good idea to review your program with them at least one day before the start of your meeting. This pre-conference (pre-con) meeting should include your convention Service Professional as well as any other hotel staff who play a key role in your meeting-the Sales Manager, the General Manager, Accounting, Front Office Manager, Room Service, Housekeeping, Audio/Visual, Transportation, Banquet Manager, Switchboard Supervisor and Head Houseman. Use this "pre-con" meeting as an opportunity to review your entire program.
Communications
Make a message center available so that calls for your attendees are directed to your group's registration desk. Be sure a bulletin board is provided so messages can be posted. This will also enable attendees to leave messages for other attendees not staying in the hotel.
Why I Belong to ACM
Hear from Bryan Cantrill, vice president of engineering at Joyent, Ben Fried chief information officer at Google, and Theo Schlossnagle, OmniTI founder on why they are members of ACM.
ACM is a volunteer-led and member-driven organization. Everything ACM accomplishes is through the efforts of people like you. A wide range of activities keep ACM moving, including organizing conferences, editing journals, reviewing papers and participating on boards and committees, to name just a few. Find out all the ways that you can volunteer with ACM.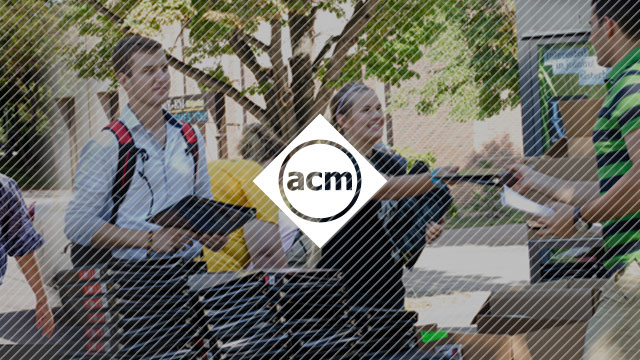 Career Resource
ACM offers lifelong learning resources including online books from Safari, online courses from Skillsoft, webinars on the hottest topics in computing and IT, and more.