Section 7.1.1
Exhibits Chair
Position: EXHIBITS CHAIR
Primary Contact: Conference Chair
Duration of Appointment: 12 to 20 months
Purpose: To oversee and/or carry out the staging and completion of an industry exhibition which supports the overall purpose of the conference.
Major Activities:
Select consultant or volunteers who will exhibits management.
Oversee and manage budget for exhibits management.
Oversee the sale of exhibit space. This includes seeking new exhibitors as well as who have previously participated.
Oversee and approve all copy for informational materials created. This includes: exhibitor application forms and contracts (including rules and regulations): exhibits floorplan; exhibitors prospectus; exhibitors manual; exhibitors guide.
Oversee and approve all copy for promotional materials created. This includes: Materials related to exhibit space sales: news releases and advertising copy.
Oversee the arrangement of advertising space/booth space trades with professional journals and periodicals.
Oversee the coordination and assignment of booth space.
Oversee the selection and management of the decorator and drayage contractors.
Oversee the Collection of all space rental fees from exhibitors and forwarding that income to the conference treasurer.
Oversee the coordination of and planning of all exhibit hall preparations. This includes: physical layout, power supply, telephones, lighting, refreshment services, first aid, exhibitor registration areas, move-in and move-out activities.
Oversee the arrangement of an exhibitors reception (if required).
Serve as "On-Site Manager", responsible for all on-site decision making.
Why I Belong to ACM
Hear from Bryan Cantrill, vice president of engineering at Joyent, Ben Fried chief information officer at Google, and Theo Schlossnagle, OmniTI founder on why they are members of ACM.
ACM is a volunteer-led and member-driven organization. Everything ACM accomplishes is through the efforts of people like you. A wide range of activities keep ACM moving, including organizing conferences, editing journals, reviewing papers and participating on boards and committees, to name just a few. Find out all the ways that you can volunteer with ACM.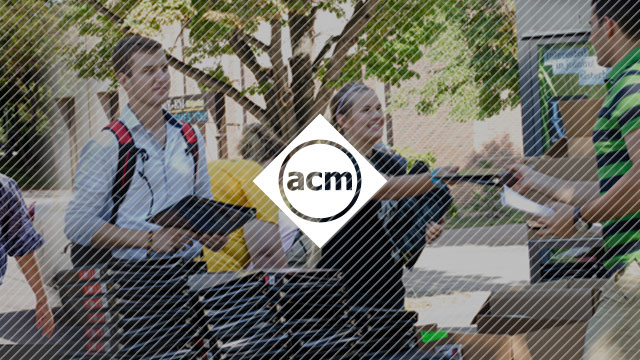 Career Resource
ACM offers lifelong learning resources including online books from Safari, online courses from Skillsoft, webinars on the hottest topics in computing and IT, and more.