Section 7.2
Exhibit Guidelines
Background
ACM is a tax-exempt organization and therefore must follow regulations established by the Federal Government for 501(C) 3 organizations. These regulations include practices with regard to sponsored exhibits. ACM recently relaxed its restrictions against exhibition sales on the exhibit floor. The sponsoring subunit may now elect to allow selling on the exhibits floor. These are many issues to consider in this decision. Therefore, these guidelines have been prepared to highlight the key considerations. Further information on any of these points may be obtained through the Office of SIG Services at ACM Headquarters.
Should a Conference Include Exhibits?
Benefits
Complements technical program
Systems and applications forum
Sale of exhibit space provides additional income
Increases potential attendee base
Disadvantages
Possible detraction from technical program
Need for extra space may limit choice of facilities
Extra costs involved (facility rental, decoration, drayage)
I. Management Requirements
Review Exhibits Chair Job Description
Should volunteers undertake position or should management be contracted out to professionals?

Size and complexity of exhibits are factors to consider.
Does volunteer have enough time? Exhibits management can be time consuming.
Does budget allow for professional management? Fees often based on a percent age of gross revenues (10%-20% as guideline); often include additional retainer fee.
II. Kinds of Exhibits
Educational - colleges, universities, publishers
Commercial -- hardware, software, systems
Combination
III. Table top exhibits or standard booths
Hotels charge for rental of space and for tables.
Service contractors charge per standard booth (including draped back and side rails and usually includes 2-line identification sign).

1.1. Typical charges for 10-20-booth show: $50 per booth in locations which are unionized and expensive: $25 per booth in less expensive locales.
IV. ACM Policy Considerations
Selling and order taking is now permitted on exhibit floor if permitted by sponsoring subunit; sponsor should advise exhibitors and prospective exhibitors.
PLEASE NOTE: sample contract defaults to no selling or order taking. This should be changed according to conference committee decision on selling and order taking

Selling -- money exchanged for goods; useful when dealing with portable product, such as books, software.
Order taking - no money exchanged; order is taken for future delivery and payment. More practical dealing with non-portable items.
Conference/exhibit organizer should advise exhibitors if certain restrictions exist (i.e., no "for sale" or "show special" signs); maintain decorum and dignified atmosphere.

Security Issues

Conference/exhibit organizer responsible for security at entrances/exits to exhibit area .
Individual exhibitors responsible for security at booths.

Sales Tax Issue

Conference organizer responsible for notifying exhibitors in advance if payment of sales tax required..
Exhibitors solely responsible for the collection and remittance of any sales taxes if merchandise sold at booth.
V. Exhibitor Contract/Rules and Regulations
Contract should include:

Eligibility of exhibit -- who may exhibit

Products or services exhibited shall be directly pertinent to the function of industry represented by exhibition.
No encyclopedia companies, etc.

Designated booth number, amount of space, what payment is (as well as payment schedule).
Acceptance of contract - signed by exhibitor representative and ACM SIG representative.
Limitation of liability paragraph (see sample contract).
Cancellation policies - should stipulate timeframe during which refunds made on cancelled space and when no refund will be made .
Agreement to Rules paragraph -- indicating exhibitor agrees to abide by all rules and regulations, whether included in the contract, in a separate list of rules and regulations, or amendments to the contract or rules.

Other Rules and Regulations

Items may include, but are not limited to, the following: exhibit hours; installation and dismantling; union labor; exhibitor's admittance during non-Show hours; height and depth restrictions for booth; placement of equipment; exhibitor conduct; observance of laws; use of exhibit space.
See sample contract for complete wording.
VI. Insurance Issues
Convention hall or hotel will require certificate of insurance from ACM; SIG Staff Liaison can obtain.
Exhibitors should also be insured; organization's regular liability policy will usually apply; or rider can be purchased at nominal cost.
VII. Exhibitors' Kit (or Manual)
Inform of all rules and regulations.
Provide information and order forms for services (furnishings, electrical, signs, etc.)
VIII. Other Issues
Music Licensing -- if exhibitors' booths will have music, conference should adhere to music licensing requirements (refer to explanation in conference organizer's manual).
No exhibitor should be permitted to exhibit without a signed contract and having paid for booth in full.
Why I Belong to ACM
Hear from Bryan Cantrill, vice president of engineering at Joyent, Ben Fried chief information officer at Google, and Theo Schlossnagle, OmniTI founder on why they are members of ACM.
ACM is a volunteer-led and member-driven organization. Everything ACM accomplishes is through the efforts of people like you. A wide range of activities keep ACM moving, including organizing conferences, editing journals, reviewing papers and participating on boards and committees, to name just a few. Find out all the ways that you can volunteer with ACM.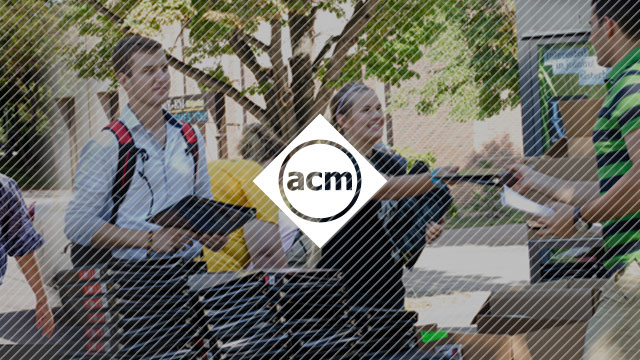 Publish Your Work
ACM's prestigious conferences and journals are seeking top-quality papers in all areas of computing and IT. It is now easier than ever to find the most appropriate venue for your research and publish with ACM.