Apply for Membership in the ACM Future of Computing Academy
Are you early in your computing career, with a passion for improving the field? Are you excited about the joy, sacrifice, and professional benefits of becoming a leader in the computing community? If so, you should apply to join the ACM Future of Computing Academy (ACM FCA) - a new initiative where young researchers, practitioners, educators, and entrepreneurs can develop a strong and influential collective voice to help shape the future of ACM and the computing community.
ACM FCA was created to foster the next generation of ACM leaders and help shape the future directions of ACM. As part of that leadership development, it defines and implements pilot projects that address challenging issues facing the organization, the field, and society in general. The focus is on harnessing collective volunteer action to pilot new initiatives that can carry ACM into the future. At the same time, FCA members interact with ACM leaders and learn about or participate in a range of existing initiatives. Thus, FCA members have the opportunity to perform valuable services to the community while expanding their professional networks and leadership experience.
ACM FCA consists of talented young professionals from academia, research labs, established companies, and startups who are committed to making a positive and lasting impact on ACM and the global computing profession. Our members are good at leading and excellent at executing. We also realize that true leadership involves sacrifice, and that making change involves extensive effort. In its first 2 years, ACM FCA created podcasts, organized summits, developed research manifestos, and created a new CrashCourse on AI video series. Read about some of our activities on the FCA website.
Inductees from ACM FCA's second admission cycle (Summer 2019) will help establish our long-term trajectory. New members will contribute to existing initiatives or create new ones in keeping with ACM's broad mission. If you have been discussing a change you want to make within computing, ACM FCA could provide the support structure you need to catalyze discussion into action. Applications are closed.
Why I Belong to ACM
Hear from Bryan Cantrill, vice president of engineering at Joyent, Ben Fried chief information officer at Google, and Theo Schlossnagle, OmniTI founder on why they are members of ACM.
For Practitioners
ACM Queue's "Research for Practice" serves up expert-curated guides to the best of computing research, and relates these breakthroughs to the challenges that software engineers face every day. This installment, "The DevOps Phenomenon" by Anna Wiedemann, Nicole Forsgren, Manuel Wiesche, Heiko Gewald and Helmut Krcmar, gives an overview of stories from across the industry about software organizations overcoming early hurdles of adopting DevOps practices, and coming out on the other side with tighter integration between software and operations teams, faster delivery times for new software features, and achieving higher levels of stability.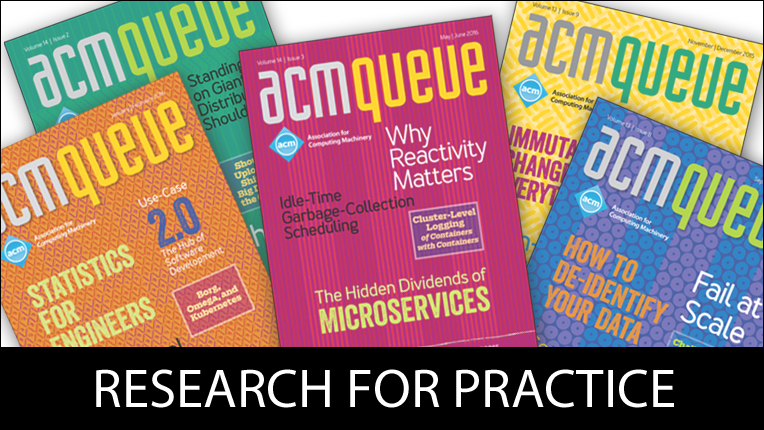 Written by leading domain experts for software engineers, ACM Case Studies provide an in-depth look at how software teams overcome specific challenges by implementing new technologies, adopting new practices, or a combination of both. Often through first-hand accounts, these pieces explore what the challenges were, the tools and techniques that were used to combat them, and the solution that was achieved.