ACM SIGGRAPH Bylaw Amendment
The ACM SIGGRAPH Executive Committee (EC) is requesting a considerable revision and reorganization of the ACM SIGGRAPH Bylaws. The rationale for the changes outlined below is to provide a more flexible structure for the EC and to make the officers tasks, especially those of the President (called the "Chair" henceforth), less daunting. These changes require a vote of the membership of ACM SIGGRAPH.
Changes introduced in proposed amendment to the ACM SIGGRAPH Bylaws:
All elected positions will be director positions and ACM SIGGRAPH's officers will no longer be elected to specific positions through member elections. Every year, after the new EC takes office, it will select new officers from within the EC to serve one-year terms. The officers will be the Chair, Chair-Elect, Treasurer, and Treasurer-Elect. The Chair-Elect will become the Chair and the Treasurer-Elect will become the Treasurer after the next election.
The EC will appoint up to three voting members to its rank. This change will allow the EC to increase representation from core constituencies as needed, and to allow key volunteers — such as the Conference Advisory Group Chair — full participation on the EC to better reflect their role in the organization.
Directors will be elected to specific positions. For example, if three director positions are open in a given election, the voters would be presented with at least two candidates for position A, another two for position B, etc. This will allow the nominating committee to achieve increased diversity in skillset, area of expertise, and geography.
If the changes in the selection process for the officers are approved, they will take effect with the 2018 election. The transition plan is that the current President and Vice President will serve out their three-year terms (2017-2020), and the next year the EC will select the Chair and Chair-Elect from the elected Directors.
The ACM SIGGRAPH Proposed Bylaw Amendment along with a copy of the current version with changes marked can be viewed here.
The ACM SIGGRAPH Executive Committee requests your careful consideration of the proposed Bylaws and hopes you can support them with your vote. Votes must be cast by 15 August 2018.
Written by leading domain experts for software engineers, ACM Case Studies provide an in-depth look at how software teams overcome specific challenges by implementing new technologies, adopting new practices, or a combination of both. Often through first-hand accounts, these pieces explore what the challenges were, the tools and techniques that were used to combat them, and the solution that was achieved.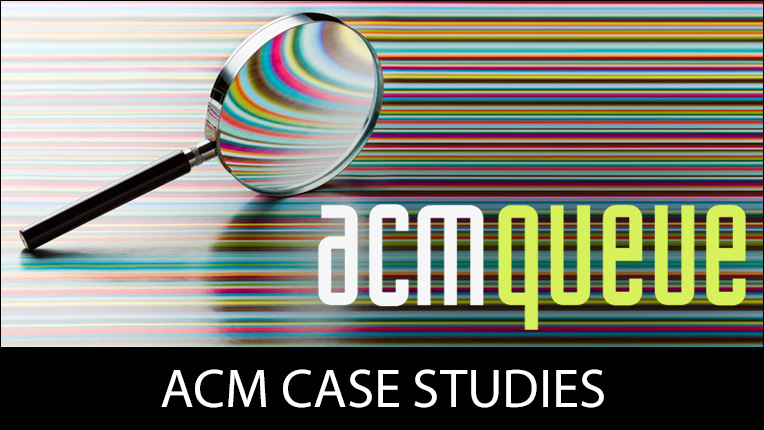 Publish Your Work
ACM's prestigious conferences and journals are seeking top-quality papers in all areas of computing and IT. It is now easier than ever to find the most appropriate venue for your research and publish with ACM.