Empowering the Next Generation of Computing Leaders
The ACM Future of Computing Academy (ACM-FCA) is a new initiative created by ACM to support and foster the next generation of computing professionals. The Academy is a platform that enables the next generation of researchers, practitioners, educators and entrepreneurs to develop a coherent and influential voice that addresses challenging issues facing the field and society in general. The ACM-FCA will seek to harness collective action to define and launch new ACM initiatives that will carry us into the future.
It is important to note that membership in the Academy is a commitment, not an award. Members of the Academy are expected to engage in activity for the benefit of the next generation of computing professionals. They have the privilege and responsibility to become the voice of the future of the computing field at large and of ACM specifically.
The ACM-FCA will provide its members an uncommon opportunity to expand their network beyond their immediate professional environment. It is a unique chance to work with other accomplished individuals from diverse areas of computing towards the common goal of shaping the future of the computing community and society. Academy members will develop a network of individuals looking to support, drive and develop the field and profession of computing. In addition, members of the academy and ACM will be encouraged to develop an extended network of practitioner and academic mentors.
The inaugural meeting of the ACM Future of Computing Academy will be on June 25, 2017 in San Francisco. ACM-FCA members will also be invited to attend ACM's celebration of 50 years of the ACM Turing Award on June 23 - 24 at the Westin St. Francis. ACM will provide financial support for Academy members to attend the inaugural meeting.
The Inaugural Class of the ACM-FCA
Members of the inaugural class of the ACM-FCA are an international group, originally from 19 different countries including Morocco, Pakistan, India, USA, the Netherlands, Egypt, Germany, Colombia, the United Kingdom, Italy, Canada, China, Denmark, Bangladesh, Turkey, Republic of Korea, Vietnam, Israel and the Ukraine.
Yousra Aafer, Purdue University
Shipra Agrawal, Columbia University
Ganesh Ananthanarayanan, Microsoft Research
Bushra Anjum, Amazon
Tim Baarslag, Centrum Wiskunde & Informatica
Christine Bassem, Wellesley College
Jeffrey Bigham, Carnegie Mellon University
Yonatan Bisk, University of Southern California Information Sciences Institute
Björn Brandenburg, Max Planck Institute for Software Systems
Jeronimo Castrillon, TU Dresden
Lydia Chilton, Stanford University
Sarah Clinch, The University of Manchester
Danish Contractor, IBM Research
Luigi De Russis, Politecnico di Torino
Jason Ernst, Left
Ruogu Fang, Florida International University
Yun Fu, Northeastern University
Julia Haines, Google
Brent Hecht, Northwestern University
Naja Holten Møller, University of Copenhagen
M. Ehsan Hoque, University of Rochester
Ece Kamar, Microsoft Research
M. Fahim Khan, The University of Tokyo
Wouter Koolen, Centrum Wiskunde & Informatica
Mirja Kühlewind, ETH Zurich
Neha Kumar, Georgia Institute of Technology
Wu Liu, Beijing University of Posts and Telecommunications
Daniel McDuff, Microsoft Research
Andrew Miller, Indiana University–Purdue University Indianapolis
Marianna Obrist, University of Sussex
Sun Young Park, University of Michigan
Linh Thi Xuan Phan, University of Pennsylvania
Indrajit Roy, Google Inc
Oren Sar Shalom, IBM Research
Johannes Schoening, University of Bremen
Catherine Schuman, Oak Ridge National Laboratory
Anand Seetharam, The State University of New York Binghamton
Justin Solomon, Massachusetts Institute of Technology
Rajan Vaish, Stanford University
Svitlana Volkova, Pacific Northwest National Laboratory
Tim Weninger, University of Notre Dame
Lauren Wilcox, Georgia Institute of Technology
Julie Williamson, University of Glasgow
Pamela Wisniewski, University of Central Florida
Cathy Wu, UC Berkeley
Lana Yarosh, University of Minnesota
Applications for the ACM Future of Computing Academy Are Now Closed
ACM had accepted applications for the ACM Future of Computing Academy through March 15, 2017. Applicants supplied information about their education, current employment and professional achievements. They also provided biographical sketches, personal statements and contact information for three people willing to provide short letters of endorsement.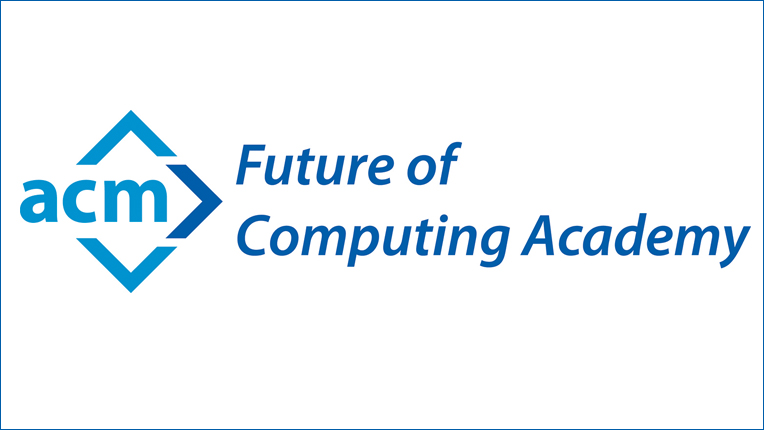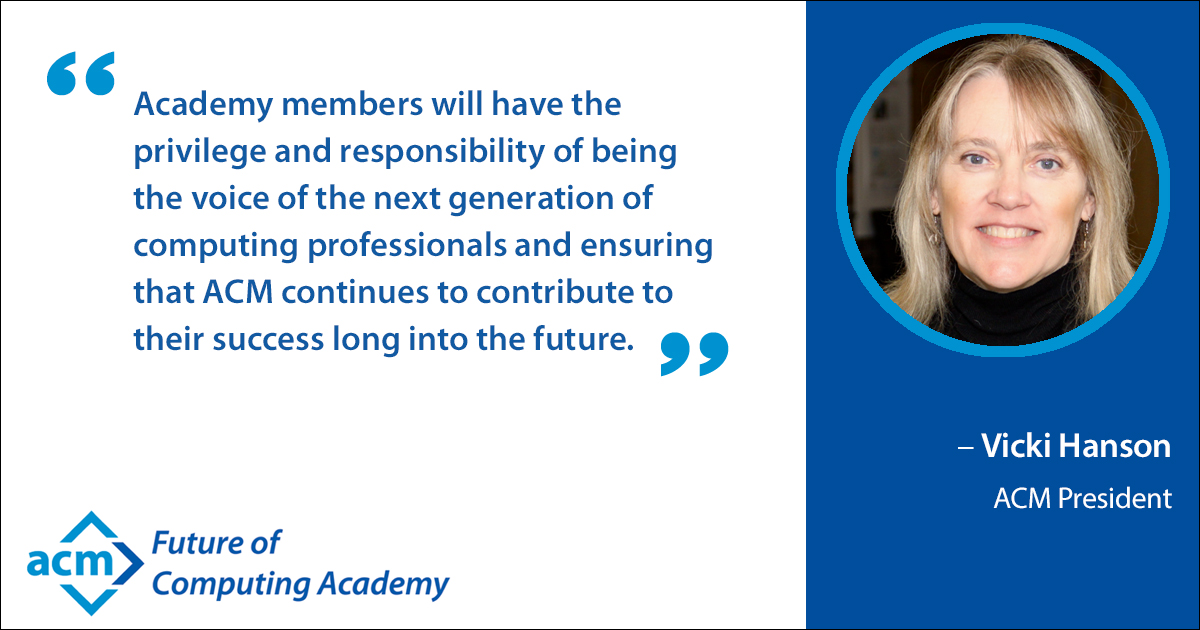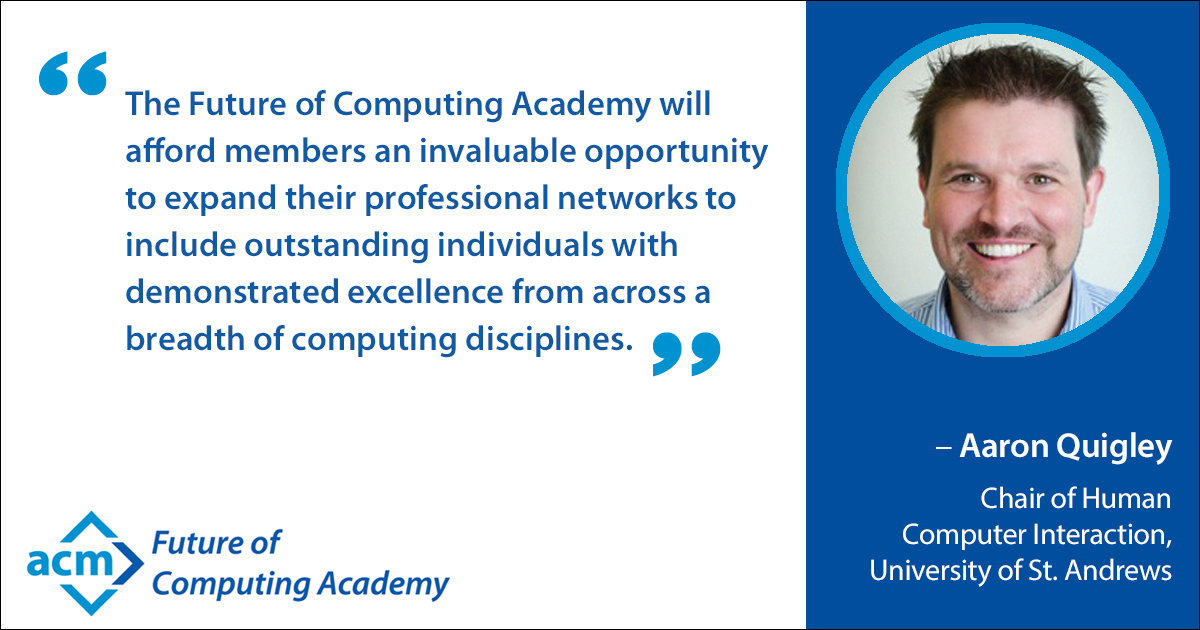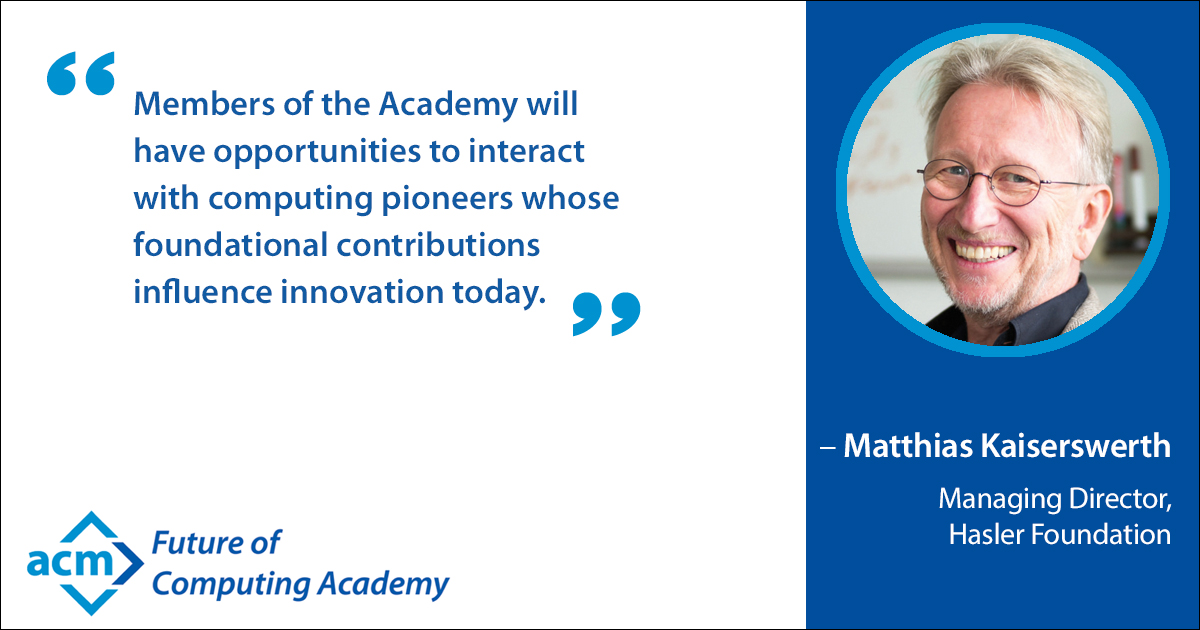 Do you have questions about the ACM Future of Computing Academy? If so, visit ACM's FCA FAQ for answers.