Section 1.2
Criteria for Sponsor/Co-Sponsor Conference Approval
When the completed TMRF is submitted either in hard copy or online, Diana Brantuas (paf_tmrf@acm.org) will review the assumptions in the TMRF with regard to:
Conference Management Resources
The existence of a reasonable management structure is this volunteer infrastructure or contracted management, and the plans in place to handle the planning and mechanics of the conference are important resources to put in place if a conference is to succeed. For workshops, this would be a difference infrastructure than it would be a conference with several different activities (technical program, tutorials, exhibits, etc.)
Revenue and Expense Assumptions:
Including an evaluation of the current assumptions in light of the historical performance of the conference; the consideration of the possible expense categories; and the confirmation any external funding sources.
Legal, Contractual, and Asset Distribution Arrangements:
This would include facility compliance with ADA, copyright ownership, insurance considerations for large conferences, ability to repatriate funds for conferences outside the USA, plans for conference by-products, and sponsors liability reserves.
General Credibility of the Conference:
The Volunteer Management provides this evaluation based on conference attendance trends, the feedback from previous attendees, the changes in the field that are reflected in the current planning, the stature of the conference and program chairs, and the focus of the technical program.
The reviewed TMRF summary will be forwarded to the approving Volunteer Management. Once approved by them, the TMRF summary will be reviewed by the ACM Chief Operating Officer. If ACM Executive Committee approval is required, the ACM Chief Operating Officer will obtain that approval and sign the conference approval letter.
Every effort will be made to complete the official ACM/SIG approval process within four weeks of submission of the Technical Meeting Request Form(s) [TMRF].
Please note the 3-Section TMRF must be received by ACM Headquarters prior to the review/approval process.
Conference Approvers
Conference Characteristics
Approvers for a New or International Conference
Approvers for an Annual Conference
Sponsored/Co-Sponsored
Revenue/Expense $500K and up
Volunteer Management
Chief Operating Officer
ACM Executive Committee
Volunteer Management
Chief Operating Officer
ACM Executive Committee
Sponsored/Co-Sponsored
Revenue/Expense less than $500K
Volunteer Management
Chief Operating Officer
Volunteer Management
Chief Operating Officer
In Cooperation (no ACM/SIG Financial involvement)
Volunteer Management ACM SIGs Services Director
Volunteer Management ACM SIGs Services Director
Why I Belong to ACM
Hear from Bryan Cantrill, vice president of engineering at Joyent, Ben Fried chief information officer at Google, and Theo Schlossnagle, OmniTI founder on why they are members of ACM.
Written by leading domain experts for software engineers, ACM Case Studies provide an in-depth look at how software teams overcome specific challenges by implementing new technologies, adopting new practices, or a combination of both. Often through first-hand accounts, these pieces explore what the challenges were, the tools and techniques that were used to combat them, and the solution that was achieved.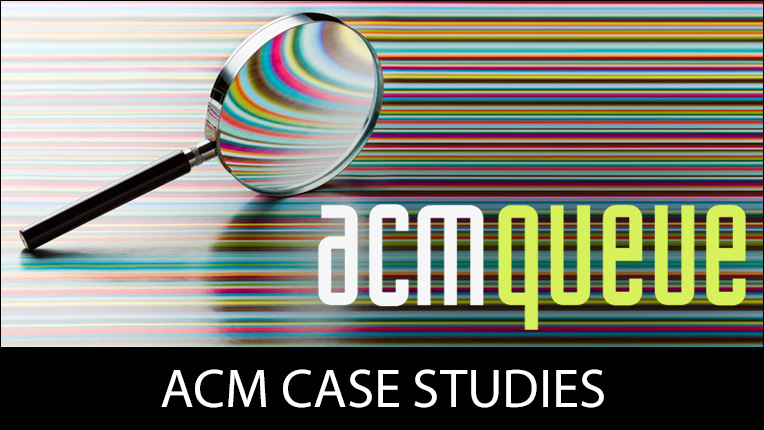 ACM Queue's "Research for Practice" is your number one resource for keeping up with emerging developments in the world of theory and applying them to the challenges you face on a daily basis. In this installment, Dan Crankshaw and Joey Gonzalez provide an overview of machine learning server systems. What happens when we wish to actually deploy a machine learning model to production, and how do we serve predictions with high accuracy and high computational efficiency? Dan and Joey's curated research selection presents cutting-edge techniques spanning database-level integration, video processing, and prediction middleware. Given the explosion of interest in machine learning and its increasing impact on seemingly every application vertical, it's possible that systems such as these will become as commonplace as relational databases are today.