Section 6.2
Letter to the Program Chair
Dear ACM Conference Program Chair
On behalf of ACM's Publications Board, we'd like to thank you for agreeing to serve as Program Chair of an ACM conference. ACM takes great pride in the quality of its conferences—quality that is maintained through the extensive efforts of volunteer leaders like you. The Publications Board is charged by ACM with the mission of overseeing ACM publications policy in general, as well as with oversight of the ACM Digital Library. Accordingly, we'd like to take this opportunity to familiarize you with a few key publications policies and procedures that relate to your role as Program Chair.
Plagiarism, Self-Plagiarism, and Simultaneous Submission.
ACM has a strict policy against plagiarism and self-plagiarism (http://www.acm.org/publications/policies/plagiarism). Unfortunately, in recent years we've seen far too many cases where authors copy the work of others, or their own already-published work, without attribution. Please make sure your call for participation includes a reference to this policy, and should you encounter plagiarism, please report it to ACM's Director of Publications. While you can certainly reject submissions based on finding plagiarism (and cite that as a reason for rejection), and warn the author that there may be more serious consequences should they be found to repeat the offense, please leave more aggressive responses to ACM's Publications staff and Board; under no circumstances should you contact the employer of an author whom you determine to have committed plagiarism.
ACM policy generally prohibits having a paper simultaneously under review by an ACM journal or conference and by any other publication (or by two or more different ACM publications), and generally prohibits re-publishing papers that have already appeared in refereed or formally reviewed publications (http://www.acm.org/publications/policies/simultaneous-submissions). The policy provides significant discretion to program chairs when there are specific circumstances that warrant exceptions. Please be sure that your call for participation includes a reference to this policy, and to any specific exceptions that you've determined should apply for your conference. Should you encounter simultaneous submissions or resubmission of already-published work, you may, of course, reject such submissions. In cases where the author attempted to conceal the simultaneous or re-submission, please also report it to ACM's Director of Publications so that we can detect and respond to repeat offenders.
Copyright
Authors must transfer copyright to ACM for articles to be published in ACM publications, including conferences, journals, and magazines. There are exceptions for short works (four pages or shorter) that are essentially abstracts (e.g., abstracts of invited talks, panels, workshops, or posters), in which case authors may instead provide ACM with a copyright release to permit ACM to publish and disseminate the work. After copyright transfer, authors retain substantial rights, including the right to provide a single Author-ized link on their website or their employer's website through which visitors can retrieve the official published copy from the DL without subscription, and the right to post author-prepared versions of their articles on their own website and on the website or public archive of their employer. In most cases, program chairs work with Sheridan Printing to collect copyright transfer forms. If you have questions, please be sure to contact ACM's Publications staff or SIG Services staff.
Reviewer Anonymity
ACM policy requires that the identity of reviewers be kept confidential (http://www.acm.org/publications/policies/reviewer-anonymity). The policy permits a program committee as a whole to be aware of reviewer identity, with the key exception that an author may never have access to the identity of the reviewers of that author's submissions.
Once again, thank you for taking on this great responsibility and service to the field. Please don't hesitate to contact us or the ACM Publications staff if we can be of help.
Ronald Boisvert
Chair, ACM Publications Board
Jack Davidson
co-Chair, ACM Publications Board
Bernard Rous
ACM Director of Publications
/s/ Publications Board Chairs and Director of Publications
--
Joseph A. Konstan
Distinguished McKnight Professor and Distinguished University Teaching Professor
Associate Department Head
Department of Computer Science and Engineering
University of Minnesota
konstan@cs.umn.edu
Written by leading domain experts for software engineers, ACM Case Studies provide an in-depth look at how software teams overcome specific challenges by implementing new technologies, adopting new practices, or a combination of both. Often through first-hand accounts, these pieces explore what the challenges were, the tools and techniques that were used to combat them, and the solution that was achieved.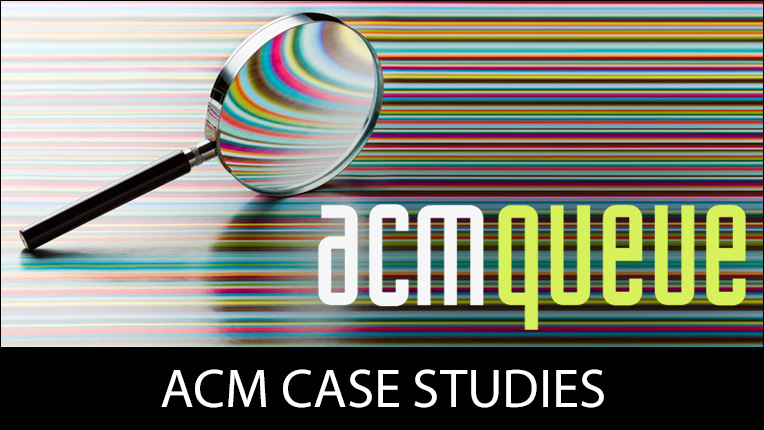 Why I Belong to ACM
Hear from Bryan Cantrill, vice president of engineering at Joyent, Ben Fried chief information officer at Google, and Theo Schlossnagle, OmniTI founder on why they are members of ACM.
ACM is a volunteer-led and member-driven organization. Everything ACM accomplishes is through the efforts of people like you. A wide range of activities keep ACM moving, including organizing conferences, editing journals, reviewing papers and participating on boards and committees, to name just a few. Find out all the ways that you can volunteer with ACM.