Section 6.3.1
Summary of Publications, Proceedings and Technical Program (Policy 8.7.2.6)
ACM Conference Proceedings
All proceedings require ACM Headquarters approval for:
Cover and front piece design and contents
Ordering information, member and non-member prices
Copyright procedures
All sponsored conference proceedings must be copyrighted by ACM.
Prices for proceedings should offer members of ACM and/or sponsoring SIGs 50% discount on the non-member price. To price proceedings, contact ACM Headquarters.
The sale of conference proceedings (or the ACM or SIG share of proceedings for co-sponsored meetings) will be administered solely by ACM Headquarters unless other arrangements are agreed to by the Publications Board.
Policy on Production and Copyrighting of Proceedings for ACM/SIG Co-Sponsored Conferences
ACM's policy is to seek outright ownership of copyright in works published by the Association. Organizers of co-sponsored conferences must contact ACM Headquarters to see if a publication agreement with the co-sponsoring society exists. If not the ACM Director of Publications will work out an appropriate agreement. This agreement must be in place when the co-sponsored TMRF is submitted for approval. It will include:
copyright ownership
publisher
printing
assignment of publisher title
cover, spine and front matter identification
required review and approval process
cost sharing
order information
post conference pricing
ACM Policy on Prior Publication
The technical contributions appearing in ACM journals are normally original papers of lasting value that have not been published elsewhere. Conference proceedings and newsletters are a form of publication. Like the serial journals they are often widely disseminated and are available to the entire membership of ACM, but unlike the journals they are often unrefereed and are not saved in library archives.
Republication of a paper, possibly revised, that has been disseminated via a proceedings or newsletter is permitted if the editor of the journal to which it has been submitted judges that there is significant additional benefit to be gained from republication.
The original source will be clearly identified on the first page of the republished paper. All papers accepted for a conference may be printed in full in the proceedings, and journal editors will not reject such papers simply because they were widely disseminated through the conference proceedings. In case of dual submission, an author must inform both editors that the manuscript is being offered simultaneously to multiple editors.
Honoraria Policy
In general honoraria are discouraged. In the case of speakers or instructors, an honorarium not exceeding $600 in value per day is considered acceptable. As a result of the Tax Reform Act of 1986, ACM has an obligation to report in the IRS calendar year, payments of $600 or greater to any individual or corporation who is a permanent resident of the United States. Because it is often the case that speakers present at more than one ACM conference ACM asks that all income given to an individual or corporation for the payment of Honoraria be reported. ACM is also obligated to deal with the reporting of income to individuals and corporations in other countries. For details please contact your ACM SIG Staff Liaison.
ACM Queue's "Research for Practice" is your number one resource for keeping up with emerging developments in the world of theory and applying them to the challenges you face on a daily basis. In this installment, Dan Crankshaw and Joey Gonzalez provide an overview of machine learning server systems. What happens when we wish to actually deploy a machine learning model to production, and how do we serve predictions with high accuracy and high computational efficiency? Dan and Joey's curated research selection presents cutting-edge techniques spanning database-level integration, video processing, and prediction middleware. Given the explosion of interest in machine learning and its increasing impact on seemingly every application vertical, it's possible that systems such as these will become as commonplace as relational databases are today.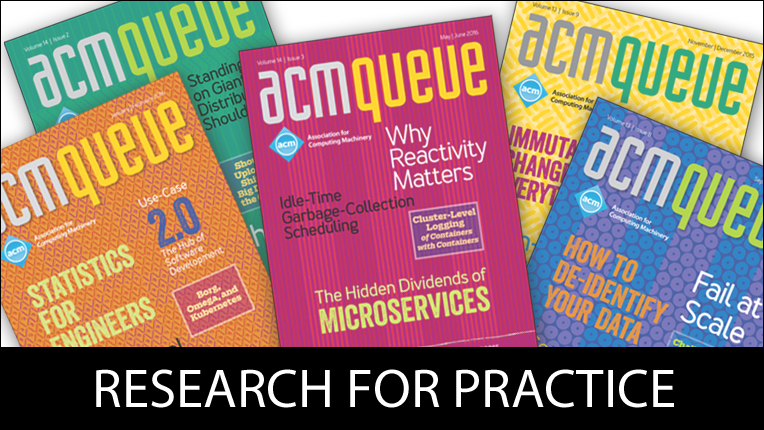 Written by leading domain experts for software engineers, ACM Case Studies provide an in-depth look at how software teams overcome specific challenges by implementing new technologies, adopting new practices, or a combination of both. Often through first-hand accounts, these pieces explore what the challenges were, the tools and techniques that were used to combat them, and the solution that was achieved.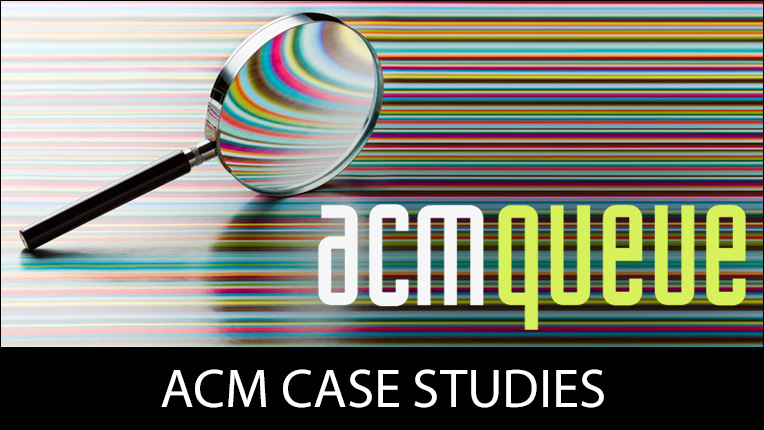 Why I Belong to ACM
Hear from Bryan Cantrill, vice president of engineering at Joyent, Ben Fried chief information officer at Google, and Theo Schlossnagle, OmniTI founder on why they are members of ACM.