Annual Sponsored Conferences: Organizers should submit the Preliminary Approval Form (PAF) at least 24 months prior to the conference start date. The PAF is only valid for annual sponsored meetings that have received prior approval from ACM. Once the PAF has been granted endorsement by ACM/SIG, organizers should begin completing the Technical Meeting Request Forms (TMRF). The TMRF should be submitted at least 12 months prior to the conference start date.
Newly Sponsored Conferences: Organizers must submit the 3-Section Sponsored Technical Meeting Request Forms (TMRF) via email or through our Online Submission System at least 12 months prior to the conference start date.
Technical Meeting Request Forms
Note: Official ACM approval may take up to 4 weeks (this includes reviewing submitted documents and obtaining necessary approvals). If during this time, you have questions contact ACM.
Mini-Technical Meeting Request Form: If there is a sponsored workshop(s) held in conjunction with the Sponsoring Conference, a Mini-TMRF is required for each workshop. This is considered an addendum to the conference TMRF. As such, the conference chair is responsible for the workshop under the terms of the "Statement of Understanding" of the conference TMRF. It is assumed that the workshop will have no (or minimal) fixed costs. (The workshop chair should contact the parent conference chair for information on costs of meals and local arrangements) Registration, local arrangements, bank account (an ACM in-house bank account must be utilized by the Workshop, no exceptions) and publicity will be handled through the parent conference. Workshops budgeting funds for significant committee travel or proceedings beyond handouts for attendees should file a full TMRF. Also, all workshop chairs should check with the sponsoring SIG (http://www.acm.org/sigs/guide98.html) to confirm if there is any initial information that must be proposed to the SIG Leaders prior to submitting the Mini-TMRF to ACM.
View Section 1.1 of the Conference Manual for more detailed information regarding the Approval Process In-Cooperation Conference Requests: Contact incoop@acm.org
In-Cooperation Technical Meeting Request Form
http://www.acm.org/special-interest-groups/volunteer-resources/incooperation
Joint Sponsorship Agreement Form / Memo of Understanding - When more than one society is involved in the sponsorship of any event, certain details regarding financial and legal liabilities, asset ownership and rights, copyrights and permissions, decision making, budget and contract approvals, and withdrawal or termination of sponsorship need to be outlined in writing before the conference is approved.In general, the following principles should apply to any event co-sponsored with another society and/or organization:
The organization must be incorporated and tax exempt (non-profit).
The societies/organizations will share the legal and financial liabilities to the same extent that they share the net revenue.
There should be representatives from each society/organization on the conference planning and steering committee.
The copyrights will be alternated between the societies year to year with distribution and reprint rights granted freely to the other sponsors.
All assets and tangible by products related to or generated by the conference shall be the property of the sponsors in proportion to the percentage sponsorship.
Financial matters (budgets, bank accounts, investments and audits) shall be joint decisions of the sponsors.
All changes in the TMRF and Joint Sponsorship terms will be in writing and will be approved by all sponsors.
A template of the "Joint Sponsorship Agreement/Memo of Understanding" is available from:
| | |
| --- | --- |
| ACM/SIG Liaison | Joint Sponsorship Agreement with SIG |
| Ashley Cozzi | SIGDA, SIGGRAPH, SIGHPC |
| Irene Frawley | SIGACCESS, SIGACT, SIGAda, SIGAPP, SIGBio, SIGCAS, SIGDOC, SIGecom, SIGEVO, SIGITE, SIGLOG, SIGMIS, SIGSAM, SIGSIM, SIGSPATIAL, SIGUCCS |
| Fran Spinola | SIGBio, SIGCOMM, SIGIR, SIGKDD, SIGMM, SIGMOBILE, SIGMOD, SIGOPS, SIGPLAN, SIGSOFT and SIGSPATIAL |
| Farrah Khan | SIGARCH, SIGCHI and SIGHPC |
Requirements for the Preliminary Approval Form (PAF):
Must be a previously sponsored/co-sponsored ACM/SIG event
Conference banking information must be completed
General Chair and Treasurer must be listed along with a valid ACM Membership Number
Contact John Otero (1-212-626-0612) regarding all Hotel Site Selections/Contracts once PAF has been endorsed by the Sponsoring SIG units.
ACM will obtain endorsements(s) from the sponsoring SIG Conference Approver.
Submit PAF to ACM through our On-Line Submission System. Once preliminary endorsement has been granted, ACM will forward an electronic email to the Conference Contract Person. At that time, the organizers may distribute the Call for Papers for the conference. The form also provides information to ACM so that your conference listings are submitted to the Calendar Section of the Communications of the ACM (CACM) and your conference appears on the calendar for ACM Conferences to avoid overlapping dates with other ACM conferences.
Requirements for the Technical Meeting Request Forms (TMRF)
If a Joint Sponsorship Agreement is required please contact the appropriate ACM/SIG Liaison (see below).
The conference Program Chair should contact Adrienne Griscti, Proceedings Coordinator, (1-212-626-0615) for the Conference Proceedings Time Line and Procedures.
On-Line Submission and Email copies of the TMRF are accepted. Please contact ACM if you have any questions. Obtaining official ACM approval may take approximately 4 weeks
Contact information for all other conference activities are below:
Contact
Person/Information

Conferences Sponsored by SIG

SIGARCH, SIGCHI and SIGHPC

SIGCSE, SIGIR, SIGKDD, SIGMETRICS, SIGMICRO, SIGMM, SIGMOBILE, SIGSAC, SIGWEB

SIGDA, SIGGRAPH, SIGPLAN and SIGSOFT
Why I Belong to ACM
Hear from Bryan Cantrill, vice president of engineering at Joyent, Ben Fried chief information officer at Google, and Theo Schlossnagle, OmniTI founder on why they are members of ACM.
Written by leading domain experts for software engineers, ACM Case Studies provide an in-depth look at how software teams overcome specific challenges by implementing new technologies, adopting new practices, or a combination of both. Often through first-hand accounts, these pieces explore what the challenges were, the tools and techniques that were used to combat them, and the solution that was achieved.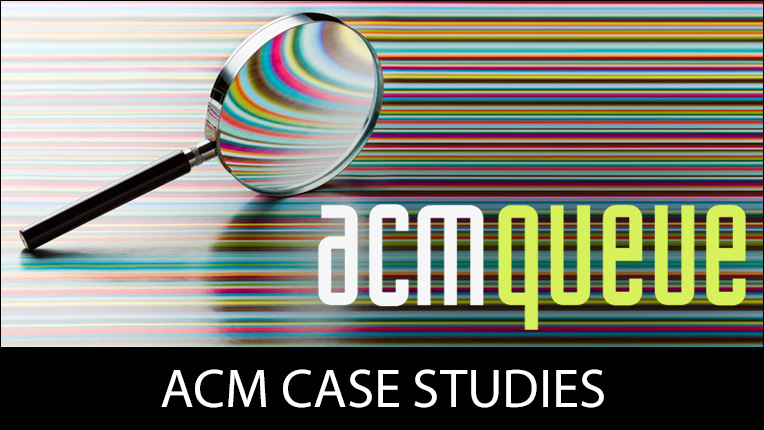 ACM is a volunteer-led and member-driven organization. Everything ACM accomplishes is through the efforts of people like you. A wide range of activities keep ACM moving, including organizing conferences, editing journals, reviewing papers and participating on boards and committees, to name just a few. Find out all the ways that you can volunteer with ACM.