Upcoming Conferences
7th ACM SIGOPS Asia-Pacific Workshop on Systems

Hong Kong, Hong Kong

The 22nd ACM SIGKDD International Conference on Knowledge Discovery and Data Mining

San Francisco, USA

Advances in Social Networks Analysis and Mining 2016

Davis, California, USA

ACM SIGCOMM 2016 Conference

Florianopolis, Brazil

29th Symposium on Integrated Circuits and Systems Design

Belo Horizonte, Brazil

International Symposium on Networks-on-Chip

Nara, Japan

ACM/IEEE International Conference on Automated Software Engineering

Singapore, Singapore

18th International Conference on Human-Computer Interaction with Mobile Devices and Services

Florence, Italy

ACM/IEEE 9th International Symposium on Empirical Software Engineering and Measurement

Ciudad Real, Spain

International Computing Education Research Conference

Melbourne, Australia

The 2016 ACM International Joint Conference on Pervasive and Ubiquitous Computing

Heidelberg, Germany

ACM Symposium on Document Engineering 2016

Vienna, Austria

Tenth ACM Conference on Recommender Systems

Boston, USA

International Symposium on Distributed Simulation and Real-Time Applications

Uxbridge, United Kingdom

ACM The Third Annual International Conference on Nanoscale Computing and Communication

New York, USA

The 17th Annual Conference on Information Technology Education and the 5th Annual Conference on Research in Information Technology (RIIT)

Boston, USA

TWELFTH EMBEDDED SYSTEM WEEK

Pittsburgh, USA

ACM International Conference on Bioinformatics, Computational Biology, and Health Informatics

Seattle, USA

ACM/IEEE 19th International Conference on Model Driven Engineering Languages and Systems

Saint-Malo, France

The 21th Annual International Conference on Mobile Computing and Networking

New York City, USA

ACM Symposium on Cloud Computing

Santa Clara, USA

High Integrity Language Technology ACM SIGAda Annual Conference

Pittsburgh, USA

Motion In Games

Burlingame, USA

ACM Multimedia Conference

Amsterdam, Netherlands

Symposium on Spatial User Interaction

Tokyo, Japan

SIGAI Career Network Conference

Boston, USA

ACM Conference on Information and Knowledge Management

Indianapolis, USA

2016 ACM SIGSAC Conference on Computer and Communications Security

Vienna, Austria

SouthEast Conference

Marietta, USA

IEEE/ACM Symposium on Edge Computing

Washington, USA

Conference on Systems, Programming, Languages, and Applications: Software for Humanity

Delft, Netherlands

24th ACM SIGSPATIAL International Conference on Advances in Geographic Information Systems

Burlingame, USA

22th ACM Symposium on Virtual Reality Software and Technology

Garching bei Mónchen, Germany

Interactive Surfaces and Spaces Surfaces

Niagara Falls, Canada

ACM SIGUCCS Annual Conference

Denver, USA

INTERNATIONAL CONFERENCE ON MULTIMODAL INTERACTION

Tokyo, Japan

2016 ACM Conference on Supporting Groupwork

Sanibel Island, USA

The International Conference for High Performance Computing, Networking, Storage and Analysis

Salt Lake City, USA

19th ACM International Conference on Modeling, Analysis and Simulation of Wireless and Mobile Systems

Malta, Malta

Internet Measurement Conference

Los Angeles, USA

The 3rd ACM International Conference on Systems for Energy-Efficient Built Environments

Palo Alto, USA

Annual Symposium on Computing for Development

Nairobi, Kenya

14th ACM-IEEE ACM-IEEE International Conference on Formal Methods and Models for System Design

Kanpur, India

SIGGRAPH Asia 2016

, Macao

Winter Simulation Conference

Arlington, USA

17th International Middleware Conference

Trento, Italy

The 12th International Conference on emerging Networking EXperiments and Technologies

Irvine, USA

The 11th International Conference on Ubiquitous Information Management and Communication

Beppu, Japan

Foundations of Genetic Algorithms XIV

Copenhagen, Denmark

Tenth ACM International Conference on Web Search and Data Mining

Cambridge, United Kingdom

The 48th ACM Technical Symposium on Computing Science Education

TBA, USA

Symposium on Interactive 3D Graphics and Games

TBA, USA

ACM/IEEE International Conference on Human-Robot Interaction

Vienna, Austria

22nd International Conference on Intelligent User Interfaces

Limassol, Cyprus

Design, Automation and Test in Europe

Lausanne, Switzerland

Symposium on Applied Computing

Marrakech, Morocco

ACM Asia Conference on Computer and Communications Security

Abu Dhabi, United Arab Emirates

Architectural Support for Programming Languages and Operating Systems

Xi'an, China

20th International Conference on Hybrid Systems: Computation and Control (part of CPS Week)

Pittsburgh, USA

Cyber Physical Systems Week 2017

Pittsburgh, USA

ACM/SPEC International Conference on Performance Engineering

L'Aquila, Italy

Twelfth EuroSys Conference 2017

Belgrade, Serbia

Great Lakes Symposium on VLSI 2017

Banff, Canada

International Conference on Management of Data

Raleigh, USA

Computing Frontiers Conference

Siena, Italy

39th International Conference on Software Engineering

Buenos Aires, Argentina

International Systems and Storage Conference

Haifa, Israel

SIGSIM Principles of Advanced Discrete Simulation

Singapore, Singapore

ACM SIGMETRICS / International Conference on Measurement and Modeling of Computer Systems

Urbana-Champaign, USA

The 22nd ACM Symposium on Access Control Models and Technologies (SACMAT)

Indianapolis, USA

Designing Interactive Systems Conference 2017

Edinburgh, United Kingdom

ACM International Conference on Interactive Experiences for TV and Online Video

Hilversum, Netherlands

Symposium on Theory of Computing

Montreal, Canada

The 15th Annual International Conference on Mobile Systems, Applications, and Services

Niagara Falls, USA

Multimedia Systems Conference 2017

Taipei, Taiwan

Computers and People Research Conference

Bangalore, India

The 43rd Annual International Symposium on Computer Architecture

Toronto, Canada

ACM Conference on Economics and Computation

Cambridge, USA

ACM SIGCHI Symposium on Engineering Interactive Computing Systems

Lisbon, Portugal

Creativity and Cognition

Singapore, Singapore

International Symposium on Software Testing and Analysis

Santa Barbara, USA

29th ACM Symposium on Parallelism in Algorithms and Architectures

Washington DC, USA

ACM Symposium on Principles of Distributed Computing

Washington, USA

The 40th International ACM SIGIR conference on research and development in Information Retrieval

Shinjuku, Tokyo, Japan

Knowledge Discovery in Databases

Halifax, Canada

ACM SIGCOMM 2017 Conference

Los Angeles, USA

Eleventh ACM Conference on Recommender Systems

Como, Italy

ACM SIGPLAN International Conference on Functional Programming

Oxford, United Kingdom

19th International Conference on Human-Computer Interaction with Mobile Devices and Services

Vienna, Austria

Joint Meeting of the European Software Engineering Conference and the ACM SIGSOFT Symposium on the Foundations of Software Engineering

Paderborn, Germany

ACM/IEEE 20th International Conference on Model Driven Engineering Languages and Systems

Austin, USA

ACM SIGIR International Conference on the Theory of Information Retrieval

Amsterdam, Netherlands

ACM SIGUCCS Annual Conference

TBA, USA

The 19th International ACM SIGACCESS Conference on Computers and Accessibility

, USA

The annual symposium on Computer-Human Interaction in Play

Amsterdam, Netherlands

The 30th Annual ACM Symposium on User Interface Software and Technology

Quebec City, Canada

Conference on Systems, Programming, Languages, and Applications: Software for Humanity

Vancouver, Canada

ACM SIGOPS 26th Symposium on Operating Systems Principles

Shanghai, China

ACM Conference on Information and Knowledge Management

Singapore, Singapore

23rd ACM Symposium on Virtual Reality Software and Technology

Gothenburg, Sweden

INTERNATIONAL CONFERENCE ON MULTIMODAL INTERACTION

glasgow, United Kingdom

The 45th Annual ACM SIGPLAN Symposium on Principles of Programming Languages

Los Angeles / San Francisco, USA

The 49th ACM Technical Symposium on Computing Science Education

TBA, USA

CHI Conference on Human Factors in Computing Systems

Montreal, Canada

International Conference on Management of Data

Houston, USA

International Symposium on Software Testing and Analysis

Amsterdam, Netherlands

The 41st International ACM SIGIR conference on research and development in Information Retrieval

Ann Arbor, USA

20th International Conference on Human-Computer Interaction with Mobile Devices and Services

Barcelona, Spain

The 42nd International ACM SIGIR conference on research and development in Information Retrieval

Paris, France
Network with like-minded professionals and enjoy unique opportunities to share technical expertise and first-hand knowledge of the latest trends.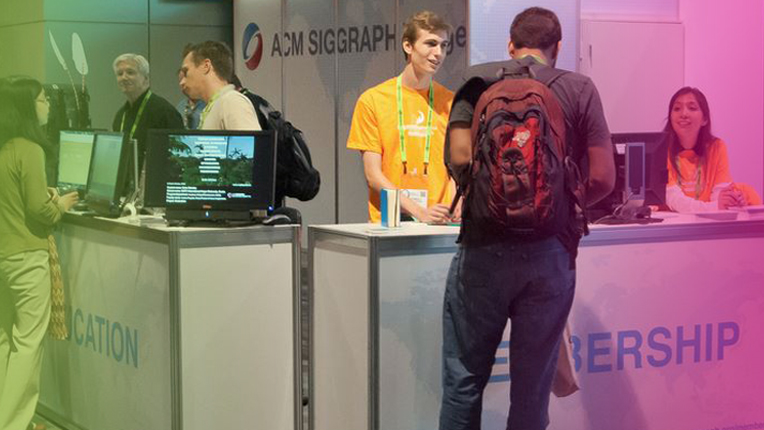 Best Paper Awards are presented at many ACM conferences to authors whose work represents groundbreaking research in their respective areas. By recognizing these select papers for their ingenuity and importance, ACM highlights some of the theoretical and practical innovations that are likely to shape the future of computing.
Recent Best Papers:
SentiCart: Cartography and Geo-contextualization for Multilingual Visual Sentiment
By Brendan Jou, Margaret Yuying Qian, Shih-Fu Chang
The 2016 ACM International Conference on Multimedia Retrieval
Bags of Local Convolutional Features for Scalable Instance Search
By Eva Mohedano, Kevin McGuinness, Noel E. O'Connor, Amaia Salvador, Ferran Marques, Xavier Giro-i-Nieto
The 2016 ACM on International Conference on Multimedia Retrieval
Multilingual Visual Sentiment Concept Matching
By Nikolaos Pappas, Miriam Redi, Mercan Topkara, Brendan Jou, Hongyi Liu, Tao Chen, Shih-Fu Chang
The 2016 ACM on International Conference on Multimedia Retrieval
Learning Resource
ACM SIGs organize and sponsor more than 170 conferences, workshops and symposia worldwide. Find a gathering of like-minded computing professionals.
With support from ACM, the Computer History Museum has digitally restored video footage from the 1986 ACM Conference on the History of Personal Workstations. Hosted at the Xerox Palo Alto Research Center, this historic conference assembled some of the most influential figures in computing, including multiple ACM Turing Award recipients and Fellows.