Laureates of Computer Science and Mathematics Meet the Next Generation
For one week each September, the Heidelberg Laureate Forum (HLF) brings together promising young researchers with recipients of the most prestigious awards in computing and mathematics. Modeled after the Lindau Nobel Laureate Meetings, recipients of the ACM A.M. Turing Award, the ACM Prize in Computing, the Abel Prize, the Fields Medal, and the Nevanlinna Prize engage in a cross-generational scientific dialogue with up to 200 young researchers in Heidelberg, Germany.
The seventh HLF will take place September 22 to 27, 2019. This high-profile event combines scientific, social and outreach activities in an informal atmosphere, and is fueled by comprehensive exchange and scientific inspiration.
---
ACM HLF Selection Committee
ACM gratefully acknowledges members of the ACM Selection Committee for their work reviewing the applications of young computer scientists who applied for one of the coveted spots to participate in the 2019 HLF.
Committee Co-Chairs
Jennifer Chayes, Microsoft Research
Matthias Kaiserswerth, Hasler Foundation
Committee Members
Gul Agha, University of Illinois at Ubana-Champaign
Srinivas Aluru, Georgia Tech
N Asokan, Aalto University
Ricardo Baeza-Yates, NTENT
Tony Baylis, Lawrence Livermore National Laboratory
Sonia Bergamaschi, Unimore - Universita Degli Studi di Modena e Reggio Emelia
Lars Birkedal, Aarhus University
Wenguang Chen, Tsinghua University
Jane Cleland-Huang, University of Notre Dame
Edith Cohen, Google Research / Tel Aviv University
Haixin Duan, Tsinghua University
Ahmed Elmagarmid, Qatar Computing Research Institute
Elena Ferrari, University of Insubria
Juan Gilbert, University of Florida
Martin Grohe, RWTH Aachen University
Jim Hendler, Rensselaer Polytechnic Insitute
Aaron Hertzmann, Adobe Research
Jessica Hodgins, Carnegie Mellon University
Mark Hoemmen, Sandia National Laboratories
Xia (Ben) Hu, Texas A&M University
John Hughes, Chalmers University of Technology
Robert Jacob, Tufts University
Jeff Johnson, University of San Francisco
Adam Kalai, Microsoft Research
Karrie Karahalios, University of Illinois
Martin Kersten, University of Amsterdam/CWI
Clayton Lewis, University of Colorado Boulder
Jessie Li, Penn State University
John Lui, Chinese University of Hong Kong
Bryan Lyles, Oak Ridge National Laboratory
Yoelle Maarek, Amazon Haifa
Bruce Maggs, Duke University
Dinesh Manocha, University of Maryland
Jacquelyn Martino, IBM Research
Vishal Misra, Columbia Univeristy
Mukesh Mohania, IBM Research Australia
Andreas Moshovos, University of Toronto
Madhavan Mukund, Chennai Mathematical Institute
Hwee Tou Ng, National University of Singapore
Cristina Nita-Rotaru, Northeastern University
Judith Olson, UC Irvine
Venkat Padmanabhan, Microsoft Research India
David Peleg, Weizmann Insititute of Science
Ron Perrott, Oxford e-Research Centre
Marian Petre, The Open University
Amanda Randles, Duke University
John Richards, IBM Research USA
Matthew Roughan, University of Adelaide
Holly Rushmeier, Yale University
Andrew Sears, Penn State University
Sudipta Sengupta, Microsoft Research
David A. Shamma, FX Palo Alto Laboratory
Clarisse Sieckenius de Souza, Pontifical Catholic University of Rio de Janeiro
Renata Cruz Teixeira, INRIA
Bhavani Thuraisingham, University of Texas at Dallas
Carlo Tomasi, Duke University
Willem Visser, Stellenbosch University
Ellen Voorhees, NIST
Alec Wolman, Microsoft Research
Dongrui Wu, Data Nova
Xiang-Yang Li, University of Science and Technology of China
Shuicheng Yan, National University of Singapore
Yanfang (Fanny) Ye, West Virginia University
Wlodek Zadrozny, University of North Carolina, Charlotte
Qian Zhang, Hong Kong University of Science and Technology
Yu Zheng, Microsoft Research
Zhi-Hua Zhou, Nanjing University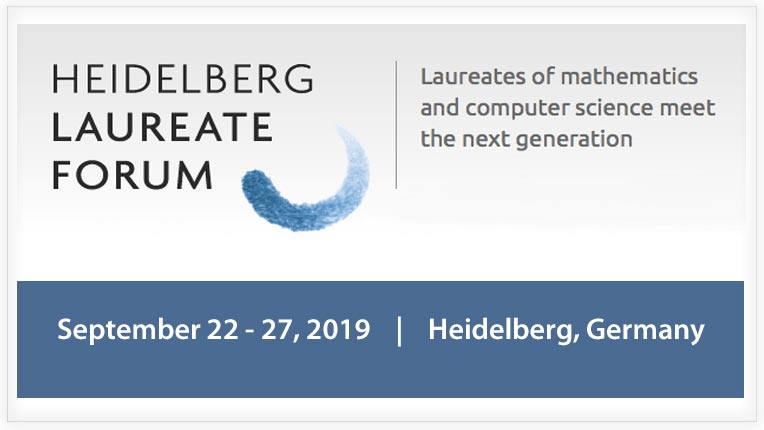 HLF Laureate Portraits
The HLF Laureate Portraits is a series of video interviews with the recipients of the ACM A.M. Turing Award, the ACM Prize in Computing, The Abel Prize, the Fields Medal, and the Nevanlinna Prize who have participated in the Heidelberg Laureate Forum.
ACM Turing and ACM Prize Laureates at 6th Heidelberg Laureate Forum
Each year, ACM is proud to bring recipients of the ACM A.M. Turing Award and recipients of the ACM Prize in Computing to the Heidelberg Laureate Forum (HLF), the premier networking event for mathematicians and computer science from all over the world. The HLF provides an opportunity for the scientific heroes of previous generations to inspire the next generation of scientists.