Curricula Recommendations
In the decades since the 1960s, ACM, along with leading professional and scientific computing societies, has endeavored to tailor curriculum recommendations to the rapidly changing landscape of computer technology. As the computing field continues to evolve, and new computing-related disciplines emerge, existing curriculum reports will be updated, and additional reports for new computing disciplines will be drafted.
Computing Curricula 2005: The Overview Report
CC2005 provides undergraduate curriculum guidelines for five defined sub-disciplines of computing:
Computer Engineering
Computer Science
Information Systems
Information Technology
Software Engineering
Computer Engineering
Computer Science
Cybersecurity
Information Systems
Information Technology
Software Engineering
Associate-Degree Computing Curricula
Kindergarten through 12th Grade
Why I Belong to ACM
Hear from Bryan Cantrill, vice president of engineering at Joyent, Ben Fried chief information officer at Google, and Theo Schlossnagle, OmniTI founder on why they are members of ACM.
For Practitioners
ACM Queue's "Research for Practice" consistently serves up expert-curated guides to the best of computing research, and relates these breakthroughs to the challenges that software engineers face every day. This installment of RfP is by Anna Wiedemann, Nicole Forsgren, Manuel Wiesche, Heiko Gewald, and Helmut Krcmar. Titled "The DevOps Phenomenon," this RfP gives an overview of stories from across the industry about software organizations overcoming the early hurdles of adopting DevOps practices, and coming out on the other side with tighter integration between their software and operations teams, faster delivery times for new software features, and achieving a higher level of stability.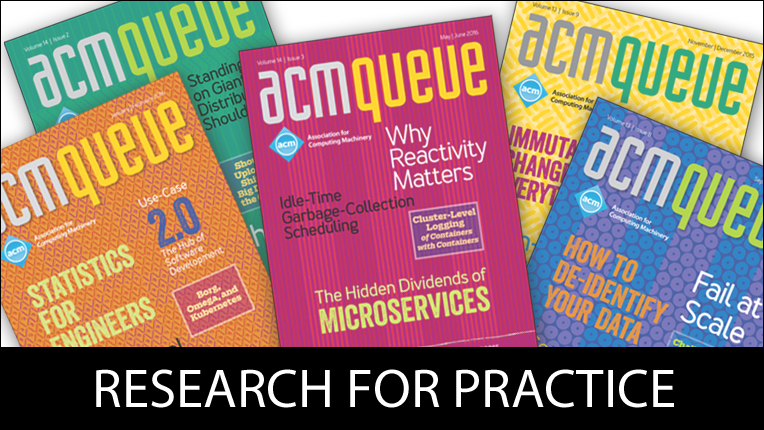 Publish Your Work
ACM's prestigious conferences and journals are seeking top-quality papers in all areas of computing and IT. It is now easier than ever to find the most appropriate venue for your research and publish with ACM.