About ACM Publications
For more than 60 years, the best and brightest minds in computing have come to ACM to meet, share ideas, publish their work and change the world. ACM's publications are among the most respected and highly cited in the field because of their longstanding focus on quality and their ability to attract pioneering thought leaders from both academia and industry.
The new journal ACM Transactions on Evolutionary Learning and Optimization (TOIT) will cover evolutionary computation and related areas such as population-based methods, Bayesian optimization, and swarm intelligence. Papers making solid contributions to theory, method and applications are welcome. TELO is particularly interested in papers at the intersection of optimization and machine learning. Visit telo.acm.org for more information or to submit your manuscript.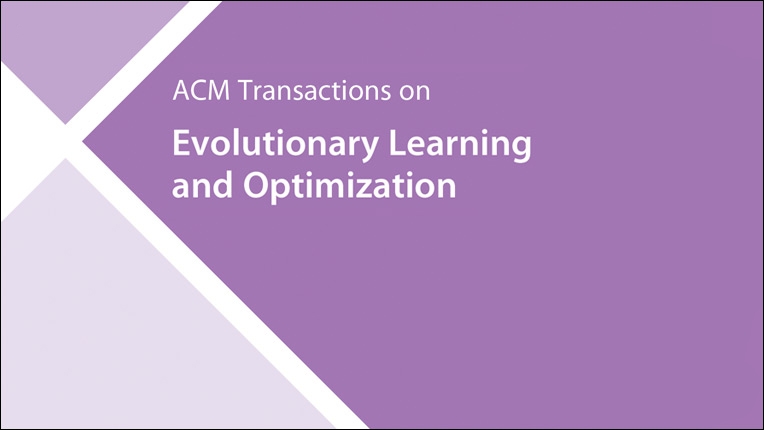 The new journal ACM Transactions on Quantum Computing (TQC) will publish original research papers and surveys on topics in quantum computing and quantum information science. Topics can include models of quantum computing, quantum algorithms and complexity, quantum computing architecture, principles and methods of fault-tolerant quantum computation, design automation for quantum computing, quantum programming languages and systems, and more. Visit tqc.acm.org for more information or to submit your manuscript.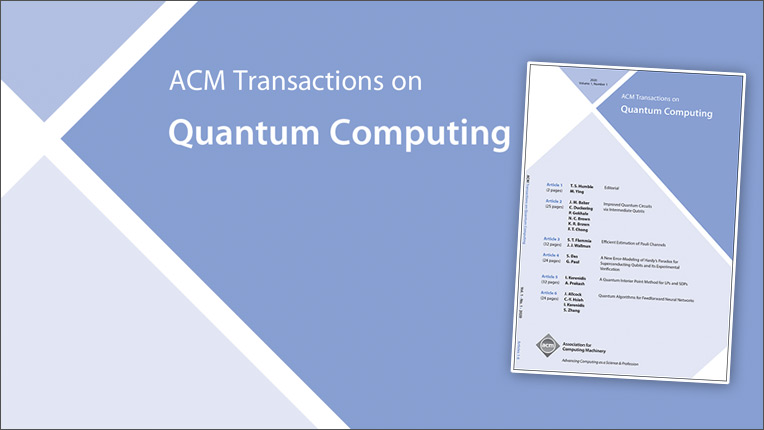 ACM Transactions on Social Computing (TSC) has published its first issue covering the burgeoning field of social computing. TSC welcomes research employing a wide range of methods to advance the tools, techniques, understanding, and practice of social computing, including theoretical, algorithmic, empirical, experimental, qualitative, quantitative, ethnographic, design, and engineering research.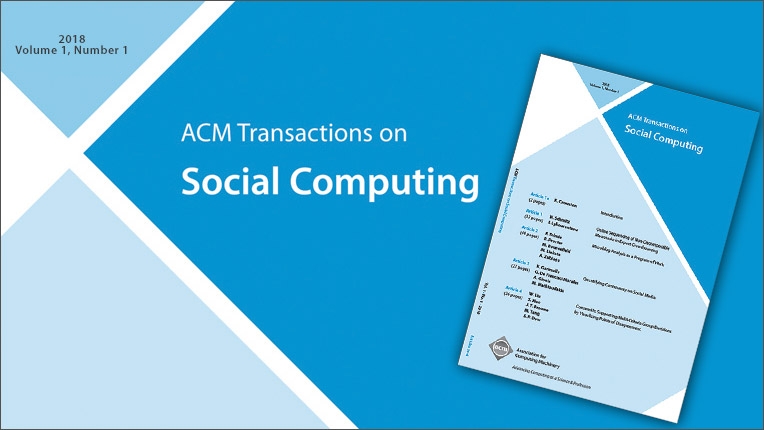 New Journal: ACM Transactions on Internet of Things
The new journal ACM Transactions on Internet of Things (TIOT) will cover applications, communication networks, data analytics, wearable devices, and many more topics in the context of IoT, with a focus on system designs, end-to-end architectures, and enabling technologies. TIOT solicits research that provides experimental evidence of its effectiveness in realistic scenarios. Visit tiot.acm.org for more information or to submit your manuscript.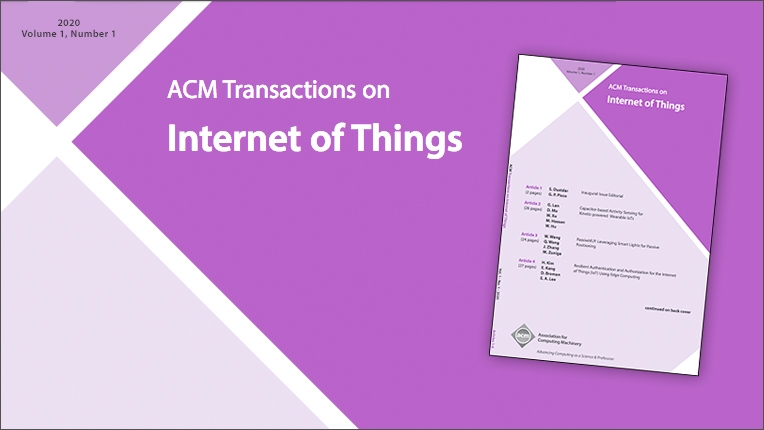 New Journal: ACM Transactions on Data Science
The new journal ACM Transactions on Data Science (TDS) includes cross-disciplinary innovative research ideas, algorithms, systems, theory and applications for data-intensive computing. We invite papers that address challenges from acquisition to data cleaning, transformation, representation, integration, indexing, modeling, analysis, visualization, and interpretation. Visit tds.acm.org for more information or to submit your manuscript.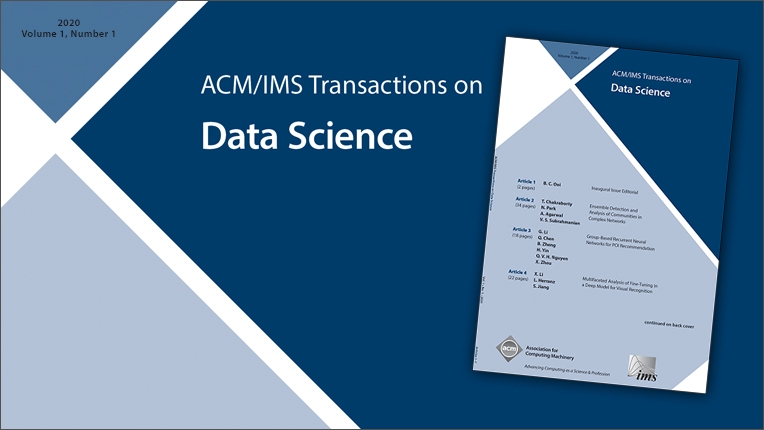 ACM Transactions on Human-Robot Interaction (THRI) (formerly known as the Journal of Human-Robot Interaction (JHRI)) has published its first issue focusing on "New Frontiers for Human-Robot Interaction." THRI welcomes submissions on robotics, computer science, engineering, design, and the behavioral and social sciences.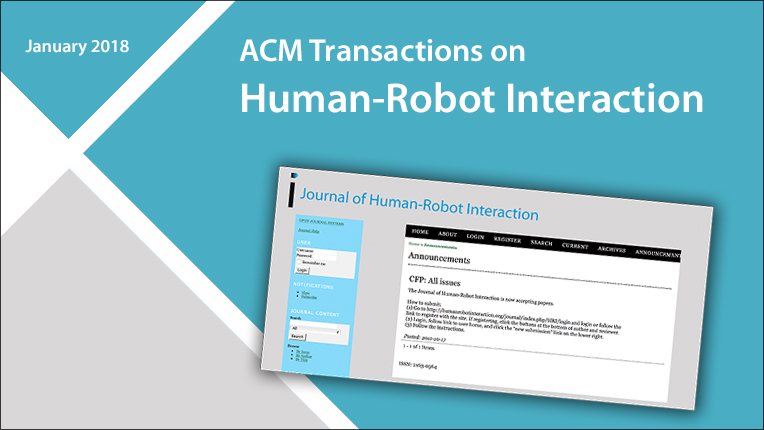 Data quality is one of the most important problems in data management, since dirty data often leads to inaccurate data analytics results and incorrect business decisions. In Data Cleaning, Ihab Ilyas and Xu Chu provide an overview of the end-to-end data cleaning process, rather than focusing on a particular data cleaning task.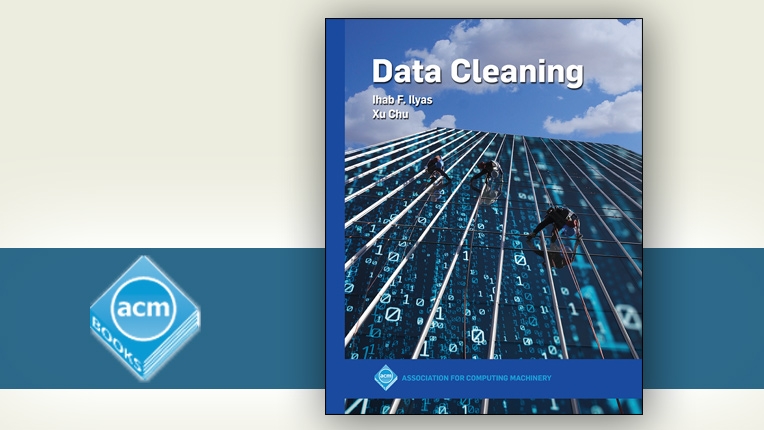 The Handbook of Multimodal-Multisensor Interfaces provides the first authoritative resource on what has become the dominant paradigm for new computer interfaces: user input involving new media (speech, multi-touch, hand and body gestures, facial expressions, writing) embedded in multimodal-multisensor interfaces. This third volume focuses on state-of-the-art multimodal language and dialogue processing, including semantic integration of modalities.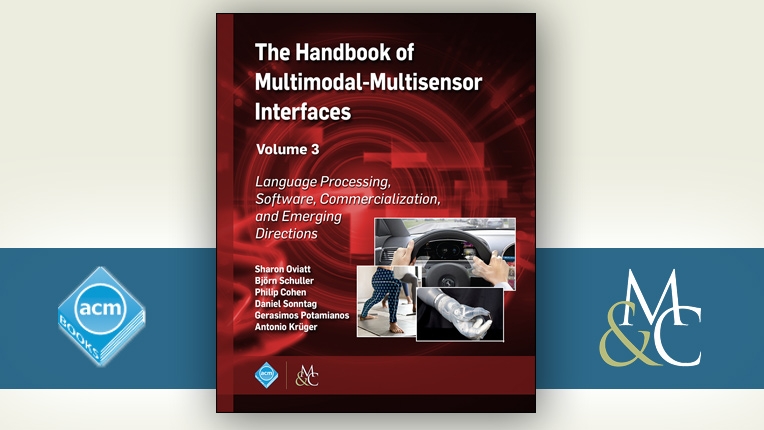 New EIC
ACM Transactions on Software Engineering and Methodology (TOSEM) welcomes Mauro Pezzè as its new Editor-in-Chief for the term January 1, 2019 to December 31, 2021. Mauro is a Professor of Software Engineering in the Faculty of Informatics at the Università della Svizzera italiana and at the Università di Milano-Bicocca.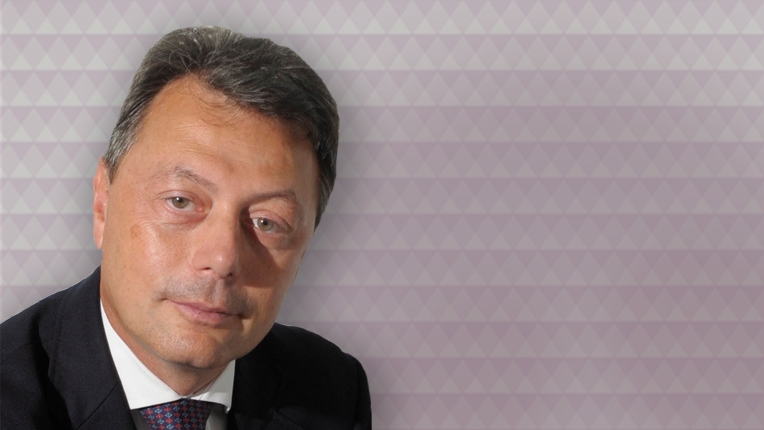 New EIC
ACM Journal on Emerging Technologies in Computing Welcomes Ramesh Karri as New Editor-in-Chief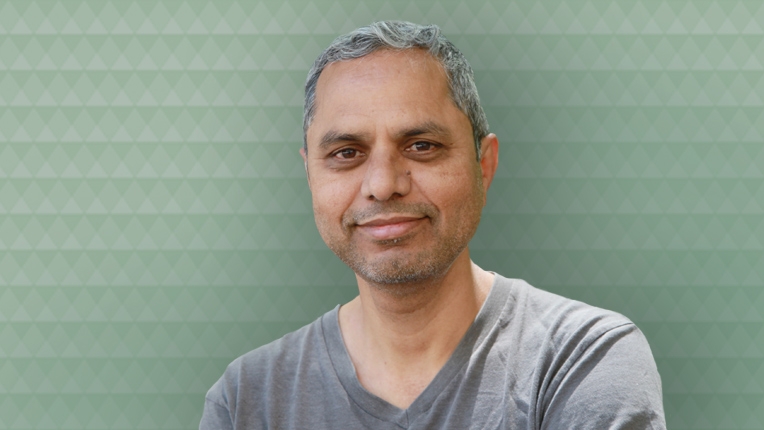 Practical Content from ACM Queue
For Practitioners
Written by renowned software engineers at some of the world's most innovative companies, ACM Case Studies provide an in-depth look at how software teams overcome specific challenges by implementing new technologies, adopting new practices, or a combination of both. This installment examines the challenge of using systems and networks that allow healthcare data to be readily shared by all the physicians, clinics, hospitals, and pharmacies a person might choose to share them with or have occasion to visit, which is what David Evans and Richard McDonald are striving to do with the Toronto-based healthcare startup HealthChain. Here,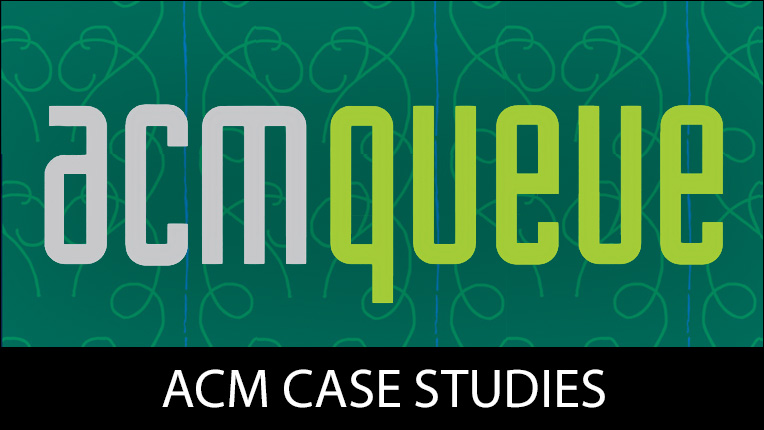 For Practitioners
ACM Queue's "Research for Practice" consistently serves up expert-curated guides to the best of computing research, and relates these breakthroughs to the challenges that software engineers face every day. This installment of RfP is by Anna Wiedemann, Nicole Forsgren, Manuel Wiesche, Heiko Gewald, and Helmut Krcmar. Titled "The DevOps Phenomenon," this RfP gives an overview of stories from across the industry about software organizations overcoming the early hurdles of adopting DevOps practices, and coming out on the other side with tighter integration between their software and operations teams, faster delivery times for new software features, and achieving a higher level of stability.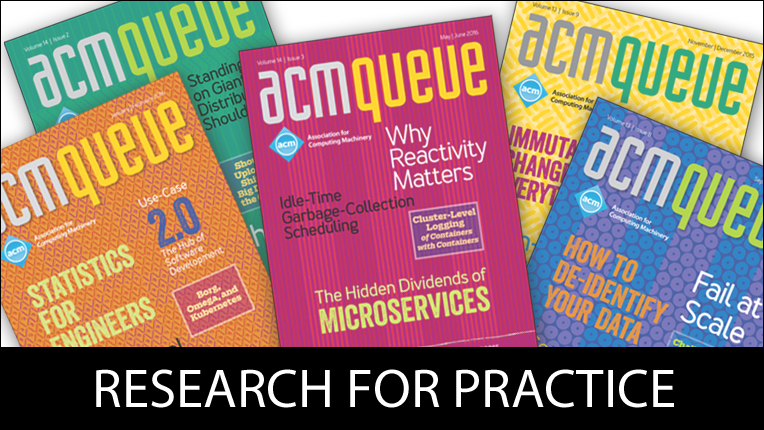 The ACM International Conference Proceeding Series (ICPS) provides a mechanism to publish the contents of conferences, technical symposia and workshops and thereby increase their visibility among the international computing community. The goal of this program is to enable conferences and workshops to cost effectively produce print proceedings for their attendees, while also providing maximum dissemination of the material through electronic channels, specifically, the ACM Digital Library.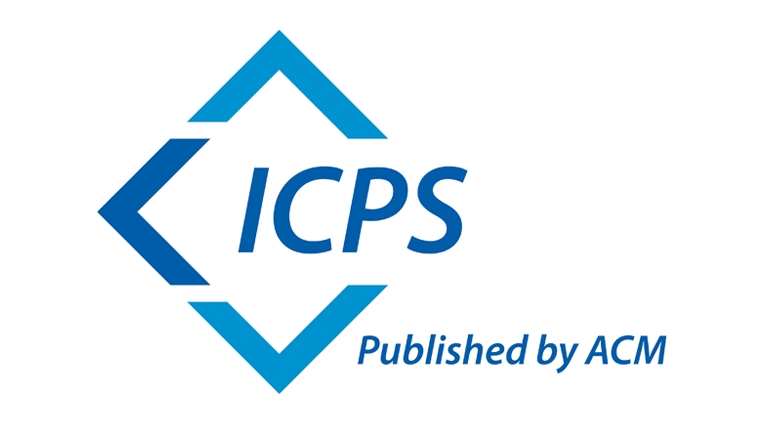 Overleaf is a free, cloud-based, collaborative authoring tool that provides an ACM LaTeX authoring template. Authors can write using Rich Text mode or regular Source mode. The platform automatically compiles the document while an author writes, so the author can see what the finished file will look like in real time. The template allows authors to submit manuscripts easily to ACM from within the Overleaf platform.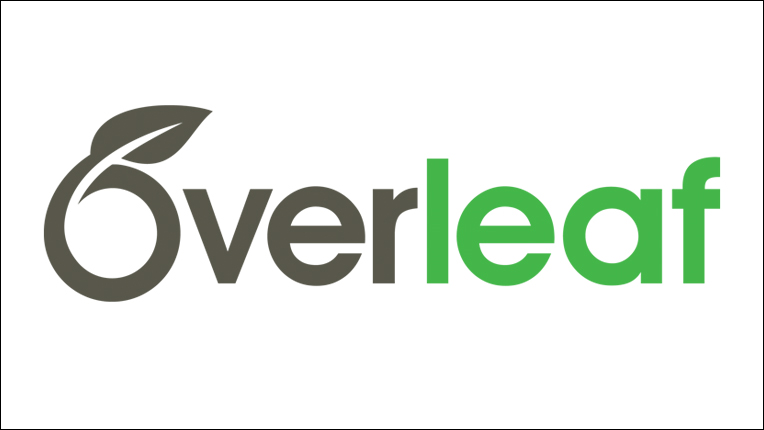 Publish Your Work
ACM Policies on Authorship
Anyone listed as Author on an ACM paper must meet certain criteria, including making substantial intellectual contributions to some components of the original work and drafting and/or revising the paper.
Authors submitting papers for peer-review to ACM publications will represent that the paper submitted is original; that the work submitted is not currently under review at any other publication venue; that they have the rights and intent to publish the work in the venue to which it is submitted; and that any prior publications on which this work is based are documented appropriately.
Read the entire set of criteria in the Policy on Roles and Responsibilities in ACM Publishing.
Publish Your Work
The Conflict of Interest policy outlines what constitutes a conflict of interest (COI) for ACM publications; who is in a position to identify and report potential COIs; and how a potential COI should be managed. The policy applies to any material that is formally reviewed or refereed as per ACM policy; awards based on content published in ACM venues; and authors, reviewers, editors, conference program committee members, judges, and other persons associated with ACM-published materials.
The policy provides specific guidelines for common instances with the goal of assisting in the process of identifying and resolving potential conflicts of interest. It also describes how the policy can be augmented, and how exceptions may be approved.
Proceedings of the ACM (PACM) is a journal series that launched in 2017. The series was created in recognition of the fact that conference-centric publishing disadvantages the CS community with respect to other scientific disciplines when competing with researchers from other disciplines for top science awards and career progression, and the fact that top ACM conferences have demonstrated high quality and high impact on the field. See PACMs on Programming Languages, Interactive, Mobile, Wearable and Ubiquitous Technologies, Measurement and Analysis of Computing Systems, and HCI.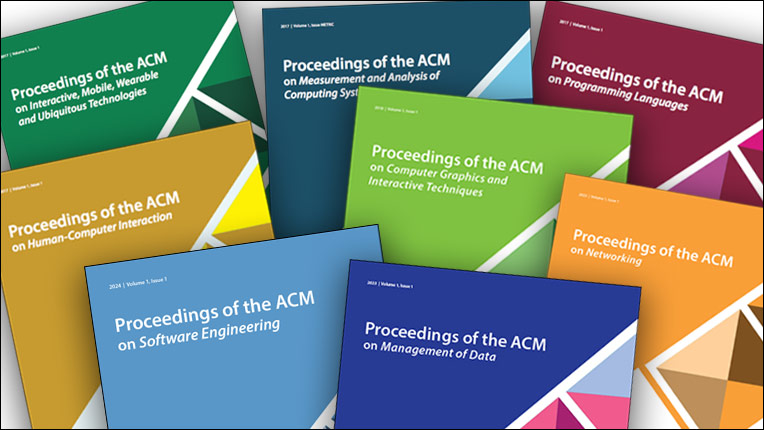 Proceedings of the ACM on Programming Languages (PACMPL) is a Gold Open Access journal publishing research on all aspects of programming languages, from design to implementation and from mathematical formalisms to empirical studies. Each issue of the journal is devoted to a particular subject area within programming languages and will be announced through Calls for Papers.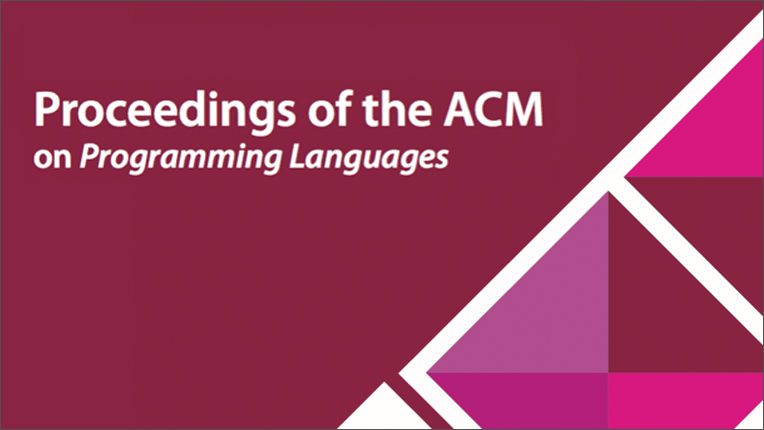 Proceedings of the ACM on Interactive, Mobile, Wearable and Ubiquitous Technologies (IMWUT) is a premier journal for research relevant to the post-PC era. IMWUT covers a broad range of topics and includes research contributions in systems and infrastructures, new hardware and sensing techniques, and studies of user experiences and societal impact.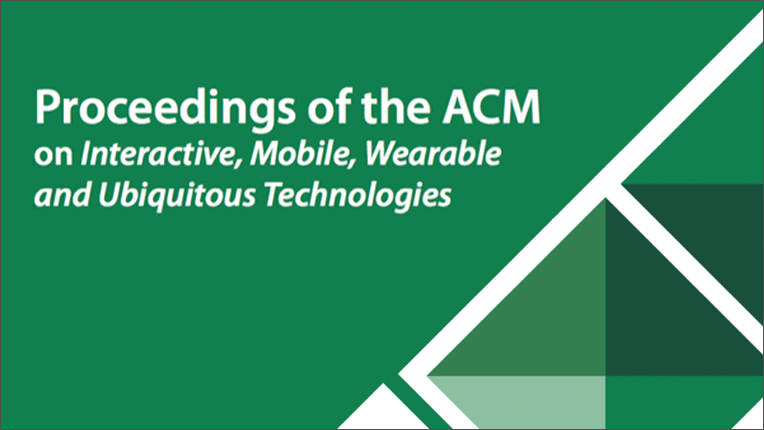 Proceedings of the ACM on Measurement and Analysis of Computing Systems (POMACS) publishes original research of the highest quality dealing with performance of computing systems, broadly construed. We recognize that critical insights into key design trade-offs in computer or network systems have historically be obtained using a broad set of tools: benchmarking and experimental evaluation, mathematical modeling, algorithmic analysis, which often need to be combined creatively.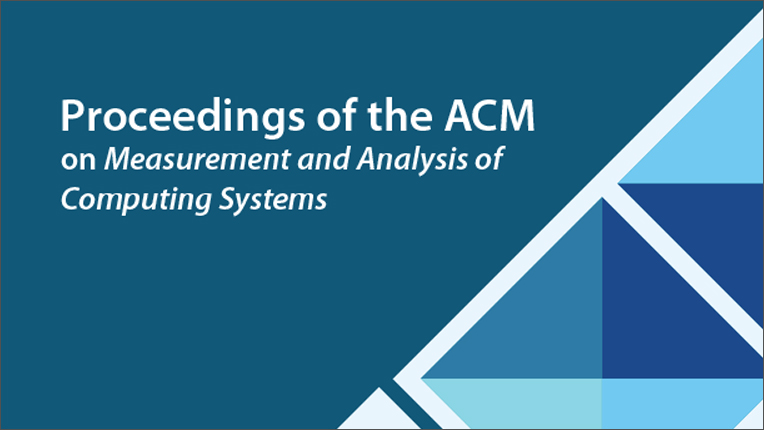 Proceedings of the ACM on Human Computer Interaction (HCI) is a journal for research relevant to multiple aspects of the intersection between human factors and computing systems. PACMHCI covers a broad range of topics and methods that help illuminate the intersection between humans and computing systems. The scope of this journal includes research contributions in new systems for input and output, studies of user experiences with computing systems, scholarship on the individual and group effects of computer mediation, and societal impacts of new human computer interactions.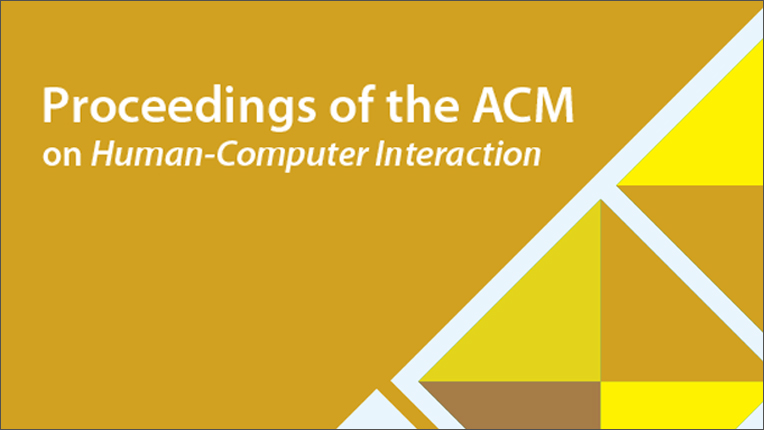 Proceedings of the ACM on Computer Graphics and Interactive Techniques (PACMCGIT) publishes original research of the highest quality dealing with all areas of computer graphics and interactive techniques including rendering, modeling, animation, and digital image processing as well as the visual computing and simulation elements of computational fabrication, computational photography, physical modeling and control, user interfaces, video game techniques, and virtual and augmented reality.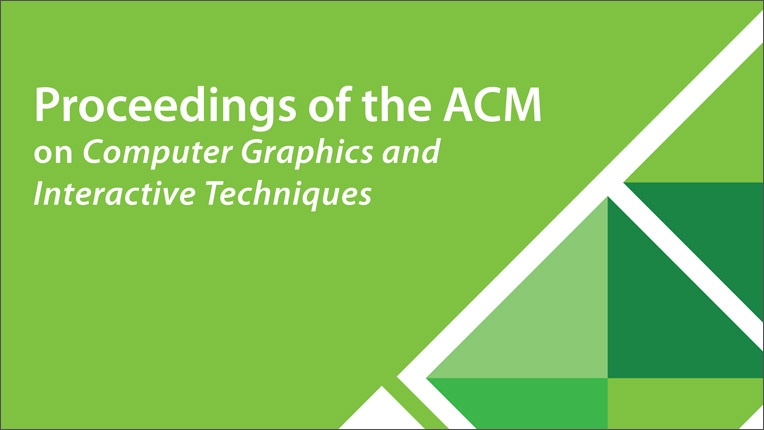 ACM is a volunteer-led and member-driven organization. Everything ACM accomplishes is through the efforts of people like you. A wide range of activities keep ACM moving, including organizing conferences, editing journals, reviewing papers and participating on boards and committees, to name just a few. Find out all the ways that you can volunteer with ACM.
Premier Resource
The most comprehensive collection of full-text articles and bibliographic records covering computing and information technology includes the complete collection of ACM's publications.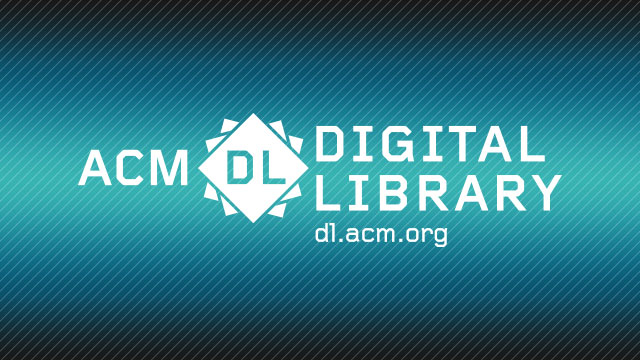 CACM Reports
Internet of Things Search Engine
Advancements under the moniker of the Internet of Things (IoT) allow things to network and become the primary producers of data in the Internet. IoT makes the state and interactions of real-world available to Web applications and information systems with minimal latency and complexity. By enabling massive telemetry and individual addressing of "things," the IoT offers three prominent benefits: spatial and temporal traceability of individual real-world objects for thief prevention, counterfeit product detection and food safety via accessing their pedigree; enabling ambient data collection and analytics for optimizing crop planning, enabling telemedicine and assisted living; and supporting real-time reactive systems such as smart building, automatic logistics and self-driving, networked cars. Realizing these benefits requires the ability to discover and resolve queries for contents in the IoT. In this video, Nguyen Khoi Tran discusses "Internet of Things Search Engine," a Review Article in the July 2019 Communications of the ACM.