About ACM Publications
For more than 60 years, the best and brightest minds in computing have come to ACM to meet, share ideas, publish their work and change the world. ACM's publications are among the most respected and highly cited in the field because of their longstanding focus on quality and their ability to attract pioneering thought leaders from both academia and industry.
ACM Transactions on Recommender Systems (TORS) is now available for download. TORS publishes high quality papers that address various aspects of recommender systems research such as algorithms, user experience, and the impact and value of such systems. The journal takes a holistic view of the field and calls for contributions from different subfields of computer science and information systems such as machine learning, data mining, information retrieval, web-based systems, data science and big data, and human-computer interaction. For more information and to submit your work, visit the journal homepage.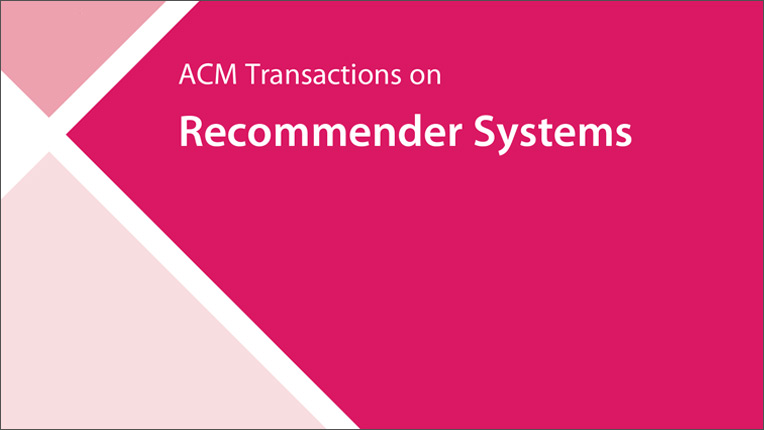 Games: Research and Practice (Games) offers a lighthouse for games research that defines the state of the art on games and playable media across academic research and industry practice. Inclusive in community, discipline, method, and game form, it publishes major reviews, tutorials, and advances on games and playable media that are both practically useful and grounded in robust evidence and argument, alongside case studies, opinions, and dialogues on new developments that will change games. For more information and to submit your work, visit the homepage.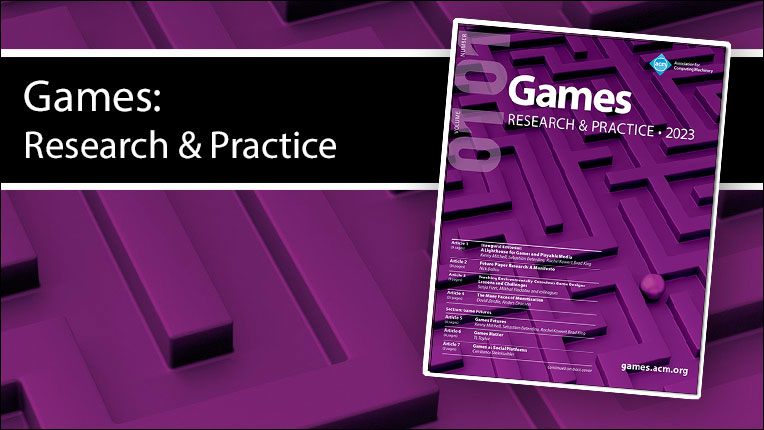 The ACM Journal on Responsible Computing (JRC) will publish high-quality original research at the intersection of computing, ethics, information, law, policy, responsible innovation, and social responsibility from a wide range of convergent, interdisciplinary, multidisciplinary, and transdisciplinary perspectives. Editor-in-Chief Kenneth R. Fleischmann is a Professor and Director of Undergraduate Studies at the University of Texas at Austin School of Information. Read the ACM news release and visit the journal homepage.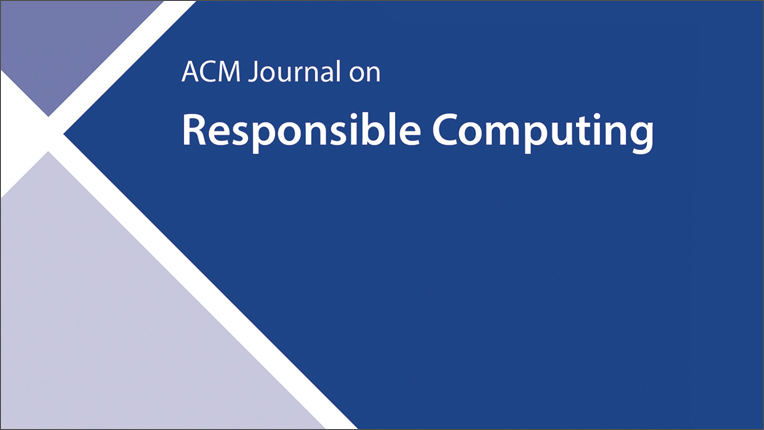 The inaugural issue of Collective Intelligence (COLA) is now available for download. Co-published by SAGE in collaboration with NESTA, COLA is a global, peer-reviewed, open-access journal that publishes trans-disciplinary work bearing on collective intelligence across the disciplines. The journal embraces a policy of creative rigor to facilitate the discovery of principles that apply across scales and new ways of harnessing the collective to improve social, ecological, and economic outcomes. For more information and to submit your work, visit the journal homepage.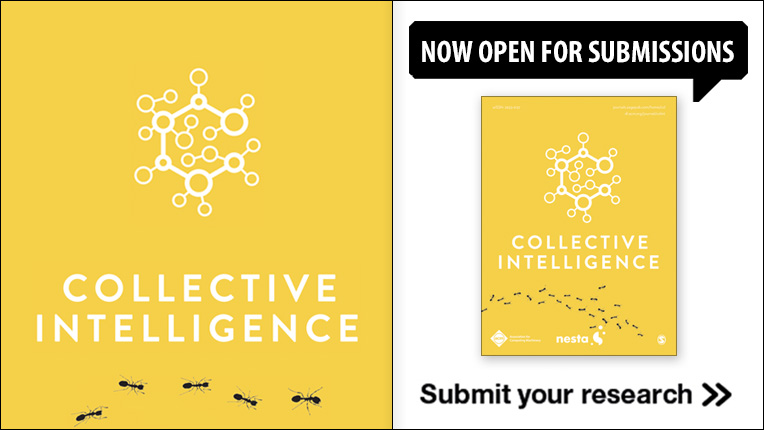 As of January 2022, and for a two-year period, all papers published in ACM Transactions on Programming Languages (TOPLAS) will be published as Gold Open Access (OA) and will be free to read and share via the ACM Digital Library. During the first two years, authors will be given the option (but not required) to pay the APC. Archival content will be made open access as of January 1, 2022 as well. For those authors financially unable to pay the APC as of 2024, ACM has developed a waiver program to ensure that no accepted articles to TOPLAS go unpublished as a result of financial need.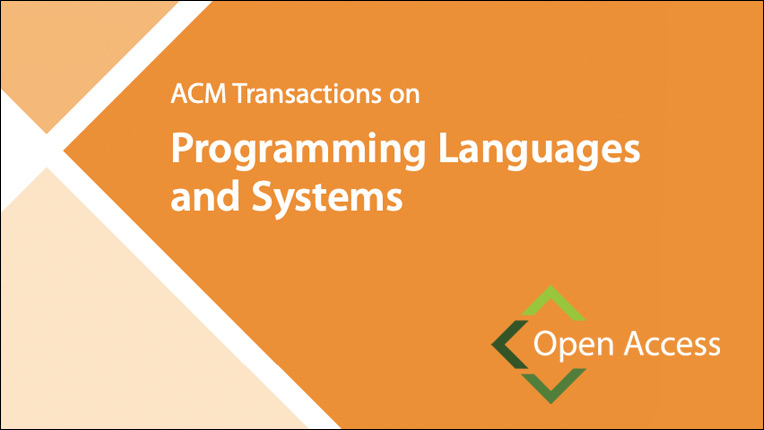 The new journal ACM Transactions on Evolutionary Learning and Optimization (TELO) has published its first volume. Articles in the inaugural issue are open for public access. The journal covers evolutionary computation and related areas such as population-based methods, Bayesian optimization, and swarm intelligence. TELO's EICs are Jürgen Branke (University of Warwick) and Manuel López-Ibáñez (University of Málaga).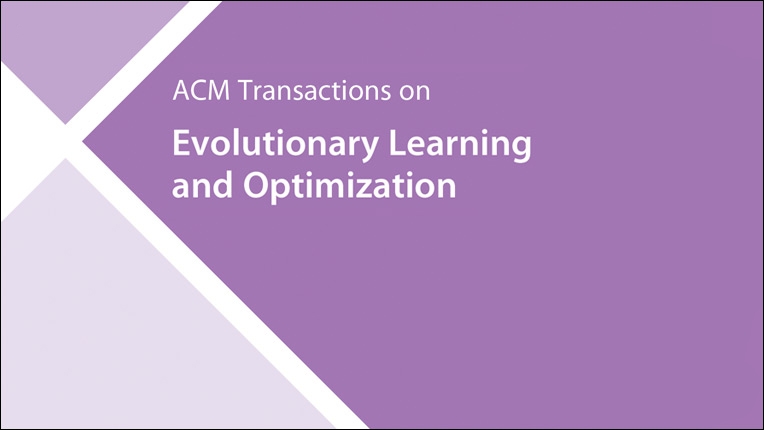 The new journal ACM Transactions on Internet of Things (TIOT) will cover applications, communication networks, data analytics, wearable devices, and many more topics in the context of IoT, with a focus on system designs, end-to-end architectures, and enabling technologies. TIOT solicits research that provides experimental evidence of its effectiveness in realistic scenarios. The inaugural issue is now available in the ACM Digital Library.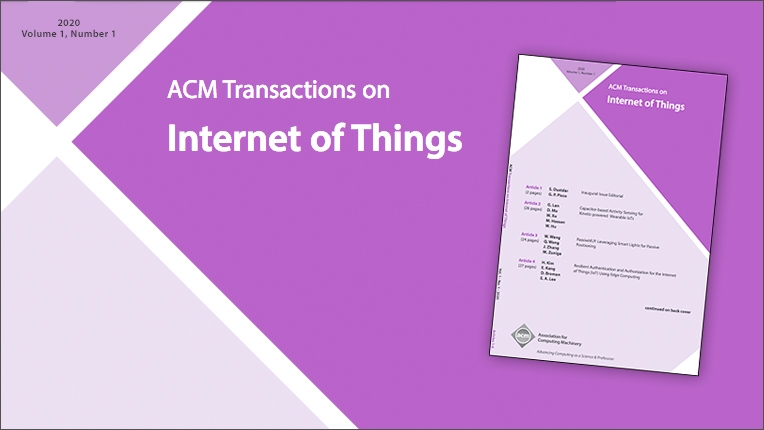 ACM and BCS, The Chartered Institute for IT will co-publish the journal Formal Aspects of Computing starting in 2022. Currently published by Springer Nature for BCS, the journal's scope includes fundamental computational concepts, fault-tolerant design, theorem-proving support, state-exploration tools, formal underpinning of widely-used notations and methods, history of formal methods, and more. With the new agreement, the journal will transition to Gold Open Access status. Read the ACM news release and visit the submissions site.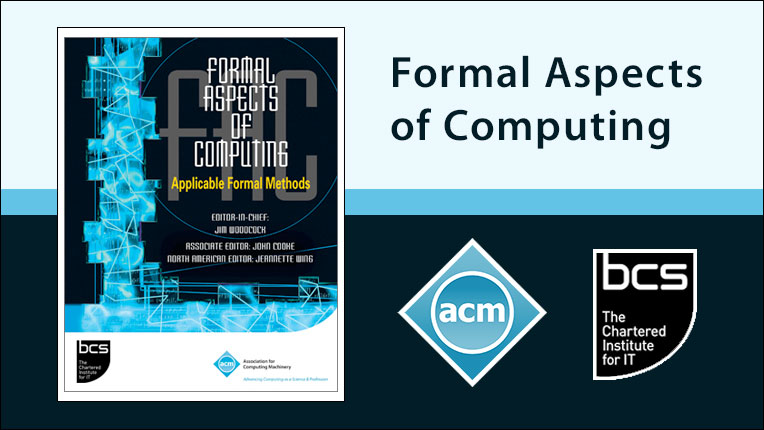 Proceedings of the ACM (PACM) is a journal series that launched in 2017. The series was created in recognition of the fact that conference-centric publishing disadvantages the CS community with respect to other scientific disciplines when competing with researchers from other disciplines for top science awards and career progression, and the fact that top ACM conferences have demonstrated high quality and high impact on the field. See PACMs on Programming Languages, Interactive, Mobile, Wearable and Ubiquitous Technologies, Measurement and Analysis of Computing Systems, and HCI.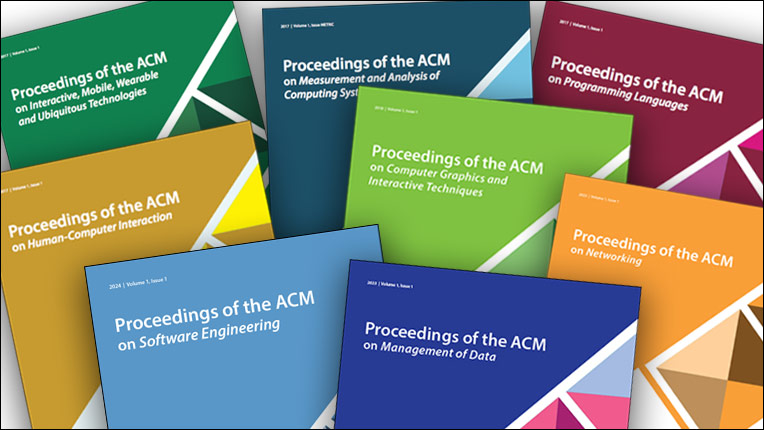 Proceedings of the ACM on Management of Data (PACMMOD) is a journal concerned with the principles, algorithms, techniques, systems, and applications of database management systems, data management technology, and science and engineering of data. We invite the submission of original data management, data engineering, and data science research targeting the data life cycle of real applications, studying phenomena at scales, complexities, and granularities never before possible.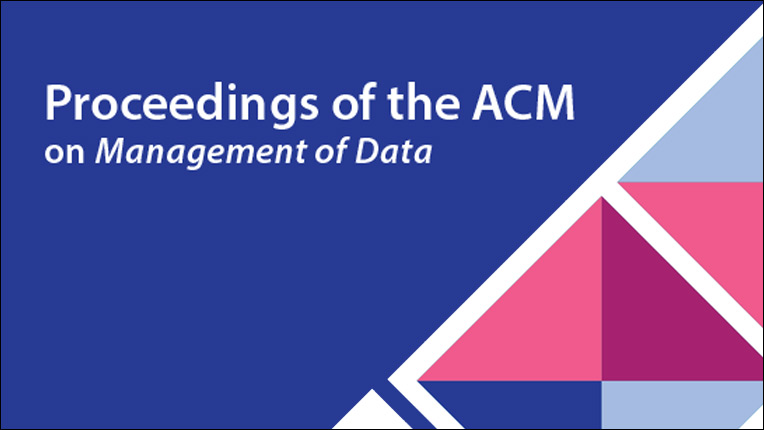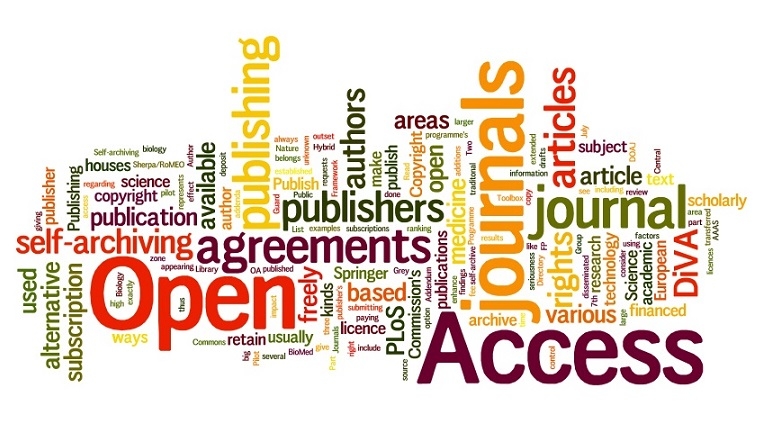 ACM exists to support the needs of the computing community. For over sixty years ACM has developed publications and publication policies to maximize the visibility, access, impact, trusted-source, and reach of the research it publishes for a global community of researchers, educators, students, and practitioners.
ACM Books
Logic, Automata, and Computational Complexity: The Works of Stephen A. Cook, edited by Bruce M. Kapron, includes a selection of seminal papers embodying the work that led to this award, exemplifying Cook's synthesis of ideas and techniques from logic and the theory of computation including NP-completeness, proof complexity, bounded arithmetic, and parallel and space-bounded computation. These papers are accompanied by contributed articles by leading researchers in these areas, which convey to a general reader the importance of Cook's ideas and their enduring impact on the research community. The book also contains biographical material, Cook's Turing Award lecture, and an interview.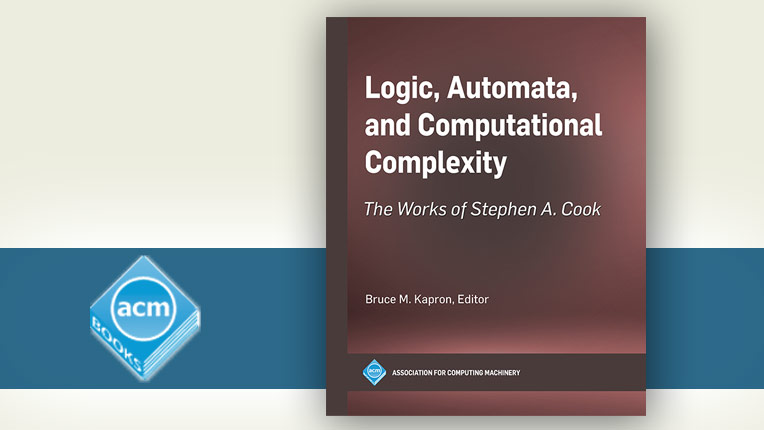 Effective Theories in Programming Practice by Jayadev Misra explores set theory, logic, discrete mathematics, and fundamental algorithms (along with their correctness and complexity analysis). These will always remain useful for computing professionals and need to be understood by students who want to succeed. This textbook explains a number of those fundamental algorithms to programming students in a concise, yet precise, manner. The book includes the background material needed to understand the explanations and to develop such explanations for other algorithms.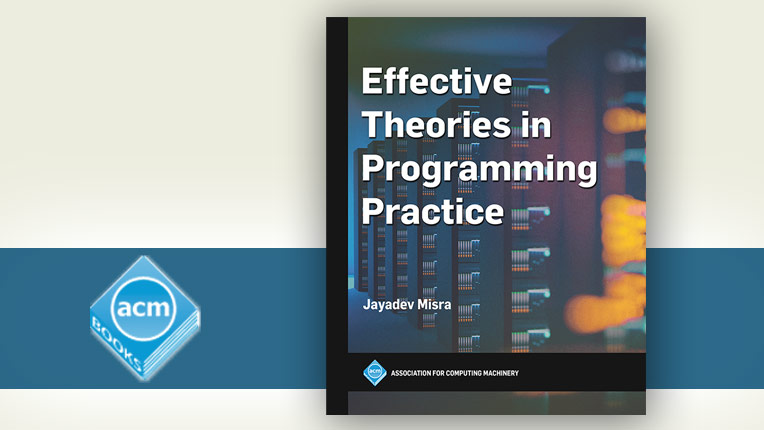 On Monotonicity Testing and the 2-to-2 Games Conjecture by Dor Minzer discusses the monotonicity testing problem from the field of property testing. The first result of this book is an essentially optimal algorithm for this problem. The analysis of the algorithm heavily relies on a novel, directed, and robust analogue of a Boolean isoperimetric inequality. The second result of this book is a proof of the 2-to-2 games conjecture (with imperfect completeness), which implies new hardness of approximation results for problems such as vertex cover and independent set.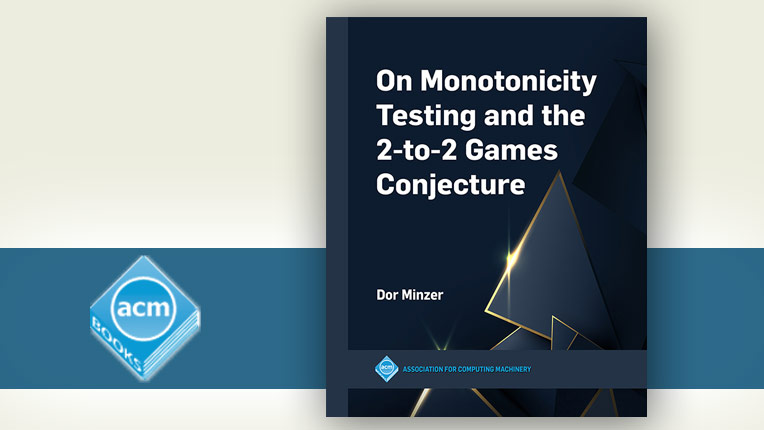 Prophets of Computing: Visions of Society Transformed by Computing, edited by Dick van Lente, looks to when electronic digital computers first appeared after World War II. Business management, the world of work, administrative life, the nation state, and soon enough everyday life were expected to change dramatically with these machines' use. This volume explores how these expectations differed, assesses unexpected commonalities, and ways to understand the divergences and convergences. It also examines thirteen countries, the effort of an international team of scholars, and includes pictorial representations of "the future with computers."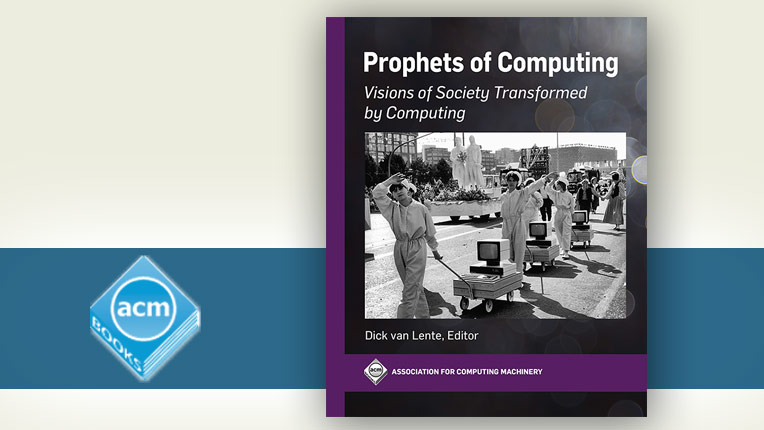 Practical Content from ACM Queue
For Practitioners
Dramatic advances in the ability to gather, store, and process data have led to the rapid growth of data science and its mushrooming impact on nearly all aspects of the economy and society. Data science has also had a huge effect on academic disciplines with new research agendas, new degrees, and organizational entities. Recognizing the complexity and impact of the field, Alfred Spector, Peter Norvig, Chris Wiggins, and Jeannette Wing have completed a new textbook on data science, Data Science in Context: Foundations, Challenges, Opportunities, published in October 2022. With deep and diverse experience in both research and practice, across academia, government, and industry, the authors present a holistic view of what is needed to apply data science well.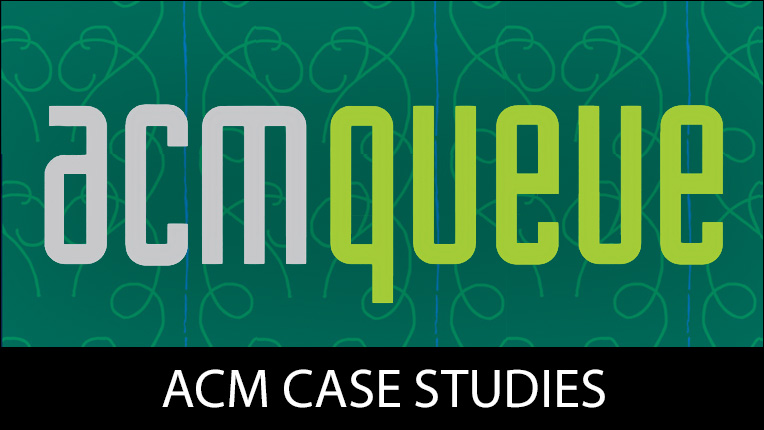 For Practitioners
ACM Queue's "Research for Practice" serves up expert-curated guides to the best of computing research, and relates these breakthroughs to the challenges that software engineers face every day. In this installment, "OS Scheduling," Kostis Kaffes, incoming Assistant Professor at Columbia University and software engineer at SystemsResearch@Google, offers his take on better scheduling policies for modern computing systems focusing on a trio of papers. The first paper challenges the putative tradeoff between low latency and high utilization. The second enables the creation of arbitrary scheduling policies by factoring apart the creation and manipulation of policy. And the final selection addresses the choice of policy on an application-by-application basis.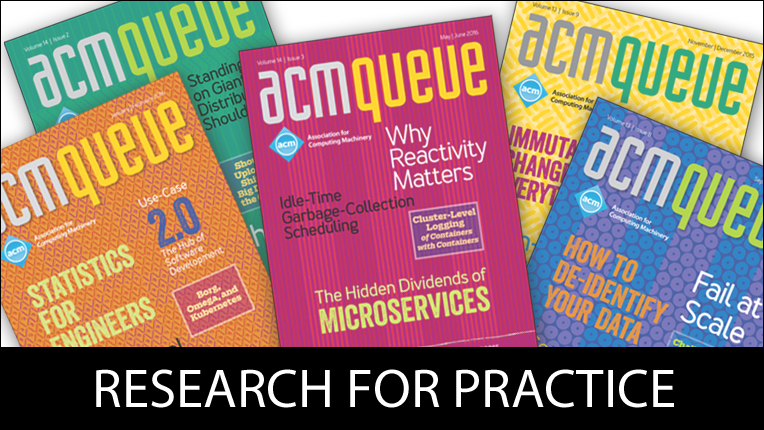 Publish in the ACM International Conference Proceedings Series
The ACM International Conference Proceeding Series (ICPS) provides a mechanism to publish the contents of conferences, technical symposia and workshops and thereby increase their visibility among the international computing community. The goal of this program is to enable conferences and workshops to cost effectively produce print proceedings for their attendees, while also providing maximum dissemination of the material through electronic channels, specifically, the ACM Digital Library.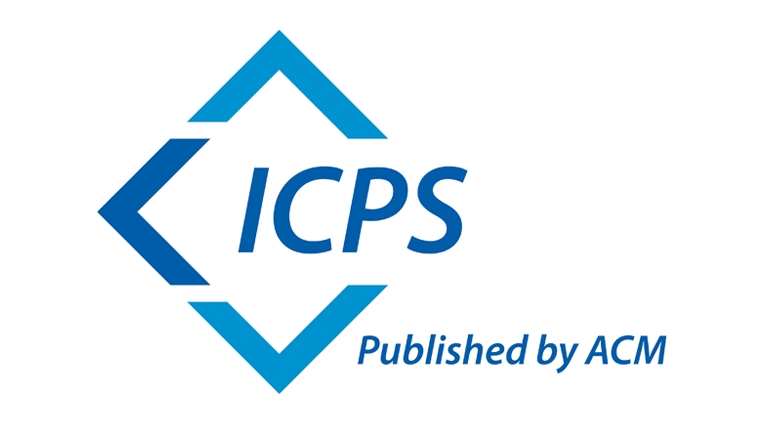 Overleaf is a free, cloud-based, collaborative authoring tool that provides an ACM LaTeX authoring template. Authors can write using Rich Text mode or regular Source mode. The platform automatically compiles the document while an author writes, so the author can see what the finished file will look like in real time. The template allows authors to submit manuscripts easily to ACM from within the Overleaf platform.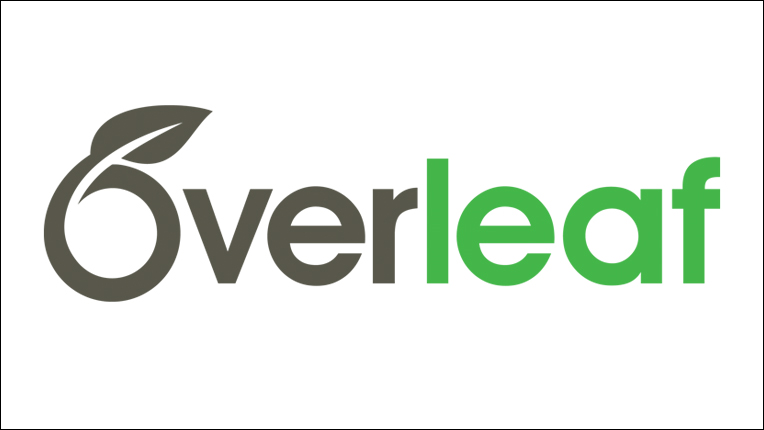 Publish Your Work
ACM Policies on Authorship
Anyone listed as Author on an ACM paper must meet certain criteria, including making substantial intellectual contributions to some components of the original work and drafting and/or revising the paper.
Authors submitting papers for peer-review to ACM publications will represent that the paper submitted is original; that the work submitted is not currently under review at any other publication venue; that they have the rights and intent to publish the work in the venue to which it is submitted; and that any prior publications on which this work is based are documented appropriately.
Read the entire set of criteria in the Policy on Roles and Responsibilities in ACM Publishing.
Publish Your Work
The Conflict of Interest policy outlines what constitutes a conflict of interest (COI) for ACM publications; who is in a position to identify and report potential COIs; and how a potential COI should be managed. The policy applies to any material that is formally reviewed or refereed as per ACM policy; awards based on content published in ACM venues; and authors, reviewers, editors, conference program committee members, judges, and other persons associated with ACM-published materials.
The policy provides specific guidelines for common instances with the goal of assisting in the process of identifying and resolving potential conflicts of interest. It also describes how the policy can be augmented, and how exceptions may be approved.
CACM Reports
In this article, Tae Wan Kim and Alan Strudler examine a recently-released video of "Atlas," a six-foot bipedal humanoid robot capable of search and rescue missions, being abused. This begs the question of whether a robot is nothing more than software embedded in hardware, much like a laptop computer. If it is your property and kicking it harms no one nor infringes on anyone's rights, it's okay to kick it, although that would be a stupid thing to do. Likewise, there seems to be no significant reason that kicking a robot should be deemed as a moral or legal wrong. However, the question—"What do we owe to robots?"—is not that simple.
ACM has transitioned to new authoring templates. The new template consolidates all eight individual ACM journal and proceedings templates. The templates are updated to the latest software versions, have been developed to enable accessibility features, and use a new font set.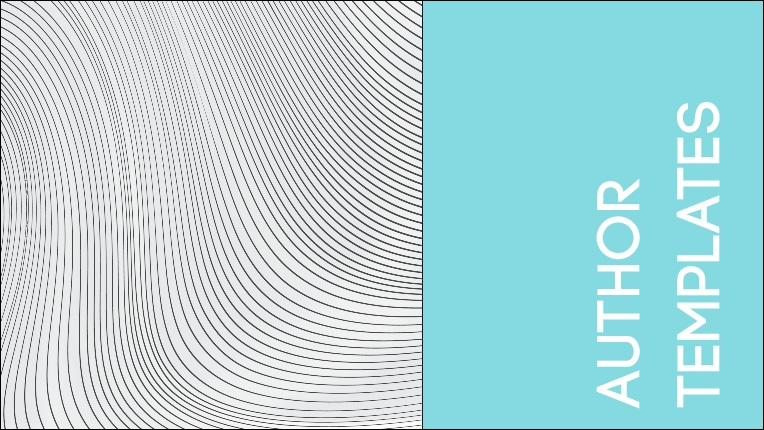 Changes expand access to Special Interest Group conference proceedings. ACM offers flexible options that fit computing researchers' individual needs.
ACM is a volunteer-led and member-driven organization. Everything ACM accomplishes is through the efforts of people like you. A wide range of activities keeps ACM moving: organizing conferences, editing journals, reviewing papers and participating on boards and committees, to name a few. Find out all the ways that you can volunteer with ACM.
Premier Resource
The most comprehensive collection of full-text articles and bibliographic records covering computing and information technology includes the complete collection of ACM's publications.