ACM Regional Councils: Outreach on a Global Scale
ACM's Regional Councils and Committees provide grassroots support on a global scale. Based in Europe, India, and China, they raise awareness, visibility and relevance of ACM by sponsoring high-quality conferences, expanding chapters, and encouraging greater participation in all dimensions of the society.
ACM Europe
The ACM Europe Council aims to increase the level and visibility of ACM activities across Europe. The Council comprises European computer scientists committed to fostering the visibility and relevance of ACM in Europe, and is focused on a wide range of European ACM activities, including organizing and hosting high-quality ACM conferences, expanding ACM chapters, improving computer science education, and encouraging greater participation of Europeans in all dimensions of ACM.
ACM-WE
The mission of ACM-W Europe is to support, celebrate, and advocate internationally for the full engagement of women in all aspects of the computing field, as well as advancing the contributions of technical women. It aims to promote the image of computing among women; raise awareness of the importance of women participating in the computing profession; promote awareness of career options; promote new ways of facing the challenges of the next generation of women in computing; establish partnerships with similar existing organizations in Europe; increase participation of women in senior level positions of ACM and its conferences; provide a platform for sharing resources, ideas and experiences; and work with the European Commission and other organizations on programs related to women in computing.
Informatics for All
The Informatics for All consortium is an initiative of the ACM Europe Council, Informatics Europe and the Council of European Professional Informatics Societies (CEPIS) whose main purpose is to advocate for the inclusion of Informatics as a foundational discipline in schools across Europe.
Europe Technology Policy Committee
The ACM Europe Technology Policy Committee (Europe TPC) promotes dialogue and the exchange of ideas on technology and computing policy issues with the European Commission and other governmental bodies in Europe, and the informatics and computing communities. Chaired by Oliver Grau of Intel, the Committee engages in policy issues related to the importance of technology in boosting jobs, economic growth, competition, investment, research and development, education, inclusive social development, and innovation.
ACM India
The ACM India Council is aimed at increasing the level and visibility of ACM activities across India. It serves as a professional network for members involved with the science and technology of computing; encourages students to take an active interest in the emerging and exciting world of computing; facilitates the organization of high-quality ACM conferences in India; provides logistical support to grow more ACM professional and student chapters; and increases the participation of ACM members in India across all dimensions of ACM.
ACM-W India
ACM-W India seeks to take forward the task of the ACM community, but with a particular focus on the empowerment of women in computing in India. ACM-W India aims to provide social and professional support for women in computing, and its proposed activities include facilitating technical growth of women by organizing invited lectures, seminars, workshops and informal meetings; providing a platform for the sharing of information, resources, ideas and experiences; supporting women in their professional career growth and helping them to face the challenges in their work environment; and encouraging them to participate in computer-related studies and research. ACM-W India's goal is to also promote computer literacy, particularly in rural India, with the objective of empowering underprivileged women and children, to enable them to be independent and self-reliant.
Research Board
ACM India Research Board (AIRB) is a community of academics, researchers, and others who care deeply about enhancing the quality and the quantity of computing research done in India, particularly in academic institutions. The following activities have already been initiated: ACM India Doctoral Dissertation Award; PhD Production Survey; and Conference Travel Grants.
Eminent Speaker Program
ACM India's Eminent Speaker Program (ESP) provides local ACM Professional and Student Chapters in India with direct access to top technology leaders and innovators who will give talks on issues that are important to the computing community.
ACM China
The ACM China Council comprises a cross-section of the computer science and information technology community committed to increasing the visibility and relevance of ACM in China. The council is focused on a wide range of ACM activities: creating channels to bring more high-quality ACM activities to China; expanding ACM chapters; enhancing access to the ACM Digital Library and publications for ACM members in China; and increasing the participation of ACM members in China across all dimensions of ACM. The Council also gives several awards to recognize excellence in research and leadership.
Education Council
The ACM China Education Council serves as the interface between Chinese computer education and ACM, and promote ACM among Universities in China. The Council encourages Chinese computer educators to communicate with ACM educators and to participate in ACM and IEEE curricula development and research task forces
Written by leading domain experts for software engineers, ACM Case Studies provide an in-depth look at how software teams overcome specific challenges by implementing new technologies, adopting new practices, or a combination of both. Often through first-hand accounts, these pieces explore what the challenges were, the tools and techniques that were used to combat them, and the solution that was achieved.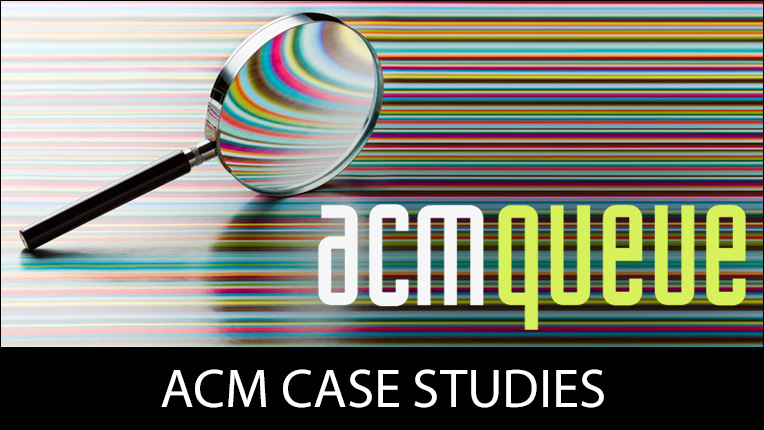 Career Resource
ACM offers lifelong learning resources including online books and courses from Skillsoft, TechTalks on the hottest topics in computing and IT, and more.