ACM and its Special Interest Groups Host More Than 170 Events Worldwide
Our conferences, workshops and symposia unite innovators like you to push computing technology forward and to continue the legacy that unites us as like-minded thinkers and makers.
ACM Open Conference Statement
The open exchange of ideas and the freedom of thought and expression are central to the aims and goals of ACM and its conferences. These aims and goals require an environment that recognizes the inherent worth of every person and group, that fosters dignity, understanding, and mutual respect, and that embraces diversity.

ACM is firmly committed to prohibiting discrimination at its conferences against individuals because of race, color, sex, sexual orientation, gender identity or expression, age, marital status religion, national origin, ancestry, or disability. All individuals are entitled to participate in any ACM activity free of discrimination, including harassment based on any of the above factors.
ACM is concerned about discriminatory legislation in various locations and will work with conference organizers to best address location related issues.
Volunteer commitment and coordination is the foundation that makes an ACM conference successful. ACM provides a comprehensive resource manual with instructions and best practices to help create the best possible event.
We invite conference organizers to submit details about their conferences to this calendar. Submit your event by filling out this form.
Covering the applications, technologies, architectures, and protocols for computer communication, SIGCOMM will feature workshops on Mobile Edge Communications, Kernel-Bypass Networks, Big Data Analytics and Machine Learning for Data Communication Networks, QoE-based Analysis and Management of Data Communication Networks, and Networking and Programming Languages.
The SIGKDD Conference on Knowledge Discovery and Data Mining brings together researchers and practitioners from data science, data mining, knowledge discovery, large-scale data analytics, and Big Data. The event includes roundtable sessions with experts, and keynotes by leaders from Microsoft Research/Harvard University, UC Berkeley, and University of Toronto.
The ACM SIGPLAN International Conference on Functional Programming provides a forum for researchers and developers to learn about the latest work on the design, implementations, principles, and uses of functional programming. Keynote talks will be delivered by North Carolina State University's Chris Martens, and Rich Hickey, author of Clojure, and designer of Datomic.
The joint meeting of the European Software Engineering Conference and the ACM SIGSOFT Symposium on the Foundations of Software Engineering is a forum for sharing the most recent innovations, trends, experiences, and challenges in software engineering. Keynote speakers include ACM member and Zuhlke Technology Group co-founder Wolfgang Emmerich; Roy T. Fielding, Senior Principal Scientist at Adobe; and ACM Fellow Richard N. Taylor.
The 2017 ACM International Joint Conference on Pervasive and Ubiquitous Computing will cover many aspects of this field, including deep learning, virtual reality design, pervasive urban applications, mobile devices, anticipatory systems, swarm intelligence, hikers' tech;nology preferences, self-tracking personal information, blockchains, social networks, and mental health monitoring.
The ACM Richard Tapia Celebration of Diversity in Computing is a premier venue to acknowledge, promote and celebrate diversity. Keynote speakers include Edward Castillo, Research Scientist, Radiation Oncology Department, Beaumont Health Research Institute; James Mickens, Associate Professor of Computer Science, Harvard University; and Adrienne P. Felt, a member of Google's Chrome Metrics and Usable Security Team.
The ACM SIGPLAN conference on Systems, Programming, Languages and Applications: Software for Humanity embraces all aspects of software construction and delivery to make it the premier conference at the intersection of programming, languages, and software engineering. University of California, Irvine's Crista Lopes; Kodowa co-founder and CEO Chris Granger; and UCSD's Lera Boroditsky are scheduled keynote speakers.
The ACM Symposium on User Interface Software and Technology is the premier forum for innovations in human-computer interfaces. Scheduled keynote speakers are Gabriella Coleman, Wolfe Chair in Scientific and Technological Literacy at McGill University; and Niki Kittur, Associate Professor and Cooper-Siegel Chair in the Human-Computer Interaction Institute at Carnegie Mellon University.
Premier Resource
The most comprehensive collection of full-text articles and bibliographic records covering computing and information technology includes the complete collection of ACM's publications.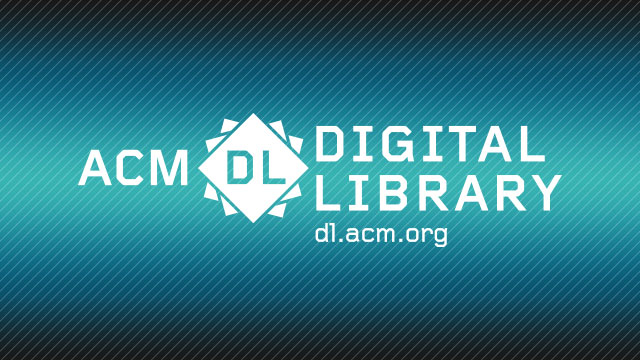 ACM is a volunteer-led and member-driven organization. Everything ACM accomplishes is through the efforts of people like you. A wide range of activities keep ACM moving, including organizing conferences, editing journals, reviewing papers and participating on boards and committees, to name just a few. Find out all the ways that you can volunteer with ACM.