Connect Your Brand With the World's Leading Technologists
The Association for Computing Machinery (ACM) is the world's largest and most influential computing society, serving nearly 100,000 members at companies and research institutions in both established, and emerging areas of the software, hardware, and IT industries.
For over 60 years, ACM has been the place where the best minds in computing have come to meet, share ideas, publish their work, and advance computer technology.
Today, ACM continues to bring the discoveries of those working at the forefront of computer science to the attention of the world. Through ACM's conferences, journals, magazines, newsletters and books, ACM provides the fuel that inspires tomorrow's innovations.
ACM Media Group delivers the print and online content that serve members as the definitive source of industry information and the centerpiece of their profession.
Direct Access. Instant Credibility.
Through its diverse portfolio of print and online products, the ACM Media Group connects your brand with a powerful community of must-reach software, hardware, and IT decision makers in an environment that they know and trust.
ACM Members . . . Decision Makers. Developers. Thought Leaders.
A force of software, hardware, and IT decision makers and developers depend on ACM Media Group's portfolio of products when researching and making their purchasing decisions. You can make your brand a part of that process that accounts for the oversight of billions of dollars in expenditures across these three major technology sectors.
The ACM Media Group audience includes decision makers at the highest levels and those making recommendations regarding current and future technology purchasing.
Intelligence. Influence. Impact.
ACM Media Group provides a rare opportunity to target the industry elite in a context more meaningful than mainstream technology publications. With its unmatched credibility and long-standing presence, ACM Media Group enjoys an audience loyalty that places it in a unique position of influence.
Top decision makers and developers of new technologies trust ACM Media Group's portfolio of products as their source of critical information and insight—as much of ACM's content is created by and specifically for them. The same decision makers and developers depend upon ACM Media Group's online communities to share their knowledge and remain connected around specific issues and topics. Simply, ACM Media Group plays an essential role in the work and lives of its high-quality audience.
ACM Media Group is the bond that ties software, hardware, and IT professionals together. As the essential bond, ACM Media Group provides a unique platform capable of helping brands have a true impact on those making important technology purchasing decisions.
Advertise With ACM
ACM Membership Demographics
2016 Media Planner
Rates
The ACM Advertising Media Kit contains all the informaiton that you'll need to reach the world's leading technologists.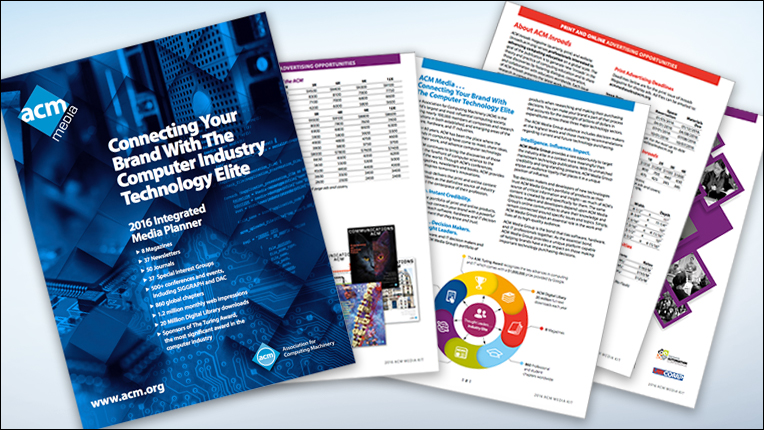 Display and Banner Advertising Contacts