About ACM Media
ACM is the world's largest and most influential computing society, serving more than 100,000 members at companies and research institutions in both established and emerging areas of the software, hardware, and IT industries worldwide. ACM Media Group delivers print and online content that serve members as the definitive source of industry information and the centerpiece of their profession.
Targeting the Technology Elite.
ACM Media Group creates customized marketing programs that target top decision makers and industry professionals with a level of effectiveness that other publications cannot match. By leveraging the value of the ACM brand, you can connect and interact with technology's most intelligent, influential, and active audience. Whether you're seeking to raise brand awareness, market a new or existing product, or attract top technology talent, ACM Media Group publications ensure that your message is targeted to the audience that best meets your promotional goals.
Intelligence. Influence. Impact.
ACM Media Group targets the industry elite in a context more meaningful than mainstream technology publications. With its unmatched credibility and reputation, ACM Media Group enjoys an audience loyalty that places it in a unique position of influence. ACM Media Group is the bond that ties software, hardware, and IT professionals together. As the essential bond, ACM Media Group provides a unique platform capable of helping brands have a true impact on those making important technology purchasing decisions.
Overview of Advertising and Sponsorship Opportunities in ACM Media
| Media Brand | Print Advertising | Online Sponsorship Banners | Email Newsletter Sponsorship |
| --- | --- | --- | --- |
| Communications of the ACM* | X | X | |
| Interactions | X | X | |
| XRDS (Crossroads) | X | X | |
| ACM Inroads | X | X | |
| ACM Career and Job Center | | X | |
| eLearn Magazine | | X | |
| ACM TechNews (3x per week) | | X | X |
| Special Interest Group (SIG) Newsletter | X | | |
* Best value by reach
ACM Media Showcase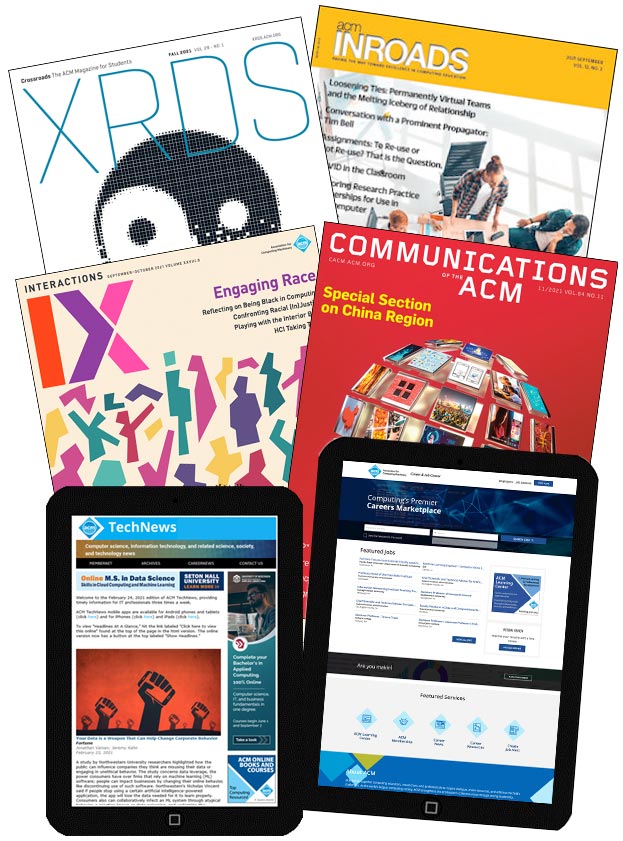 2023 Print and Online Display Advertising Information
Advertising Sales Contacts
Display and Banner Advertising
Ilia Rodriguez, Advertising Sales Account Manager
email: ilia.rodriguez@hq.acm.org
tel: +1 212-626-0686
Recruitment and Classified Advertising
ACM Media Sales
email: acmmediasales@acm.org
tel: +1 212-626-0686
Recruit the Industry Elite!
The ACM Career & Job Center is the perfect place to reach qualified candidates in the computing industry – the exact professionals you want to recruit to fill your organization's open positions.
Post your job on the ACM Career & Job Center and reach active job seekers looking for their next great career opportunity. Or brand your company as a great place to work with a banner ad on the ACM Career & Job Center. Either way, you're sure to attract top technology talent and reach the industry elite!
Want to target passive job seekers? Advertise your job opening in the Classified Section of Communications of the ACM. Major technology companies and Computer Science departments at academic institutions place lineage and recruitment display ads in our publication because they know they'll reach the most qualified IT and computing professionals and students worldwide.
Download our 2023 ACM Career & Job Center Data Sheet for more information.