Diversity & Inclusion
Anyone, from any background, should feel encouraged to participate and contribute to ACM. Differences – in age, race, gender and sexual orientation, nationality, physical ability, thinking style and experience – bring richness to our efforts in providing quality programs and services for the global computing community.
ACM is committed to creating an environment that welcomes new ideas and perspectives, and where hostility or other antisocial behaviors are not tolerated.
[Learn More about ACM's Commitment to Diversity & Inclusion...]
ACM Stands with Those Who Promote Inclusivity
A Statement from ACM's Diversity and Inclusion Council
In the United States, and throughout many regions around the world, current events have brought attention to the urgent need for equality and respect for all individuals. We have witnessed racism and violence against Black people in the United States and in our communities. Most recently, the killings of Ahmaud Arbery, Breonna Taylor, and George Floyd have re-focused attention to the long-standing racism and injustice that plagues the United States and many other nations. In response, there are worldwide demonstrations and protests. ACM members are directly impacted by these events and we, the volunteer leadership of ACM, are outraged by this all-too familiar pattern of enduring injustice. Black Lives Matter.
ACM A.M. Turing Award laureates John Hennessey and David Patterson will participate in a panel on "Valuing Diversity, Equity, and Inclusion in Our Computing Community" being held as a joint session of several co-located virtual conferences on March 3 from 1:30 to 3:00 PM EST. ACM Fellow Timothy Pinkston organized and will moderate the panel, which also includes ACM Diversity and Inclusion Council Co-Chair Natalie Enright Jerger, ACM Fellow Margaret Martonosi, NVIDA Cheif Scientist Bill Dally and Facebook's Kim Hazelwood. The panel session is free and open to the public by registering here.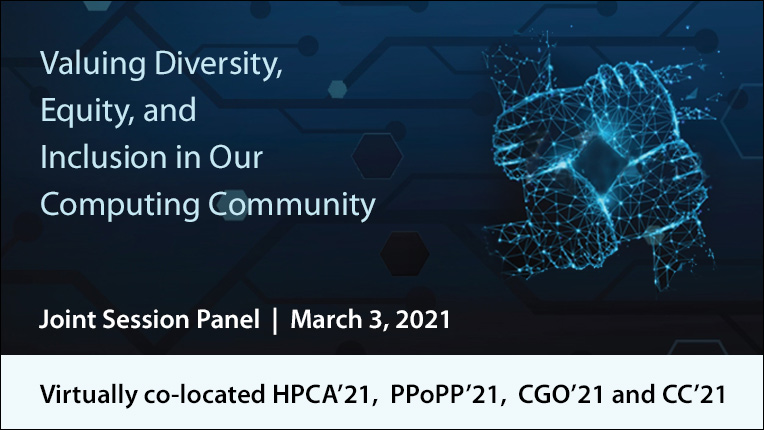 ACM is celebrating Black History Month in the US this year by posting responses from Black ACM Fellows, volunteers and members to questions about their careers in computing. We'll learn about what inspired them to pursue careers in this field, how underrepresentation shapes the experiences of Black students and professionals in computing, and what can be done to combat racial bias in computing and technology. View a webpage featuring their responses.