Cherri M. Pancake, ACM President 2018 - 20
As ACM celebrates its 75th anniversary, we invited ACM's former presidents to reflect on their terms in a brief Q&A. In revisiting some of the milestone moments from ACM's history, we hope for insight into the ever-changing landscape of computing to guide us forward in the next 75 years.
Cherri Pancake served as ACM President from 2018 - 2020.
What motivated you to run for ACM president?

Well, first of all, I really wanted a chance to give back to the community. In my own career, I've benefited enormously from the women and the men who have been role models to me. And I thought it was time for me to make some contributions back. Also, I have found that ACM gives me the leverage to have the kind of impact I could never do just through my own university or my own research center and that work. So, it was really that desire that motivated me.
But, I have to admit there was a selfish reason too. I have found as I moved up the career ladder, so to speak, in ACM, that it has helped me tremendously in my day job, and also in my personal life and interactions. I've found that the more challenging the tasks that ACM presented, the more I benefited in terms of the people I got to interact with, the things I learned about other people and how to motivate them, and the things I learned about myself. So, it was really scary to think about running as president, but I figured it would be really worthwhile, and it was.
What are some of the most memorable moments from your term?

I have to say the opportunity to interact with such a wide variety of members was what made being president so special. It was always exciting to be able to share experiences and where possible, advice, especially with people getting started in their career or those coming up. I remember in particular one meeting that ACM-W arranged in India, where all of us left so energized and so positive about the difference that women could make if we were in computing in greater numbers. And that was just a very personally rewarding moment for me.
How would you like your term to be remembered?

Well, I guess if I got to choose anything, I'd say that it was the time when ACM really started reaching out in terms of the responsibilities of the computing profession to society as a whole. It was right after I became president that I got to announce the release of the updated Code of Ethics, which has really important things in it about the need for being more inclusive, the need to consider bias in everything we do, and our professional responsibilities to society as a whole.
And shortly into it, I was able to form two new councils that cut across all of ACM. The Council on Diversity and Inclusion, which is now Diversity, Equity, and Inclusion, to particularly focus on the need really to make computing, and ACM as an organization, more inclusive. The second council formed at that time was the Technology Policy Council. We had had individual groups in Europe and the US, but not an overarching group that would try to look at, globally, what are the issues that really are affecting everybody in terms of challenges due to the incredible extent that technology has taken over our daily lives.
And finally, I was so excited that right in the last month, before I finished my term, I was able to announce ACM's intent to move entirely to open access over the next few years. This is an important step for sharing and disseminating information globally. So, I really think all of those things are very important directions. They certainly weren't due just to my efforts or even just efforts that took place during my term. But they're the things I would like those couple of years to be remembered for.
What are some of the moments from ACM's history that you think we should highlight during ACM's 75th anniversary?

To me, a really key moment was when ACM made the serious move to go global/international. I'm not sure when it happened. It was roughly 20 years ago. It certain wasn't under my term, but I think it was so important to recognize it in today's world. Technology is erasing physical boundaries, not creating them, and that we need to view the profession and research and practice in terms of how it's having impact all over the world. It may have very different impacts in different areas or regions, but we're all feeling...every human being is being touched by technology these days. And it's important for a computing society that truly wants to represent the profession, to be global, and ACM was there doing it. I think it really is a very key step in ACM's history.
During ACM's 75th anniversary, we promote the accomplishments of ACM's former presidents. To better understand how they served the organization, we invited each of ACM's living former presidents to participate in a brief Q&A. Through the Q&As, we also learn about important milestones during ACM's history.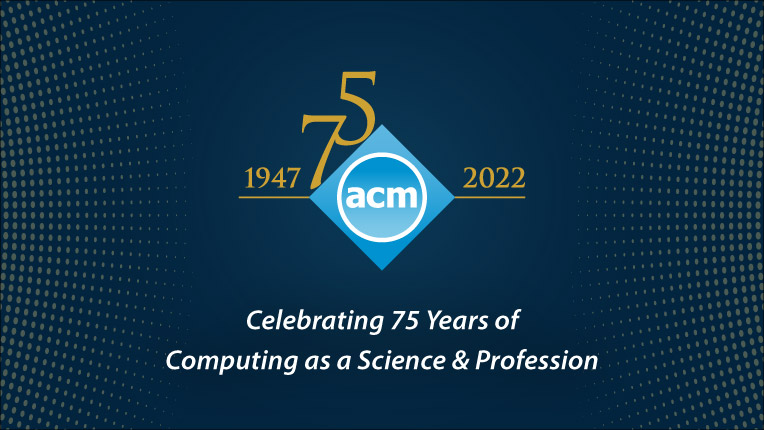 ACM organized a special one-day conference to celebrate its 75th anniversary. This event was truly a memorable day of panels featuring world-leading scholars and practitioners on topics central to the future of computing. Panelists imagined what might be next for technology and society. ACM's 75th Anniversary Celebration took place at the Palace Hotel in San Francisco on June 10. View the livestream on demand. Visit the event webpage for more details, including the program.