John R. White, ACM President 1990 - 92
During ACM's 75th anniversary, we promote the accomplishments of ACM's former presidents. To better understand how they served the organization, we conducted brief Q&As with each of ACM's living former presidents. Through the Q&As, we also learn about important milestones during ACM's history.
John White served as ACM President from 1990 - 1992.
What motivated you to run for ACM president?

I think the answer to that is, it was the logical and I thought last step in a long progression of involvement with ACM. Initially, I was elected Secretary-Treasurer of ACM SIGPLAN way back in 1977. Then I was elected Vice Chair of SIGPLAN, and then Chair. Then I was appointed to the SIG Board of ACM and then elected Chair of the SIG Board. After that, I was elected to Council as a Regional Representative, something that we no longer actually have, Regional Representatives. Then I was elected Vice President. And so in 1990, when the elections were getting ready to be held, I decided, it made sense to run for ACM President. So I served as President from '90 to '92, then Past President from '92 to '94. And then about five years later, ACM Council created the position of Chief Executive Officer. And at the end of 1998, I left Xerox PARC and took that position. And for the next 17 years, served as ACM's CEO. So ACM has been a big part of my professional life.
What are some of the most memorable moments from your term?

Well, there's a handful. I think one of the ones that comes to mind initially is, it was during my term, we actually shrunk the size of council. We went from 25 members—12 of which were these Regional Representatives that I mentioned—to 15, which enabled Council meetings to go from being unproductive and pretty much out of control, to something you could actually get something done at.
Another, I think, memorable event was moving ACM headquarters. We moved headquarters from 42nd Street from some pretty minimal space to some fabulous space, Pat Ryan found on Times Square at 1515 Broadway. And in fact, with this new space and with a downsized Council, we were actually able to hold my final Council meeting in June of 1992 at ACM headquarters, something that had never been done.
Another moment or event that I remember from my term was finding the funding within ACM, both on the general side and on the SIG side, to be the sole not-for-profit sponsor of a PBS series, a six-part series produced by WGBH in Boston, on the history of computing. The series was called "The Machine That Changed the World." It aired, I think, in early 1992. And it was always fabulous to watch the beginning of it when they said, "And brought to you by the 80,000 members of the Association for Computing Machinery."
What were your most significant accomplishments as ACM president?

Well, I think there were two. The first is that it was during my term, I feel, we really began the hard work of trying to make ACM international. Trying to understand what that meant, trying to understand how to take some initial steps. It's been going on for the last 30 years, we're still working on being international. We have accomplished a lot, but there is still a lot more to do.
The second accomplishment, I think, of my term was getting ACM to begin to engage critical issues. We were good at reporting research, but there was a lot going on in the field and around the world that was critically important, and was not directly related to computing research. As part of that effort, we established the ACM Committee on Women and Minorities in Computing, which led to ACM-W, which is still ongoing and strong today.
We also decided to engage US policymakers and try to educate them on technology issues, so they could make better policy decisions. That led to the formation of USACM, which is still in existence, ongoing for 30 plus years, and an important part of the association. And I should say that Barbara Simons, who was secretary-treasurer at the time, played a really significant role in both of these steps.
How would you like your term to be remembered?

Well, I think I would like my term to be remembered as the term when ACM began to do more than just report on computing research. We began to do international outreach and we began to engage critical issues facing our field.
In hindsight, is there anything that you would do differently?

I think the one thing I would do differently, and it's on the international front, is I would've held a meeting of either the executive committee or even perhaps the ACM Council, outside the United States. I think that would've been a good first step to demonstrate our commitment to being more than a US-centric computing research organization.
What are some of the moments from ACM's history that you think we should highlight during ACM's 75th anniversary?

Well, I think we should highlight a number of things. I think we should highlight the fact that ACM has been there from the very beginning, as you tell from our name. I think we should highlight that ACM played a significant role in defining computer science through the release of Curriculum '68.
I think we should highlight that ACM has been engaged in critical issues for over 30 years now. We have changed the conversation around women in underrepresented groups in computing. We have brought the community together to push for real computer science in K-12 education. We are influencing technology policy in both the United States and the European Union. And as a last thing, I think we should highlight, we have built and we run a digital library the right way.
Do you have any interesting ACM memorabilia in your collection?

Well, yes I do. I have my gavel from being ACM President. And as I look at it, it's a little beat up. And I assume that's because when running a 25-person council meeting, I had to pound the table a lot.
So, those are my answers to the questions from ACM. I hope ACM's 75th Anniversary Celebration is a great success. And I hope ACM continues to advance computing as a science and profession for years to come. Thank you.
During ACM's 75th anniversary, we promote the accomplishments of ACM's former presidents. To better understand how they served the organization, we invited each of ACM's living former presidents to participate in a brief Q&A. Through the Q&As, we also learn about important milestones during ACM's history.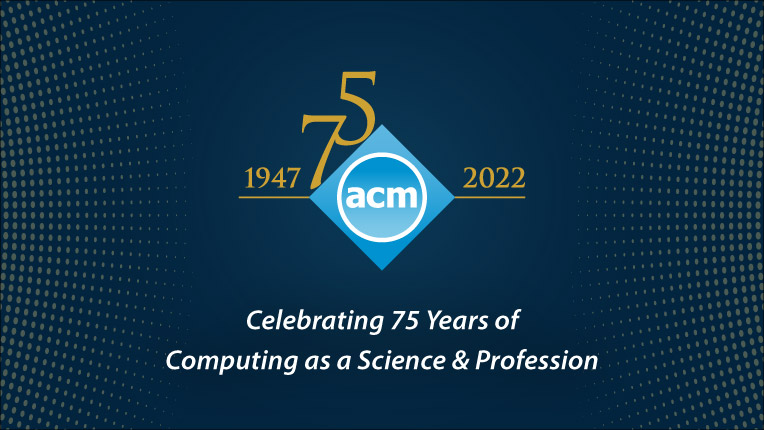 ACM organized a special one-day conference to celebrate its 75th anniversary. This event was truly a memorable day of panels featuring world-leading scholars and practitioners on topics central to the future of computing. Panelists imagined what might be next for technology and society. ACM's 75th Anniversary Celebration took place at the Palace Hotel in San Francisco on June 10. View the livestream on demand. Visit the event webpage for more details, including the program.