Join Us for a Webinar on "Energy Internet" Organized by TCS Research, ACM India, and ACM iSIGCSE
As the world commits to becoming more sustainable, the electrical grid will undergo a major metamorphosis. The grid is expected to transform from being a centrally orchestrated entity with inside-out power flows to a more democratized system where intelligence is distributed throughout. This transformation should happen in real time without bringing the grid down and warrants collaboration across a variety of disciplines such as power systems, controls, communications, computer science, economics, and operations research. In this webinar, experts across the globe will share their thoughts on some of the challenges in this field and how we could overcome them.
We start with a talk on "The Software- and AI-Driven Future of Renewables" by Dr. Shivkumar Kalyanaraman, CTO, Energy & Mobility, Microsoft India.
Next up we have a fireside chat on " How to Wire the Energy Internet?"
With:
Dr. Shiv Kalyanaraman, CTO, Energy & Mobility, Microsoft India
Dr. Anupama Kowli, Associate Professor, Dept. of Electrical Engineering, IIT - Bombay
Dr. Sankaran Rajagopal, Director, Energy Market Management Business Solutions at Siemens Grid Software, USA
Dr. Prashant Navalkar, Founding Director, Power Anser Labs
Dr. Kannan Tinnium, Senior Vice President, Power Solutions Business - R&D, Luminous Power Technologies
Along with Dr. Venkatesh Sarangan, Chief Scientist, TCS Research.
Date : Mar 21, 2023
Time: 7 PM IST
Click here to add this webinar to your calendar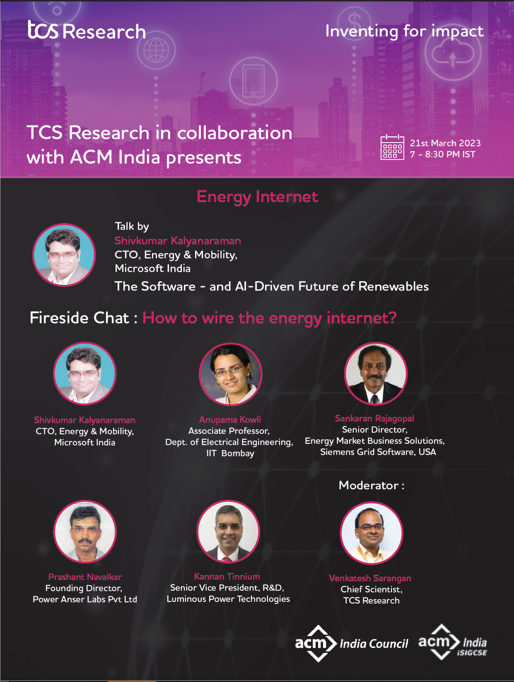 Dr. Chitra Babu
Professor
Department of Computer Science and Engineering
SSN College of Engineering(Autonomous)
Kalavakkam 603 110
ACM Senior Member, IEEE Senior Member
Life Member of CSI and ISTE
Member of ACM-W India Committee
Member of ACM India Education Committee