Thanks for Participating in ACM Website Redesign Survey
March 5, 2015
Dear ACM Member,
We'd like to thank you for participating in our survey on two proposed new website designs for acm.org. We received a wealth of valuable feedback, and the detailed comments provided about both design concepts are now being used to inform what will become the final version.
Based on the comments we received, the design below was preferred by the most respondents: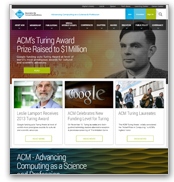 Feedback included comments that the design is "clean, modern and sophisticated and streamlined," and that it "effectively conveys information" and "makes navigation easy."
We will have a functional prototype available soon and we will keep you posted when it becomes available. Thanks again for your time and valuable comments. They will help us as we work to build a website that better serves you!