Celebrating ACM's 2019 & 2020 Award Recipients: ACM Prize in Computing
September 30, 2021
Welcome to the first in a series of emails celebrating the recipients of the 2019 and 2020 ACM Awards and their accomplishments.
The surge of the COVID-19 delta variant, international travel restrictions and restrictions on indoor gatherings forced ACM to cancel its Awards Banquet planned for October 23, 2021.
Over the next several weeks, we will send you emails containing videos highlighting the achievements of the 2019 and 2020 Award recipients that were prepared for the Banquet.
Click on the image below to view a short video about the 2019 and 2020 recipients of the ACM Prize in Computing.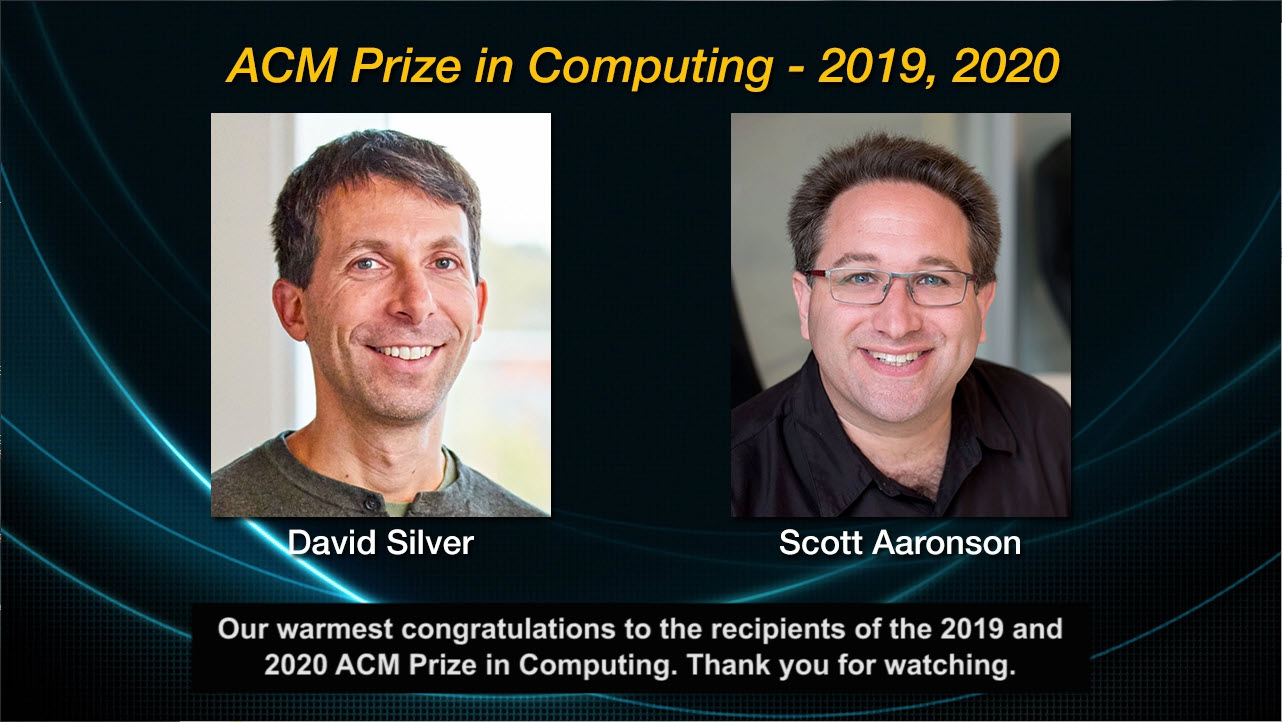 The ACM Prize in Computing recognizes an early to mid-career fundamental innovative contribution in computing that, through its depth, impact and broad implications, exemplifies the greatest achievements in the discipline. The award carries a prize of $250,000. Financial support is provided by an endowment from Infosys Ltd.
---
2019 ACM Prize in Computing

The 2019 ACM Prize in Computing is presented to David Silver of Deep Mind and University College London for breakthrough advances in computer game-playing.

2020 ACM Prize in Computing

The 2020 ACM Prize in Computing is presented to Scott Aaronson of the University of Texas at Austin for groundbreaking contributions to quantum computing.
---
ACM welcomes nominations for candidates whose work exemplifies the best and most influential contributions to our community, and society at large. More information on nominating candidates for future awards is available on the ACM Awards website here.