People of ACM European Chapters - Gavin Doherty
July 18, 2017
Can you briefly describe your own line of research and how you became interested in this area?
I'm interested in the design of systems for very specific purposes and environments, finding out what is distinctive and challenging about designing for the needs of a particular domain and user group, and exploring the design space through innovative new systems. Increasingly, my work has been about the design of systems to support the treatment of mental health difficulties such as depression, anxiety, and bipolar disorder. Mental health is an issue that touches every person, every family, and has huge personal, social and economic costs. We started out looking at how to engage children and adolescents in psychotherapy through the use of games and mobile phones, and as we explored the space, we discovered that technology could do much more than simply act as an icebreaker. For adults, online interventions can be very effective, but the big issue is engagement and so our own work has looked at a range of strategies to improve the user experience and deliver better outcomes.
In your area of research, what recent advance/emerging subfield will yield important advances in the years ahead?
There has been an enormous increase in the volume of research and commercial development in the field of personal health systems in the last few years. There is definitely a need to be addressed--the global burden of disease has shifted increasingly toward chronic conditions, and self-management will have to be a major part of the solution to this. Chronic physical health conditions are also often comorbid with mental health problems, with the patient caught in a vicious cycle between the two.
Improvements in sensor technologies, wearables, and machine learning have opened up a lot of new possibilities in terms of design; to my mind the big challenge is in how to integrate these technologies into interventions that actually work in the real world, that are engaging for patients and deliver better outcomes.
Can you tell us a little about your chapter? (How many members? What are your most important activities?)
Myself and other members of the HCI community in Ireland such as Liam Bannon and John McCarthy would only meet occasionally at international conferences, even though we were only a few hours' drive away from each other. So our first inclination was to try and periodically get everyone together and share updates on what we were working on. This morphed into a national HCI conference/symposium now in its 10th iteration. We would typically get around 90 people at the conference, which is a pretty good turnout given the size of the country and the community. During the year we tend to swap seminars.
What advice would you give to a younger colleague just starting out in your field?
I'm very lucky in that I'm doing work which I find enormously interesting and really believe in. This is a good starting point, as it's easier to cope with challenges and setbacks. Regardless of what area you work in, engage with others working on it, and help out if you can. While I think volunteering should be seen through the lens of contributing to your own community, my experience is that you get more out of it than you put in on personal, social, and professional levels.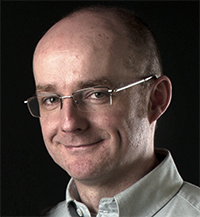 Gavin Doherty is an Associate Professor and Fellow in the School of Computer Science and Statistics at Trinity College Dublin. He is interested in design for specific application areas, and has led a number of interdisciplinary projects in areas ranging from semiconductor manufacturing to healthcare. A major focus of his work for over a decade has been the design of technologies for mental health. In 2012 he co-founded SilverCloud Health, a company that has delivered human-supported online mental and behavioral health programmes to over 100,000 patients worldwide. His team's most recent work is on the assessment of psychological well-being in pregnancy, and was presented at the ACM CHI 2017 conference, where it received a best paper award.
In addition to serving as an Associate Chair for the ACM CHI conference for six years, and chairing the Irish SIGCHI chapter, he is a member of the European Chapter Leaders Committee and has recently joined the ACM Distinguished Speaker committee. He is running an ACM SIGCHI/EIT Health summer school on e-Health in June and August 2017 together with KTH in Stockholm.