People of ACM European Chapters - Taras Panchenko
August 15, 2017
Can you briefly describe your own line of research and how you became interested in this area?
My two major scientific interests are Business Intelligence (including Data Mining, Data Science etc.) and Formal Methods for software properties of correctness proof. I am interested in software correctness because of an obvious question: "Why are some software programs buggy?" Theoretical analysis can provide us with methods, which when applied in practice can sometimes yield great results. But, in other cases, it is too hard to use formal methods for a variety of reasons, including the skill level of the developers, tasks that are too hard, overly complex code, and so on.
With respect to Data Science, nowadays Data Analysis is a very promising area. It is a rather pressing topic because Big Data being gathered by businesses, governments, and IoT devices opens up tremendous possibilities to extract pieces of important knowledge and use it to make our world better and/or our future more predictable.
In your area of research, what recent advance/emerging subfield will yield important advances in the years ahead?
In the Formal Methods area of research, there is great potential in merging Formal Methods with development tools more tightly. We have the potential to make our development tools more valuable and easier to apply. But this is not an easy task, as we know from previous efforts--for example, from Microsoft's development of Visual Studio.
With respect to Data Science and Data Mining, many challenges in this field are due to the fact that it is a young field. I think different kinds of Artificial Neural Networks hold out promise for solving a lot of tasks, especially in business. I also believe that the tools, or really platforms (including frameworks), like OpenCV, will provide answers to several challenges in the years ahead.
Can you tell us a little about your chapter? How many members? What are your most important activities?
The Ukrainian ACM Chapter was founded in 2008. Now we have only 12 active members and 20+ active associates. But quality—not quantity—is the main factor in our case. We are organizing many events to raise the interest in different IT and CS fields. Our programs include public lectures from famous IT specialists, an algorithms club, meetups, scientific seminars, conferences, and ACM Celebrations.
Lately we have been organizing hackathons, which provide a collaborative work environment to address problems/projects for our country. And in this effort, the ACM Ukrainian chapter, working with the Hackathon Expert Group (led by me), is having success. Hackathons are not only informative and task-solving events, but they are great for networking, gluing together, and building the IT community here. Networking and pitch training sessions are the essential parts of the hackathons. Last year our hackathon on Machine Learning and AI in e-Health & OpenData was especially successful. We are going to do more such events in the future jointly with the Hackathon Expert Group.
Why do you think participation in an ACM chapter has been helpful for your career?
There are many advantages to being part of ACM. Besides having access to more resources and the best specialists in the fields, the community itself is the most valuable benefit. Conferences of European Chapter Leaders and other similar events are very important not only for me, but for the community as a whole. Networking and the sharing of ideas are crucial to success in our global world. After these events, we return home with many ideas that we can spread to the community. Here we can get the most from great inspirers of ACM like Virginia Grande, Boba Mannova, and others. To be successful, you need to be part of an active community. We all benefit by doing more, hosting great events and opportunities, and demonstrating openness to the world around us. Like in the famous song: "We all must plan our hopes together… Or we'll have no more future at all... Time waits for nobody!"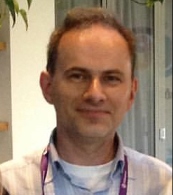 Taras V. Panchenko is an Associate Professor, Theory and Technology of Programming in the Department of Computer Science and Cybernetics at Taras Shevchenko National University in Kiev, Ukraine. He is also a co-founder of the Ukrainian IT company Infosoft Global Ltd. His research interests include Data Science, Data Mining, Web Technologies and Interoperability, and Formal Methods in Software Verification. Panchenko is a leader of the ACM Ukrainian Chapter.