People of ACM European Chapters - Kate Gabriel
February 20, 2018
Can you briefly describe your own line of research and how you became interested in this area?
As a child growing up in the 90s, it was inspiring to see all the new technology booming around us. Computers were becoming much more powerful and faster, and movies were becoming more believable thanks to the rapidly improving visual effects. As a child, I used to play around with 3D software on my parents' computer. Eventually, over the years, 3D graphics became my primary interest.
My career in film and TV production began in 2011 in Iceland, where I worked on a full CG stereoscopic feature film. Subsequently, whilst finishing my Master's degree, I worked as a freelance 3D Generalist in Finland. After graduating with a Master of Art in Fine Arts from the Jan Evangelista Purkyne University in Czech Republic, I moved to London to work on a full CG TV series. Currently I work in advertising as a 3D Generalist with specialisation in Lighting and Nuke Compositing.
In your area of research, what recent advance/emerging subfield will yield important advances in the years ahead?
We are constantly learning in our field due to the rapid development of the software that we use. Every day, 3D artists all around the world are pushing boundaries by delivering better and more realistic work. New rendering, lighting, modelling, capturing, and simulation techniques are making increased believability more achievable. Sometimes you can't even distinguish what is real and what is done in CG. I'm looking forward to the day when we will be able to achieve the same results in virtual reality (VR) or augmented reality (AR).
Will you tell us a little about the London SIGGRAPH Chapter?
The London ACM SIGGRAPH Chapter was chartered in May 2014. Since then, we've organised a wide range of over 70 highly successful events, ranging from film screenings with directors and VFX artist-led Q&As, to monthly networking gatherings of BYOA (bring your own animation), to social gatherings of drink & draw to conferences with up to 600 attendees.
We have been honoured to host events with inspirational speakers. To name just a few, our keynote speakers have included: Glen Keane, Animation Legend (Disney, Google); Travis Knight and Arianne Sutner, Director, Producer (LAIKA) for the screening of Kubo and the Two Strings; Simon Smith, Director of the Penguins of Madagascar (Dreamworks Animation); and Victor Perez (Spanish film director, screenwriter and VFX artist) premiering his short film Echo.
One of our most significant events of the year is Tech Talks: a three-day conference designed as a post-SIGGRAPH recap for London. During three evenings we welcome over 600 attendees, who are able to attend technical and artistic talks about groundbreaking new methodologies and cutting-edge technology and techniques, try out new state-of-the-art and emerging technologies (VR/AR, tablets, computers, etc.), and participate in the recruiting zone for those who are seeking job opportunities.
We've been organising Tech Talks since 2015, and we aim to continue hosting such events, conferences and workshops, and networking and social gatherings for the London SIGGRAPH community long into the future.
All our events are absolutely free to our members and the public, although our tickets go quickly, which is an added incentive to sign up as a member for early notification of ticket releases. We also aim to get special discounts to VFX conferences in Europe for our members. We currently have around 200 members.
What advice would you give to a younger colleague just starting out in computer graphics?
Our industry is very friendly, and people working in VFX are usually passionate about what they do. My advice for someone starting their career is to keep the passion that led them to join this industry. Attend industry social gatherings, conferences, and related events. These are always good ways for finding new friends, potential mentors and even important contacts, such as recruiters.
Also, stay up-to-date with the software that you use, and keep an eye on changing industry requirements. Last but not least, try to put 100% of your talent into any project you are working on, whether it is as a student or a professional. Good luck!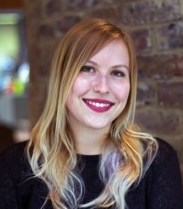 Kate Gabriel is a computer graphics (CG) specialist based in London currently working as a lighting technical director and nuke compositor. Kate began working in production in 2011 and has since worked on a range of projects including a full CG stereoscopic feature film, TV commercials, TV series and short films.
She has been recognised as an Artist of the Month by AREA, the CG community organization for Autodesk. She is the Chair of the London ACM SIGGRAPH Chapter, which organizes events for CG professionals and works to build partnerships with companies, universities and nonprofit organisations. Born in the Czech Republic, Kate also helps organise the annual VFX Conference in Prague.