People of ACM European Chapters - Marc-Oliver Pahl
March 20, 2018
Can you briefly describe your own line of research and how you became interested in this area?
My core research domains include the Internet of Things (IoT) and digitally-supported teaching.
The IoT implements pervasive computing, which in turn, means that computing becomes part of everything. It has been 25 years since Mark Weiser presented his vision of ubiquitous computing. After the age of mainframes and the age of personal computers, with the increased ability to program physical environments, the third computing revolution is arriving. I am working at the heart of this development, namely on system support for enabling the programming of all aspects of our technology-enriched environments to overcome today's isolated functionality silos. In particular, my research includes new service discovery and coupling techniques; the semantic modeling of relevant data to enable automated reasoning; autonomous behavior to reduce the complexity of the IoT; and providing suitable security for protecting user safety and privacy.
At the same time, I am constantly experimenting with new digitally-supported teaching methodologies. I am designing a new kind of massive open online course (MOOC) on edX, called "iLabX—the Virtual Internet Laboratory". My oldest and biggest teaching "playground" is the German computer networking lab courses "iLab—Build Your Own Internet" and "iLab—You Set the Focus". Since 2003, I have taught computer networks and distributed systems to more than 1,800 students.
In your area of research, what recent advance/emerging subfield will yield important advances in the years ahead?
I expect the research domain I am working in—namely new tools and methods for developing software for complex distributed heterogeneous systems—to yield important advances in the years ahead. An advantage of software over hardware is that it can easily be changed. Being able to program the physical surroundings will enable much quicker changes. What seems like science fiction today could become reality sooner than we expect—for example, having a holodeck that transforms at our fingertips.
I also expect strong advances in digital instruction. What started with MOOCs will yield even more potential. Digital teaching makes scientific knowledge not only broadly accessible, but a common good that will enable strong technical and societal advances, especially outside the classical frames such as universities. Both the IoT and digital learning are key technologies of digital transformation. Our society is changing and nobody can avoid participating.
I also have the pleasure to lead the activities of our 50 years German Chapter of the ACM celebration this year under the motto, "being human with algorithms". We are looking forward to fostering important discussions about the effects of digital transformation on society.
Will you tell us a little about the ACM Student Chapter at the Technical University of Munich?
The student chapter is relatively new. It was founded by a group of students at Technical University of Munich in 2016. The chapter organized several very successful tech meetups and hackathons. The meetup group has more than 1,000 members, and planning for the 50 years German Chapter of the ACM event series has begun.
As is probably typical for all student chapters, we face constant turnover in our active members. All 30 current members come from the three Munich-based universities as well as the Universities of Applied Sciences. Sabrina Friedl, Raphael Hoheisel, and I have started to reorganize the chapter by channeling our diverse activities more, and by initiating new community activities. We are always looking for new people. So we encourage people to get in touch, via our website, and our Facebook, YouTube, Meetup and github channels.
What advice would you offer a younger student/colleague just starting out in the field?
A challenge in IoT is that it covers many research areas. Mastering it requires deeper understanding of diverse areas. Therefore, identify a finite spot and focus on it before moving ahead.
My general advice is to be curious and follow your interests with passion. Advance in the directions you are most interested in. Communicate and collaborate often with others. It will help you to clear your mind, and bring inspiration.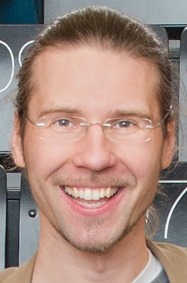 (Photo credit: TUM/Heddergott)
Marc-Oliver Pahl is a senior researcher and lecturer and leads the IoT Smart Space Orchestration team at the Chair of Network Architectures and Services at Technical University of Munich. His research interests include autonomous management of distributed systems, name-based management via P2P systems, edge-based IoT management, data analytics support (e.g., via machine learning or blockchain), use-case implementations and testbeds. He works on context data management, semantic modeling, and service management with a focus on interoperability, portability, usability, and security.
Pahl is also focusing on developing new teaching methodologies, e-learning, and learning analytics. For his teaching-related activities he received the Ernst Otto Fischer Award in 2013. He is a member of ACM and its German Chapter, and Faculty Sponsor of the ACM Student Chapter Munich. He currently leads the organizing committee of the 50 Years Celebration of the German Chapter of the ACM, and runs the IFIP/IEEE DOMINOS workshop at NOMS 2018.