People of ACM European Chapters - Maria Roussou
July 31, 2018
Can you briefly describe your own line of research and how you became interested in this area?
The trajectory of my research and scholarly work is interdisciplinary, building on my educational background in computer science and the electronic arts, and a professional career that involves working primarily with, and for, institutions of informal learning (such as museums and cultural centers) on all things digital. All along, I've been interested in understanding how and whether interactivity—a key component of our use of applications, devices, and immersive digital environments—can make a difference, for example creating an enhanced experience or even fostering conceptual learning and the construction of meaning.
I realized early on that I was not interested in technology per se, but in bringing forth greater insight on how we can design digital tools, systems, and experiences that can benefit people, address their everyday concerns, support their creative thinking and aspirations, and engage them.
In your area of research, what recent advance/emerging subfield will yield important advances in the years ahead?
I see promising future advances in research that lies at the intersection of human-computer interaction (HCI), data science (big data, data visualization), and artificial intelligence (machine learning).
With virtual reality's recent resurgence and imminent mass consumption due to inexpensive headsets, I believe the understanding of how humans interact in immersive virtual environments regains relevance. So I expect there to be further advancements in building immersive interactive systems and user experiences that bring in affective computing to trigger multiple different senses.
Will you tell us a little about the ACM Greek SIGCHI Chapter?
The chapter (also known as GrCHI) was established in September 2008 and has more than 100 members. We've been organizing networking gatherings and events each year. Our most notable annual event is linked to World Usability Day and takes on different flavors depending on each year's theme. We have also been honored to host events with inspirational speakers by leveraging the ACM Distinguished Speakers program.
A significant initiative of GrCHI is the recent establishment of a national Usability Observatory, which aims to pinpoint the shortcomings of public service websites and products while offering best-practice usability and accessibility guidelines. A unique area of activity for GrCHI has flourished in the context of our treasured surroundings. Our country's rich archeological and cultural heritage means that much of the HCI work done here explores techniques and applications that aim to enhance UX and visitor interaction with digitized cultural collections.
What advice would you offer a younger colleague just starting out in the field?
Be curious and open to new and different ideas, people, and contexts. This is critical, since human-computer interaction, especially, is rooted in disciplinary diversity and collaboration.
Take time to reflect on your personal achievements and strengths—but work also on your challenges, and develop your critical thinking and reasoning skills.
Volunteer, and take advantage of the many opportunities available through your school, work environment, ACM, etc., for repeated practice.
Finally, as cliché as it may sound, persevere! High self-efficacy is the essential path to reaching your full potential and realizing your dreams.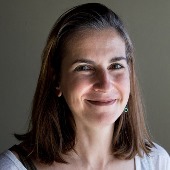 Maria Roussou is an Assistant Professor in Interactive Systems at the University of Athens. She has been working with immersive virtual reality and its applications in education and culture since the early 1990s. She has authored or co-authored over 90 publications on topics related to virtual reality and education, digital heritage, and virtual archeology.
She has been the Chair of the ACM Greek SIGCHI Chapter since 2011. She also serves as the Vice Chair of the new Greek ACM-W Chapter (chartered in July 2018).