People of ACM European Chapters - Shaimaa Lazem
September 25, 2018
Can you briefly describe your own line of research and how you became interested in this area?
My research domain is HCI, which is the discipline concerned with designing, implementing, evaluating, and studying interactive systems. My research aims at designing novel technologies for, with, and by marginalized communities. I particularly focus on embracing and accommodating the aspirations and specificities of these communities in the design of the interactive systems they will be using. This mainly stems from my interest in the ideas of indigeneity and decolonization of technology design. Computing technologies emerged and thrived in the West, and the interaction design discourse is dominated by Western assumptions about infrastructure and socioeconomic and political norms. My work attempts to understand technology in the eyes of local designers and indigenous communities.
I became interested in HCI when I started my PhD, as I only took core computer science and engineering courses during my undergraduate and Master's degree studies. I was fascinated by the fact that HCI is an interdisciplinary field that integrates knowledge from engineering, science, design, and humanities areas. I believed that this is the way forward to address complex societal challenges.
In your area of research, what recent advance/emerging subfield will yield important advances in the years ahead?
I think internet of things (IoT) and blockchain technologies could potentially lead to a transformative impact on the lives of marginalized communities, provided that these technologies are made accessible and comprehensible to them. IoT provides rich building blocks that have the potential to enable rural communities to integrate technology into their everyday lives, such as monitoring weather, water, soil, plants, and animals. Blockchain could lead to financial inclusion and fairer economies by creating digital and economic identities for those who are currently excluded from banking and legal systems. Communities are good at figuring out ways of devising sustainable solutions to their local problems. An important first step is to give these communities access to digital technologies, and it is even better if these technologies become integrated throughout their environments. The latter requires the expertise of HCI researchers.
Will you tell us a little about the Cairo ACM SIGCHI Chapter?
CairoCHI started with 20 founding members: 16 of them are academics and four are user experience (UX) designers. Six of our members are currently pursuing postgraduate HCI degrees abroad. We hope to recruit more UX professionals down the road.
Our activities focus on two strands: increasing awareness of HCI and of UX generally in the Egyptian innovation ecosystem; and strengthening and supporting the local UX community. Our events are open to students, academics, practitioners, and entrepreneurs.
This is our first year, as we were approved by ACM last February. We are planning two events, which we hope to repeat every year. We are launching CairoCHI this year with a community-building event, which will feature an ACM Distinguished Speaker from the HCI domain: Elizabeth Churchill, the director of User Experience at Google. We are very excited about exposing the local community to a top researcher who has a previous history working in a number of well-known companies and launching successful products. The event will additionally include discussions about the status of the HCI/UX field in Egypt, and interactive activities to facilitate community networking.
The second event is our Bachelor projects competition. The event's goal is to initiate a conversation with the information and communications technology (ICT) industry about the set of HCI and UX skills needed to enable social technology innovations. The event invites recently graduated computer science students from all Egyptian universities, whose graduation projects aim at producing social impact, to present their work in front to a jury of HCI academics and ICT industry representatives. The winning three teams will be awarded financial prizes provided by local companies.
How is chapter membership beneficial for members?
The chapter is an open platform that connects Egyptian HCI academics and UX professionals, and links local HCI/UX communities to the international ACM SIGCHI ones. Our networking events are focused on helping members who seek mentorship, advice, and/or collaboration. We work to introduce CairoCHI members to the plethora of resources, funding, and networking opportunities provided by ACM and SIGCHI that support lifelong learning.
Moreover, our members get exposure to two regional HCI movements, to which CairoCHI is well connected: AfriCHI, and ArabHCI. The HCI/UX communities in the Arab and African regions are still in their infancy, yet growing steadily. Our members can benefit from exchanging their experiences and building partnerships with individuals from both regions.
This year, CairoCHI joined forces with three other African ACM SIGCHI chapters in Namibia, Kenya, and South Africa to offer an ACM SIGCHI sponsored summer school in November that will discuss designing for marginalized African communities. Further, CairoCHI members participated in a workshop discussing Designing with Arab Communities that was hosted by the ACM conference on Human Factors in Computing Systems (CHI 2018).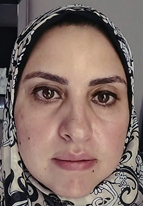 Shaimaa Lazem is an academic researcher at the City of Scientific Research and Technology Applications (SRTA-City), a research institute in Alexandria, Egypt. At SRTA-City she established a research program in human-computer interaction (HCI). Her research interests include participatory design, cross-cultural collaborations, post-colonial computing, and decolonizing HCI. Her previous projects included designing low-cost education and health technologies and applying learner-centered and flexible learning pedagogies for teaching computer science and HCI.
Lazem has experience working with rural communities. She is the Egyptian lead of a UK-Egypt project to engage Egyptian Bedouins in self-documenting their intangible heritage using mobile phones. She was recently awarded the Leaders in Innovation Fellowship with the Royal Academy of Engineering in London to design an archival platform for marginalized communities to self-document their indigenous knowledge. Lazem is the Chair of the Cairo ACM SIGCHI Professional Chapter in Egypt (CairoCHI) and the Co-founder of the ArabHCI community.