People of ACM European Chapters - Zerina Mašetić
November 6, 2018
Can you briefly describe your own line of research and how you became interested in this area?
My research focuses mainly on big data analytics. The analysis of the huge amount of data being produced every day by various businesses and user groups leads to creation of a system that helps in decision making and prediction processes. Currently, with my colleagues, I have been working on the development of a system that will automate the process of medical device verification, which will be especially helpful in institutions in Bosnia and Herzegovina.
My interest in this research field arose when I started my Master's studies and continued throughout my PhD studies. I was lucky to work with people who share the same passion for the data analytics and decision-making fields. One of the interesting aspects of this field is its interdisciplinarity. It is always interesting when you can provide solutions to problems in various disciplines. In this way, knowledge and experience are being exchanged between the parties involved, and the benefit is mutual.
In your area of research, what recent advance/emerging subfield will yield important advances in the years ahead?
With the production of a huge amount of data every day and in every business, big data analytics has become an evolving field with huge potential. Moreover, analytical understanding of the data is crucial in this research. The applicability of big data analytics leads to an increase of interdisciplinarity in the research and this is what we focus on most—developing solutions for problems in various fields and industries. Impacted industries include biomedical fields, banking and finance, and many others. I believe that the benefits of data analytics will only increase in the coming years.
Will you tell us a little about the ACM Student Chapter at International Burch University?
The chapter was founded in 2016 by the group of enthusiastic students and their professors. The chapter has four official ACM members and around 30 members who participate in organizing various activities. Some of the activities organized by the chapter include a free programming school for high school students, a startup competition where winners had a chance to launch their own company; and a series of motivational lectures and IT-related workshops. Additionally, the IBU ACM Student Chapter founded the first e-sport league in Bosnia and Herzegovina, PlaysBa, to promote e-sport in the country. As part of this effort, we organized several local area network (LAN) competitions featuring different games.
We aim to extend our activities further over the next few years, through organizing events that will reach more people and strengthen our cooperation with local and international IT companies.
What is an important piece of advice you offer your students about pursuing a career in computing?
I always advise my students to embrace all the challenges that they encounter in their computing career, even though they might not be simple. I encourage them to invest more time and effort to overcome obstacles; seek advice from peers and mentors; and be creative in developing any solution.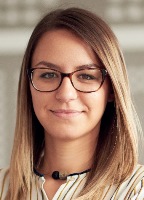 Zerina Mašetić is an Assistant Professor in the Department of Information Technologies at International Burch University, Bosnia and Herzogovina. Her research interests include data analytics and machine learning. She serves as the faculty advisor for the International Burch University ACM Student Chapter.