People of ACM European Chapters - Fabio Paternò
January 8, 2019
Can you briefly describe your own line of research and how you became interested in this area?
My main research area has been in the design, development and evaluation of interactive technologies through the integration of the user's point of view with engineering concerns. What attracted me to such research was its potential to have an impact on society, people and their daily lives, and the opportunity to work in multidisciplinary environments (in this case with engineers, cognitive psychology experts, and designers, among others). Another interesting aspect of this research area is the possibility of deepening and intertwining both theoretical and practical innovative aspects.
My work has aimed to contribute to methods and tools to support user interface designers, software developers, and end users in obtaining systems that can be accessed from different contexts of use to improve usability, accessibility, and user experience. I started with a PhD in the area of formal methods in HCI, then I considered model-based design and development I wrote a book on this topic Model-Based Design and Evaluation of Interactive Applications.
I pioneered investigations on automatic support for usability evaluation. I supervised a blind PhD student and became interested in web accessibility and associated validation tools. I worked on the design of one of the first museum mobile guides--thus I became interested in mobile HCI--and then in particular in cross-device and migratory user interfaces. At some point I found it important to extend the usability concerns in the development phase, and so together with some international colleagues, we started studies, projects, books, and conferences in end user development. Recently, we've focused on the application of end-user development to IoT and applications in robotics.
In your area of research, what recent advance/emerging subfield will yield important advances in the years ahead?
We are going to live in environments characterized by the presence of dynamic sets of devices, people, objects, and robots. We will need methods and tools that empower even those who are not professional developers to personalize their applications by exploiting such dynamic resources to better meet their specific needs and preferences. This implies that such approaches should be able to consider the events and conditions associated with the users, the technology available, the surrounding environment and the social relationships—and allow end users to determine the best way to react to them. Such methods should be able to hide the complexity of the many technologies involved and highlight the main conceptual aspects that need to be understood and manipulated through intuitive metaphors and programming styles.
Will you tell us a little about the Italian ACM SIGCHI Chapter?
The chapter was started in 1996 to unite the efforts of the Italian researchers working in this area in order to raise awareness in the academic and industrial communities of its importance from both a scientific and social viewpoint. We have a mailing list for sharing information and discussions that involves about 400 people. Its most important activity is the biannual conference, where the accepted papers are written and presented in English, and are then published in the ACM Digital Library. We have also created a list on the Web of all the available Italian university courses in HCI.
What advice would you offer a younger colleague just starting out in the field?
The field of human-computer interaction is exciting and challenging, since it is multidisciplinary and requires both creativity and rigorous methods. Working in this area also promotes better understanding of people and technologies and improving their interaction. Information and communication (ICT) technologies continuously evolve but pose new problems regarding how to better support their users—and so the contribution of young colleagues willing to invest considerable efforts will be fundamental to solving them!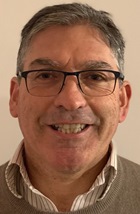 Fabio Paternò is Research Director at Istituto di Scienza e Tecnologie dell'Informazione (C.N.R.-ISTI) in Pisa, Italy. At C.N.R.-ISTI he founded and leads the Laboratory on Human Interfaces in Information Systems. His research work is in user interface software and technologies, aiming at designing languages, models, tools, and applications that better support the user experience. Over years he has worked on ubiquitous interactive systems, end-user development, adaptive user interfaces, accessibility, and model-based design. He has published more than 250 papers in refereed international conferences or journals.
Paternò was Papers Co-chair for ACM CHI 2000 and has chaired or co-chaired various other conferences including ACM EICS and Mobile HCI. In 2020 he will serve as Co-chair of ACM Intelligent User Interfaces (IUI). Paternò recently finished a term as Treasurer of the Italian ACM SIGCHI Chapter.