People of ACM European Chapters - Seref Sagiroglu
November 7, 2019
Can you briefly describe your own area of research within computer science and how you became interested in this area?
I have been working in the field of computer science and engineering and focusing on issues such as information and cybersecurity, software engineering, big data analytics, data science, intelligent system modeling, identification and control, machine and deep learning, biometrics, smart grids, web-based technologies, IPv6, 5G, etc. My interest in the field started during college and continued throughout my postgraduate years. Since that time, I have been focusing on solving challenging computer science and engineering problems and developing engineering applications.
What are some interesting recent advances in your field that will have impact in the coming years?
Nowadays, artificial intelligence, machine learning, deep learning, cybersecurity, big data analytics, data science, computer vision, Digital Twin, 5G, IoT, IPv6, SDN, post-quantum cryptography, and blockchain are the hottest topics in the literature. In the coming years, I expect AI and AI-based developments will be more effective in computer engineering and applications.
Our university and department are focusing on most of these issues. For example, our department has organized and supported activities such as the International Conference on Information Security and Cryptology, the International Conference on Computer Science and Engineering and the 5G Summit-Istanbul, among others.
Will you tell us a little about the Gazi University ACM Student Chapter?
The chapter was just founded in October of this year. There are about 3,000 students studying ACM-related topics (computer engineering, electrical/electronic engineering, information security engineering, forensic science, smart grid, etc.) at the University, and we have 16 chapter members so far. We have not organized any activities yet but we are planning to do so soon. We would like to organize programs that support colleagues and students on subjects inlcuding artificial intelligence, machine learning, deep learning, cybersecurity, big data analytics, algorithms, and programming. Specifically, events such as a career day, seminar, hackathon, symposium, and a "capture the flag" will be our focus.
Why did you decide to start an ACM Student Chapter at Gazi University?
Technology today provides many opportunities to society―not just students. The application and implementation of computer science is what is behind these technologies, so studying computer science opens up many avenues. ACM is one of the few international organizations that not only supports students, but plays an important role in establishing communication and interaction throughout the field.
More important, ACM helps students by providing them with tools to improve their skills; training them to work as a team; introducing them to the latest scientific developments; and inspiring them to undertake new projects.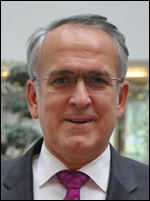 Seref Sagiroglu is a Professor of Software Engineering and head of the Computer Engineering Department at Gazi University in Ankara, Turkey. He has authored over 250 publications (including serving as the author and/or editor of more than 20 books) on a broad range of topics inlcuding data science, big data analytics, artifical intelligence and cybersecurity.
He has also organized more than 50 national and international events and/or conferences as Chair, Co-chair or organizing committee member. Sagiroglu has served as President of the Turkish Science and Research Foundation and of the Information Security Association of Turkey. He is the faculty advisor for the newly-formed Gazi University ACM Student Chapter.