People of ACM European Chapters - Letizia Jaccheri
March 19, 2020
Can you briefly describe your own line of research and how you became interested in this area?
Since I earned my Master's thesis 30 years ago, I have worked at understanding how software is developed. My PhD thesis was about software process modelling. For many years, I worked with my students to collect empirical data about software development and make sense out of the data. We study interdisciplinary processes at the intersection of software development. We are interested in topics such as the intersection between art and software, social innovation and software, and children and software. For example, we have been studying how to design software to prevent child marriage globally, or how to design software that enhances physical activity for people with intellectual disabilities.
In your area of research, what recent advance/emerging subfield will yield important advances in the years ahead?
In his book, 21 Lessons for the 21st Century, author Yuval Noah Harari wrote that humanity is facing two main challenges in addition to nuclear war. These two challenges are climate change and technological disruption—especially the rise of artificial intelligence and bioengineering. Climate change and its consequences will provide enormous challenges to society over the next several decades. Society needs to address these challenges, both by mitigating the changes and by adapting to them. Climate action is one of the 17 UN sustainable goals (Goal 13) and my assumption is that climate change cannot be understood in isolation, but in the context of the other goals.
These challenges will demand new knowledge about software engineering processes that will enable us to better understand the relation between technological disruption and climate change and to develop intelligent software that will have positive effects on the UN sustainable goals, see for example Goal 5 ("gender equality"), when we design software to prevent child marriage or Goal 3 when we study software that enhances physical activity for people with disabilities.
Will you tell us a little about the Trondheim ACM-W Chapter?
The chapter has just started and, for the time being, is a spinoff from a bigger project that embraces all the STEM disciplines at our university. I aim to involve all the women of the CS department (30 people). I am the project manager of this effort, which is called IDUN. One of our most important goals of the chapter will be starting up a mentoring program.
What advice would you offer a younger colleague just starting out in the computing field?
My advice is to say "yes" to new things. For young professors, I would also advise them to invest in their relationship with their students. Nobody becomes famous because she or he wants to become famous. You become famous if you are generous with your knowledge, time, and energy. Of course, you have to follow the rules and publish, write project applications, and teach your courses. But, in addition, you have to say yes to what inspires you. And remember to build a network of people that will support you scientifically. If something goes wrong, do not despair about your mistakes, but repair your mistakes.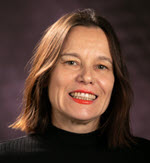 Letizia Jaccheri is a Professor of Computer Science at the Norwegian University of Science and Technology (NTNU) in Trondheim, Norway. Her research interests include software engineering, entertainment computing, computational creativity, and information and communications technology (ICT)-enabled social innovation.
Jaccheri will be serving as the Doctoral Consortium Chair for the ACM Interaction Design and Children Conference (IDC), to be held (virtually) from June 17-24. An ACM Distinguished Speaker, she was also named Chair of the recently-formed Trondheim ACM-W Chapter.