People of ACM European Chapters - Öznur Özkasap
February 11, 2020
What is the main focus of your research and how did you become interested in this area?
My research is focused on distributed systems and reliable networks. I am leading the Distributed Systems and Reliable Networks (DISNET) Research Laboratory at Koç University, and we conduct projects in areas ranging from energy efficiency in distributed systems and software-defined networks, peer-to-peer systems, bio-inspired distributed algorithms to cloud storage and computing, mobile and vehicular ad hoc networks, edge computing, and security in distributed systems.
I became interested in this research area while I was conducting my MS thesis on scheduling algorithms in distributed real-time systems. My PhD dissertation was on reliable multicast protocols in distributed systems focusing on the aspects of scalability, throughput stability and efficient buffering. I was very fortunate to be advised by Ken Birman (Cornell University) and Turhan Tunalı (Ege University) during PhD, and Kayhan Erciyeş (Ege University) during MS. I was really inspired by my advisors' vision and insights on technologically significant distributed systems research areas that support applications in various settings such as smart cities, stock exchanges, health care, air traffic control, intelligent transportation and smart grids.
In your area of research, what are some exciting developments that are transforming the field?
Through several developments in distributed system technologies, such as edge computing, software defined networks, blockchain, information centric networks and the Internet of Things (IoT), the field is being transformed by new solutions that are increasingly robust, efficient, scalable, reliable and secure. For instance, integration of machine learning (ML) techniques for enabling intelligent decisions in software defined networks and edge computing is a very promising and active research area. Distributed edge intelligence is becoming increasingly significant since processing large amount of data in the cloud is not always efficient due to the reasons such as bandwidth and delay constraints, security, energy consumption and fault tolerance.
As another active research direction, energy efficiency has emerged as one of the most important design requirements for modern large-scale distributed systems and peer-to-peer services, which are regularly used by large number of users and generate a remarkable portion of the overall Internet traffic. Furthermore, various ad hoc networks have pivotal roles in the context of the Internet of Things and with applications in smart cities and peer-to-peer energy trading. For such networks, mechanisms for efficient and secure data aggregation, potentially with the support of blockchain technology, and enhancing data availability have become crucial system design considerations.
Will you tell us a little about the Ankara ACM-W Professional Chapter?
ACM-W Ankara is the first ACM-W Professional Chapter established in Turkey, in August 2019, with the aim of carrying out the ACM-W mission to support, celebrate and advocate for the full engagement of women in all aspects of the computing field, and becoming a model for the future ACM-W Professional Chapters in Turkey. Our goal is to provide a landscape where students are supported and inspired to pursue their dreams and ambitions to find fulfillment in the computing field. ACM-W Ankara aims at organizing events and acting as an umbrella organization for the existing ACM and ACM-W Student Chapters in the country. It has been initiated by academicians of three universities, namely Koç University, Middle East Technical University and Bilkent University, and has currently around 50 members.
As our main event, we plan to organize the first Grad Cohort Workshop in Istanbul this April, in partnership with the inzva algorithm community. The aim of the workshop is to encourage the sustainability of the number and academic level of women in computer science research by establishing a community and an efficient networking system that will support them through their graduate studies. Our initial programs will provide platforms for networking, motivating and encouraging women in computing. ACM-W Ankara also plans to extend its target by including students at the undergraduate and K-12 levels in the future.
What advice would you offer a younger colleague just starting out in the computing field?
Select a research area that you enjoy working in, be dedicated to excellence in your work, follow the developments in your field closely, be a continuous learner and conduct high-quality research that will ultimately lead to significant contributions. I also believe that, in academia, integration of research and education is very important, and that is why I would advise commitment to teaching that promotes critical thinking in students by presenting them with challenging practical projects.
To achieve goals and be successful, I would also emphasize the significance of being persistent, conducting curiosity-driven research, going out of your comfort zone, being on interdisciplinary teams, inspiring others, and collaborating and networking. Above all, trust yourself, follow your dreams, develop new ideas, and contribute to the discoveries in computer science.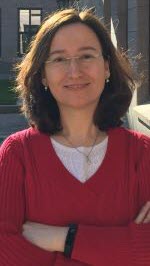 Öznur Özkasap is a Professor of Computer Engineering at Koç University, Istanbul, Turkey. Her research interests include distributed systems, peer-to-peer systems, energy efficiency, mobile and vehicular ad hoc networks, and security in distributed systems. Ozkasap's papers have appeared in several high-impact journals in her field, and she has published more than 100 research papers. She received The Informatics Association of Turkey Prof. Aydın Köksal Computer Engineering Science Award in 2019.
Özkasap is an Area Editor of the journal Future Generation Computer Systems. She received the Best Paper Award at the 16th IEEE International Conference on Pervasive Intelligence and Computing (PiCom 2018). She is the Technical Program Co-chair of the Third International Workshop on Intelligent Transportation and Connected Vehicles Technologies (ITCVT 2020) and Publicity Co-chair of the Second International Workshop on Intelligent Cloud Computing and Networking (ICCN 2020). She is a member of the Center for Gender Studies at Koç University Management Board, and the Vice Chair of the Ankara ACM-W Professional Chapter.