People of ACM - Mikki Rose
July 30, 2019
What are the biggest challenges and rewards of your role at Blue Sky?
I create hair and fur grooms for 3D characters, trying to match artwork provided by designers while also creating a character asset that will be functional for artists down the pipeline from me to work with. To break that down a little more, that means that my job is to take a bald 3D model, be it a humanoid character, animal, or sometimes even prop or environment pieces, and put hair or fur on it, shaping it to look like the character design. It can definitely be challenging! I think one of the hardest parts of my work is marrying the stylized look of a character with the motion that we need to convey in order to tell our story.
So many times we groom a character into a perfect look and then apply realistic forces like gravity, wind, and so on, only find that it once that happens it looks off-model, or wrong. In order to avoid that outcome, we simulate gravity and motion during the grooming process, showing the character both animated and in a static pose, so that notes are being directed to the character as it will be seen in the film.
What is an emerging area of computer graphics and animation that you are especially excited about?
There are a couple of big things on the horizon for my industry. The first that comes to mind is virtual and augmented reality, which at this point isn't necessarily emerging anymore, I would say it's here! There is still a long way to go on price point of equipment needed for this before it becomes a truly mainstream media form, though, so I suppose that is still a fair question. I think immersive storytelling is the future we're heading toward, be it feature-length or short film type projects, games, or even just basic communication. I can't wait for the day when every household has a decent VR setup so that we can feel present with friends and family around the world while we watch movies, play games, or even just hang out in shared space with one another. I would really like to dive in and work on content for this technology, but so far I'm just a user!
The other area that I foresee making a big impact on graphics and animation is artificial intelligence. This could revolutionize the type of work I do, making it easier and faster, and freeing me up to spend more time on the very specialized, artistic aspects of my job.
What is new and different about this year's SIGGRAPH conference?
We have a big schedule change to announce this year, our Monday Night @ Live extravaganza! At SIGGRAPH 2019, the Computer Animation Festival Electronic Theater will be taking place offsite at the Microsoft Theater near the conference venue. This will be an awesome setting to network with connections old and new, while grabbing a bite to eat and sipping a drink under the downtown lights.
We also have a brand-new program we're debuting: our Adaptive Technology focus area. The goal for this program is to highlight content throughout our conference that helps people in their everyday lives, particularly those with alternate ability levels. Throughout the years, we've seen research in the realm of computer graphics and interactive techniques strike a chord in this area, so this year we actively sought it! In its introductory year, we intended to focus primarily on installations in the Experience Hall with physical applications on-site, though we were pleased to find that several contributions to our technical papers, talks, panels, and courses programs also touch on this topic. Throughout our program guides you will see adaptive technology content called out next to programming that fits this focus. We also have an interactive touchscreen centered in the Experience Hall for attendees to use to explore the content in an interactive way on-site.
Additionally, for the first time ever, we will be presenting some of our SIGGRAPH conference awards as part of the Monday morning opening ceremony alongside presentation of the ACM SIGGRAPH organization awards. Those include Best in Show honors for Immersive, Emerging Technologies, Art Gallery, Art Papers, and all three Computer Animation Festival awards. The ceremony will also induct the latest class of SIGGRAPH Academy honorees and present the first-ever Distinguished Educator Award as well as the prestigious Steven A. Coons Award.
Last but not least, I am particularly proud that SIGGRAPH 2019 will be providing childcare to attendees for children between the ages of 6 months and 12 years old. What's more, we are able to do so by charging just $5 USD per child for the conference week. With this offering, we hope to make it easier for parents of young children to attend the conference, as well as to expose children to computer graphics and interactive techniques at a young age. Children who grow up watching role models interested in computer science participating in our community will spark their own interest in STEAM subjects. We'll be here waiting for them when they do!
Last year, SIGGRAPH welcomed 14,000 attendees from 73 countries. Why is SIGGRAPH a "must-attend" event for people working in your field?
It's a "must-attend" event because it is where our community comes together to showcase cutting-edge research, learn from each other, and get inspired all over again. There are countless fantastic experiences, installations, talks, sessions, and panels to attend, but the real reason people should attend SIGGRAPH 2019 in person is for the community.
We are all about our people and that is truly the biggest thing you will miss out on by not attending the conference in-person. You can read this year's papers in the ACM Digital Library, but you can't hear the passion in the presenter's voice or ask questions of the authors unless you're there physically. You can watch some of the shorts, VFX breakdowns, advertisements, games, and real-time renderings from our Electronic Theater and Real-Time Live! shows online, but you won't have the same shared reaction if you're not there to watch among several thousand of your peers. You may be able to download some of the VR/AR installations we're showcasing in the Immersive Pavilion or VR Theater to try at home, but you won't get to experience it with other like-minded individuals and interact with the creators. People come to SIGGRAPH to be part of our community!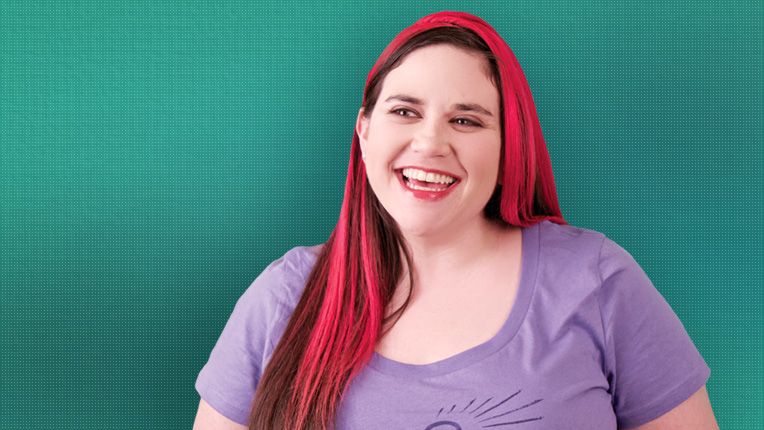 Mikki Rose is a hair and cloth specialist who works in visual effects at Blue Sky Studios, a film animation studio based in Greenwich, Connecticut. She creates realistic computer simulations of everything from hair, fur and cloth to feathers and vegetation. Recent films Rose was involved with for Blue Sky include "The Story of Ferdinand," "Ice Age 5," and "The Peanuts Movie." She holds BS degrees in Computer Science and Digital Animation from Middle Tennessee State University, as well as an MFA in Digital Production Arts from Clemson University.
Rose began attending SIGGRAPH conferences in 2002 as a student volunteer, and has since held many volunteer roles, including Production Sessions Chair in 2016. She is serving as General Conference Chair for SIGGRAPH 2019, which takes place in Los Angeles from July 28 to August 1.