People of ACM - Rob Parke
September 8, 2020
You have a diverse professional background that includes roles as a web developer and audio engineer. What led you to your current position teaching computing at the university level?
I feel fortunate to have had some disparate professional experiences that have all been challenging and rewarding in different ways. I had worked in web development and information technology starting in high school and then throughout college. When I finished graduate school, I took a risk to pursue audio engineering, which is a passion of mine. I learned from some wonderful mentors and it was creatively and technically rewarding.
I had wanted to be a professor when I was in college, but I wasn't sure how to pursue that after being out of school for a few years. Fortunately, I discovered a faculty training and teaching internship program through the Los Angeles Community College District. I was accepted into the program and it was extremely helpful, covering everything from high-level concepts such as learning theories to nuts and bolts topics such as how to make a syllabus. Like many future faculty, I was an adjunct instructor at Santiago Canyon College for a few years until my former undergraduate advisor told me about an opening in the Information Technology program at USC. I've been teaching here for eight years now, and it is a wonderful place to teach.
Will you discuss your own physical disability and how it has impacted your career?
I was born with Osteogenesis Imperfecta (OI), which is a genetic disorder that affects collagen, and is often called "brittle bones." It results in a host of physical challenges including fractures, short stature, and breathing issues; unfortunately, many infants with severe cases do not survive. Growing up, I was fortunate to have access to outstanding medical professionals, but I experienced almost 100 fractures and 25 surgeries as a child. This meant I could spend weeks in the hospital and months at home recovering, unable to move around, so using computers became something I really enjoyed and could do while being stationary. As I learned to build and repair computers, it was empowering, and I eventually began tutoring others. While I did love computers (and math) in high school, my disability had a significant impact on my major choice and career in another way. Since I use a wheelchair for mobility, I knew I needed a career that would be more sedentary and didn't require movement, lifting, sitting at tall lab benches, etc.
When it came time to look for jobs, a new set of challenges arose related to my disability. My top considerations were "Does it offer excellent insurance?" (since before the Affordable Care Act, a pre-existing condition prevented me from qualifying on my own); "Is the workplace completely physically accessible or will they be accommodating?" (for example, I couldn't get around at some interviews); and "Will I have to travel?" (I love traveling but it is very taxing and the accessibility of unfamiliar locations is not a given). It would have been great if those first two considerations weren't so prevalent in my mind, but as I've progressed in my career, I've realized how important they were. Due to my disability, I experience chronic pain and there might be times in a day, for example, that I have to rest in my car or lie down under my desk in between teaching. I love teaching, and I work very hard, but I also need an employer who understands and is willing to make accommodations—thankfully, USC has been great in that regard.
I share all this to convey some of the added cognitive processing, workplace considerations, and challenges I have faced with my disability. However, it is important to realize that someone with a different disability might have an entirely different set of challenges. Furthermore, someone with a marginalized ethnic or racial identity who is also disabled may find that this intersection adds even more cognitive burdens and external barriers.
What is an important first step we could take to make the technology field more welcoming for people with physical disabilities?
I spoke with friends and colleagues in reflecting on this, because people with disabilities are not homogenous—for example, the experiences of someone in the Deaf community are different from my own and vice versa.
One common theme that arises is lack of awareness around accommodations. If potential students or employees can't physically navigate spaces or they are made to feel guilty for asking for accommodations (e.g., "relocating the office would be difficult" or "that adaptive technology is expensive"), they will likely go elsewhere. This also connects with the decision of whether or not to disclose one's disability. In many situations there are still real and perceived negative consequences to disclosure. It is the choice of the person with a disability to disclose, but imagine how welcomed they would feel to find a school or workplace that already implemented universal design or already had programs in place for accommodations—not because someone disclosed or had requested them, but because it was the equitable, inclusive thing to do. Organizations can start by educating themselves now about disabilities and potential accommodations even before someone applies, and they can then engage in open dialogues with each individual to constructively address their specific needs.
In many fields (especially academia), a related issue involves travel, since conference attendance for graduate students and faculty is vital for career advancement and networking. However, the physical toll of travel as well as the uncertainty of car, air, hotel, and conference accessibility is a barrier. Undergraduates with disabilities can have similar concerns as they seek summer internships, which are important for professional and technical growth.
More work needs to be done to ensure the accessibility of programming tools, as well as the inclusion of people with disabilities in product design teams. Some block-based (drag and drop) environments, as well as integrated development environments (IDEs) can be difficult for certain users with fine motor challenges or who use voice inputs. More broadly, an important way for people with disabilities to enter the technology field is to have technology that is actually accessible to use. Companies need to hire people with disabilities and then build and design products with them. Not only does this lead to products that are accessible, it also results in products that are better and more usable for all.
What advice would you give a younger colleague who (for whatever reason) does not see enough people like her/himself in the field but would like to pursue a career in technology?
The most important thing I would say to those people is "You belong here—we need you." I know it is challenging and discouraging when you feel excluded perhaps because of ability, ethnicity, sexual orientation, religion, age, socioeconomic level, or any other reason, but technology can only serve and benefit all people when it is made by and reflective of all people. There are too many examples of failures of technology because people with diverse perspectives and background were not included in designing and building.
Secondly, come to Tapia! Sorry for the shameless plug, but one of the things I love about Tapia is how it celebrates and supports people who typically do not see themselves when they look around their schools, professional networks, or media portrayals of technology. My first year at Tapia, it was really uplifting to be in a space full of people with disabilities, people who are Black, Latinx, and Native American, women, and the intersection of all those—students and professionals alike, supporting one another. I hadn't seen that in classrooms, and I hadn't seen that at companies. Separately, I would also encourage them to seek professional mentors and networks through affinity groups at schools or organizations, or to reach further out through places like LinkedIn. Find mentors and advocates that reflect their identity and also allies who can support them.
There are many conversations happening right now regarding social justice and equity. Do you see connections between the disability rights movement and these conversations?
Yes, I see it through standing in solidarity and advocacy. I recently learned about the history of the disability rights movement in the 1970s and 1980s through a documentary called Crip Camp: A Disability Revolution. Unfortunately, I knew very little beforehand about this struggle for equal rights, protections, and accommodations. The ability to live and thrive today that people with disabilities have, that I enjoy, would not have been possible without the sacrifice and struggle of so many. The film also presents activists as full people—passionate and engaged—and not (as is often the case) fragile people whose depiction begins and ends with their disability.
The film depicts the struggle to compel the federal government to announce regulations that would prevent any program that received federal funding from discriminating against people with disabilities (a precursor to the Americans with Disabilities Act). At one point, over 100 activists with disabilities staged a 28-day sit-in at a federal building in San Francisco, until finally the government complied. During the sit-in, various groups committed to civil rights rallied in support—including gay rights activists and some churches—and the Black Panthers provided meals to sustain the activists.
I was deeply moved and inspired to see this coalition of activists supporting one another in a cause for justice. When some of us are oppressed and marginalized, it affects all of us. There is a movement now, an opportunity, to address the painful legacy of inequities and violence against the Black community; people with disabilities should stand in solidarity, not when someone has a disability, but always, because it is just, equitable, and valuing of people's dignity.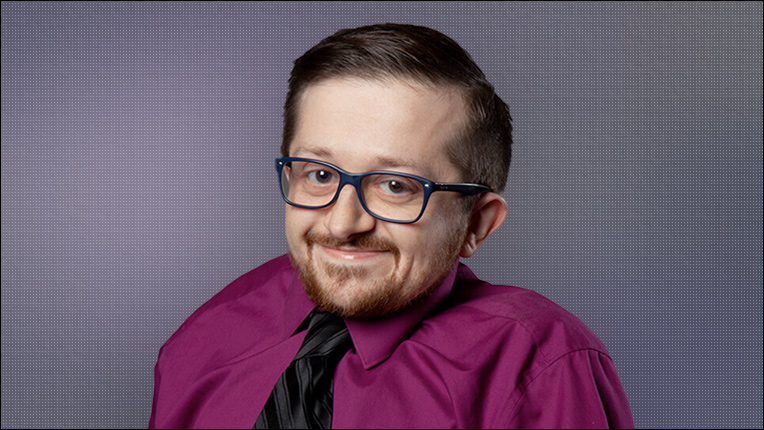 Rob Parke is a Senior Lecturer at the University of Southern California (USC) in the Information Technology program. He teaches courses on introductory programming, mobile development, and physical computing/Internet of Things. He recently established the Connected Devices and Making minor degree program to teach non-engineering students to create internet-enabled hardware devices, serves as lead faculty for the introductory Python programming course, and has also created courses in Android development.
He has a strong interest in inclusive teaching practices and has been active in issues of equity at USC through senate governance and leading workshops on unconscious bias. He is the Program Chair for this year's ACM Richard A. Tapia Celebration of Diversity in Computing, which will be held virtually from September 16 to 19.