People of ACM - Ponnurangam Kumaraguru
February 22, 2022
What is the unique focus of the Precog Research Group, which you founded and lead at IIIT Hyderabad?
With the increasing use of technology and the Internet, there are lots of changes happening in human behavior and society (both good and bad). We study and use technology to address societal real-world problems. There are also plenty of topics and problems relevant to India that are still underexplored. Our group brings a unique blend of CS as well as cultural and linguistic perspectives to address these challenges.
We study and analyze behavior in a wide range of platforms and contexts, including Twitter, Facebook, Reddit, Koo, selfie taking, farmers, e-commerce services, fake news, hate speech, code-mix content, the stock market, and online payments. Our goal is to build solutions for the social good. Our work primarily derives from the fields of data science, computational social science, statistics, machine learning, and natural language processing.
One question that we regularly ask ourselves for the projects that we work on is, "Can we explain the project to a relative that might not be familiar with computing? Are they able to understand and relate to it?" This pushes us to make our research relevant, accessible, and inclusive to all.
I have been fortunate to have amazing students. We make all the data, code, papers, slides, and artifacts from our research public at Precog website.
On a side note, many have asked me about the research group name, "Precog." In 2005 or 2006, when I was working on my PhD, I watched the movie Minority Report. I was fascinated by the capabilities of "Precog Agatha," one of the important characters in the movie. When I came back to India in 2009 as a faculty member, my fascination with prediction and precognition led me to use the name "Precog" for the lab I was starting. Many of the research questions that we have addressed in the last 12.5 years were inspired by the crime-related themes that were explored in Minority Report.
Why is it important for academics to imagine how their research could be incorporated into usable technologies or prototypes?
Research should ideally operate on two levels: on one level, it should result in the advancement of science (more theoretical), and on the other level, it should result in practical applications. As researchers, we should understand the importance of both. Theoretical advancements and practical applications strongly complement each other.
When faculty convert their research into usable technologies, there are multiple benefits. We (the researchers) understand the problem and solution better. At the same time, industry can keep track of the research outcomes and use the best outcomes to build products. We all know that research which yields clear code, a functioning system, and public artifacts gets more attention.
I frequently say to my students, "we should pick problems to work on and build solutions, which will be used by someone, somewhere, someday." Keeping this in mind, we have been fortunate to have had our work integrated into industry, government, NGOs, general users, and other academics. We regularly work closely with all these partners and collaborators. We strive to solve problems that catch popular imagination without sacrificing scientific rigor.
If we can train the next generation of researchers to ask questions and get inspired by things around them, we will be putting them in an excellent position to solve real-world problems later on.
Every professor or researcher should try to spend some time as part of their professional growth in a private company or a non-governmental organization (NGO) or a relevant government organization. My career has benefited enormously from working in industry and government during my winter and summer breaks.
Why is Computational Social Science exciting for you and would you recommend it to more researchers?
My students and I have been able to attack some very interesting problems from a computing / data science perspective (e.g. studying what the user behavior was, using social media data, etc.). However, we did not understand the reason for why the behavior was what it was. This was the tipping point for me to start looking at more social theories, interact more with social scientists, and work with computer science students who are also interested in such topics.
I find computational social science (CSS) fascinating, as it allows me to work at the cusp of computing, data science and social science ─ which can be a great domain in solving real-world problems. Given the growth of digital data, there are a plethora of applications in healthcare, business, law, etc. for CSS to contribute. Those of us who work in this area create a tangible difference and see our work's impact.
This Spring, I am teaching a full credit course on CSS at IIIT Hyderabad. We have 186 students registered for the course. I hope, by the end of the semester, students will appreciate how applying social science methods to the computer science discipline can help solve real-world problems. In terms of the broader field, I also hope to see more energetic youth from both computer science & social science (and beyond) join the CSS community and create a positive impact in the world.
How is being a member of the ACM India Council beneficial to Indian students? How do you see the ACM India Council growing in the coming years?
I was super thrilled to become a member of ACM India Council in July 2020. I was very keen on exploring my ideas for developing PhD students, researchers & faculty, as well as increasing the visibility of ACM India on social platforms. I had proposed these two ideas as part of my ACM India Council elections manifesto. I was very happy to see the Council embrace these ideas in my 1st Council meeting and recommended I implement them. In the last 18 months, we are seeing the fruits of many of the Council's initiatives. We launched the PhD Clinic, an initiative to connect faculty to PhD students. This effort has garnered great momentum and appreciation. I am delighted that it is helping students across the country to get feedback and improve their PhD work. Recently, we have started getting compliments from students relaying that attending the Clinic helped them complete their comprehensive exam and finish their thesis, etc. I had written a blog capturing details on how this random idea of "tindering" (assisting) has aided PhD students across India.
ACM India had limited social media presence in July 2020. I was happy to volunteer to help put together a committee with faculty and industry representatives who are active on social media to help raise the visibility of ACM India activities. Thanks to our committee members, we now have accounts on Twitter, Facebook, LinkedIn, Instagram, and YouTube. All these accounts receive a lot of traffic and interact with students and others regularly. Our growing social media presence is helping our initiatives reach a wider audience and is helping more students, professionals, and researchers to connect with us.
I am incredibly happy to be amongst some of the prolific researchers & faculty from India who are members of the ACM India Council. With every interaction I have with my colleagues on the ACM India Council, I learn something new.
At the same time, because of COVID, many programs that we started as part of the council have had limited engagement recently. I am looking forward to more council activities when things get back to normal.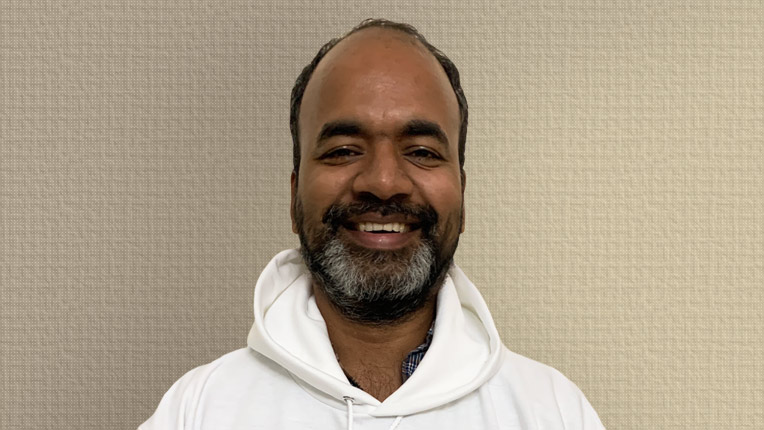 Ponnurangam Kumaraguru "PK" is a Professor at the International Institute of Information Technology (IIIT) Hyderabad (India). His research interests include computational social science, social media analysis, cybersecurity, and online privacy. His PhD thesis from Carnegie Mellon University helped form a company, Wombat Security Technologies, which was later acquired for $225 Million.
PK is an ACM India Eminent Speaker, an ACM Distinguished Speaker and was recently selected as an ACM Distinguished Member for outstanding engineering contributions to computing. He is Chair of the Publicity and Membership Committee of the ACM India Council. PK also spearheads ACM India's programs on improving the quality of Ph.D. students in computing in India. These efforts include a PhD Clinic and the Anveshan Setu Fellowship.