Digital Library Recording Requirements
Updated September 2018
Recording, File Format, Permission and Submission Requirements for Conference Video/Audio Recording and Streaming for Inclusion in the ACM Digital Library
RECORDING:
To record one or more presenters
Use a single stationary camera
Use a Picture-in-Picture capable video mixer to display both presenter and slide content. This video mixer should allow the capture of a direct video feed from the source that is feeding the projector, or as an output from the projector. Approximately ¾ of the final image should be occupied by the projector source and ¼ by the camera feed. The final image can vary slightly based on slide content.
Output recorded material on any standard media (DVD, digital)
Label all media clearly with date, time, and session information
Equipment should be ordered through the conference AV provider or the video production vendor the conference is utilizing
FILE FORMAT
Convert each recording to a Quick Time Movie format (.mp4 or .m4v) optimized for streaming. The Video Codec is H.264 and the Audio Codec is AAC+ or AAC. MPEG4 PART 10 or AVC. The final file size should be at least 400 x 300. However, ACM can accept larger files.
Generate each presentation as its own separate file - that is, each video file should contain one presentation only.
Place the ACM logo at the opening of each video. ACM logos can be found in our style guide at the link: http://identitystandards.acm.org/styleguide/
A spreadsheet (see Page 2) containing information about all videos must be submitted along with the files. For each video, it should list the filename, title of presentation, name of presenters/authors, duration (in seconds), and DOI/object ID of the corresponding paper in the proceedings Table of Contents (TOC). If the video is not related to a proceedings article, instructions must be provided on where the video is to be placed in relation to the articles within the proceedings TOC. Video submissions that do not include this spreadsheet will be returned to sender.
Submit 2-3 sample videos for file format approval by the ACM Publications Manager prior to completion of the videos
PERMISSIONS
Authors opt in or out of video recording when they complete the ACM eRights Form. This form is distributed to the authors by ACM's eRights system shortly after paper acceptance. The Conference Chair is required to request from the ACM Rights Form contact a list of authors and corresponding proceedings articles that have opted out of video recording. This list should be provided to the Videographer.
The Videographer must secure a signed Permission and Release Form for any individual (presenter, moderator, panelist, keynote speaker, etc.) appearing on media who is not an author of a paper.
OWNERSHIP
All content captured is owned by ACM and may not be distributed by other means, unless express permission is given by ACM.

SUBMISSION OF MATERIALS:

Files can be submitted via the ACM ftp server, or on DVD(s) or disk drive(s)

To upload videos to the ACM server:

Go to: ftp://pubftp.acm.org
uid: public
pw: a!g%#hj

Collect all files (including required spreadsheet) into one zip file and upload.
Once the upload is complete, send notification emails to Craig Rodkin, ACM Publications Manager: rodkin@hq.acm.org, and to Anna Lacson, Bibliographic Processing Coordinator: lacson@hq.acm.org.

DVDs or disk drives must be mailed to:

Anna Lacson, Bibliographic Processing Coordinator
Association for Computing Machinery
2 Penn Plaza, Suite 701
New York, NY, 10121-0701

Video files submitted via snail mail must be accompanied by the required Release Forms. This separate packet should be addressed to Barbara Ryan, Intellectual Property Rights Manager.

Scans of release forms may also be emailed to rightsreview@hq.acm.org.

Sample Template for Video File Spreadsheet

| | | | | |
| --- | --- | --- | --- | --- |
| File Name | Presentation Title | Name(s) of Presenters/Authors | Duration (in seconds) | DOI or Object ID |
| | | | | |
| | | | | |
| | | | | |
| | | | | |
*This spreadsheet must be submitted along with the video files.

*A copy must also be sent electronically to Craig Rodkin and Anna Lacson, at the email addresses indicated above.
For Practitioners
ACM Queue's "Research for Practice" is your number one resource for keeping up with emerging developments in the world of theory and applying them to the challenges you face on a daily basis. RfP consistently serves up expert-curated guides to the best of CS research, and relates these breakthroughs to the challenges that software engineers face every day. In this installment of RfP is by Nitesh Mor, a PhD candidate at UC Berkeley working on the next generation of globally distributed computer systems with a special focus on data security and privacy. Titled "Edge Computing," this RfP gives an overview of some of the most exciting work being done in the area of computing infrastructures and applications. It provides an academic view of edge computing through samples of existing research whose applications will be highly relevant in the coming years.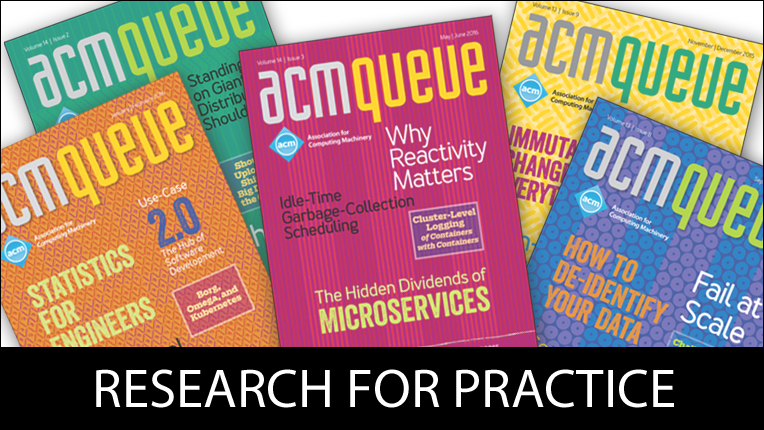 Written by leading domain experts for software engineers, ACM Case Studies provide an in-depth look at how software teams overcome specific challenges by implementing new technologies, adopting new practices, or a combination of both. Often through first-hand accounts, these pieces explore what the challenges were, the tools and techniques that were used to combat them, and the solution that was achieved.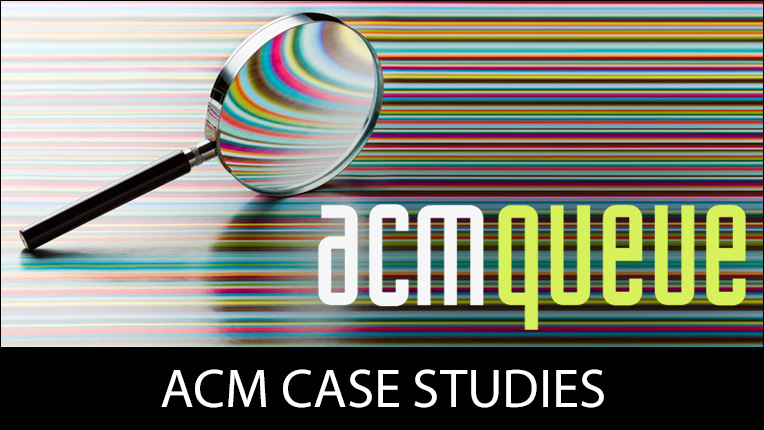 Why I Belong to ACM
Hear from Bryan Cantrill, vice president of engineering at Joyent, Ben Fried chief information officer at Google, and Theo Schlossnagle, OmniTI founder on why they are members of ACM.