The Association for Computing Machinery, Inc.
2 Penn Plaza, Suite 701
New York, New York 10121
Copyright © 2016 by the Association for Computing Machinery, Inc. (ACM). Permission to make digital or hard copies of portions of this work for personal or classroom use is granted without fee provided that the copies are not made or distributed for profit or commercial advantage and that copies bear this notice and the full citation on the first page in print or the first screen in digital media. Copyrights for components of this work owned by others than ACM must be honored. Abstracting with credit is permitted.

To copy otherwise, to republish, to post on servers, or to redistribute to lists, requires prior specific permission and/or a fee. Send written requests for republication to ACM Publications, Copyright & Permissions at the address above or fax +1 (212) 869-0481 or email permissions@acm.org.
For other copying of articles that carry a code at the bottom of the first or last page, copying is permitted provided that the per-copy fee indicated in the code is paid through the Copyright Clearance Center, 222 Rosewood Drive, Danvers, MA 01923.
Notice to Past Authors of ACM-Published Articles
ACM intends to create a complete electronic archive of all articles and/or other material previously published by ACM. If you wrote a work that was previously published by ACM in any journal or conference proceedings prior to 1978, or any SIG Newsletter at any time, and you do NOT want this work to appear in the ACM Digital Library, please inform permissions@acm.org, stating the title of the work, the author(s), and where and when published.
ACM Queue's "Research for Practice" is your number one resource for keeping up with emerging developments in the world of theory and applying them to the challenges you face on a daily basis. In this installment, Dan Crankshaw and Joey Gonzalez provide an overview of machine learning server systems. What happens when we wish to actually deploy a machine learning model to production, and how do we serve predictions with high accuracy and high computational efficiency? Dan and Joey's curated research selection presents cutting-edge techniques spanning database-level integration, video processing, and prediction middleware. Given the explosion of interest in machine learning and its increasing impact on seemingly every application vertical, it's possible that systems such as these will become as commonplace as relational databases are today.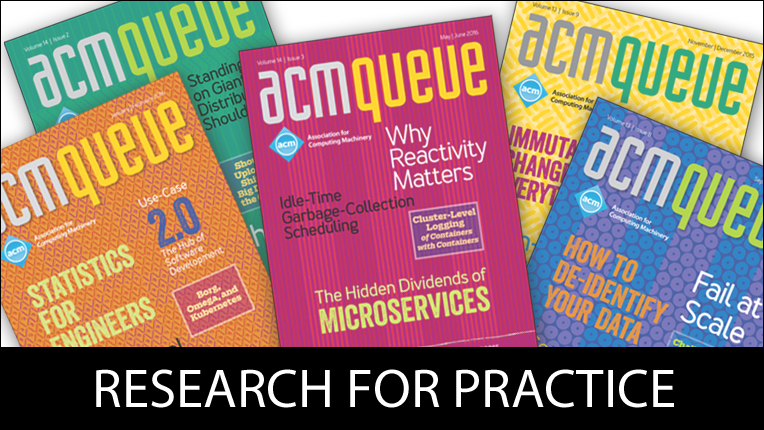 Future State
ACM AiDecentralized is a practitioner-oriented conference focusing on the intersection of Artificial Intelligence and Blockchain. The event will feature some of the world's top experts moving these technologies forward, including ACM A.M. Turing laureate Silvio Micali, Nobel Peace Prize recipient Iraki Beridze and former Wikimedia Foundation Chief Executive Lila Tretikov. The conference will be held in Toronto on May 22. Register now!
Why I Belong to ACM
Hear from Bryan Cantrill, vice president of engineering at Joyent, Ben Fried chief information officer at Google, and Theo Schlossnagle, OmniTI founder on why they are members of ACM.