Free Public Access to SIG-Sponsored Proceedings around the time of the Event (OpenSurround, OpenTOC)
Reviewed April 2018
The ACM Digital Library will provide free global access to ACM and SIG-sponsored proceedings for up to two weeks prior and subsequent to the event, provided that:
All sponsoring entities approve, and

Notice of the intended publication date is given in the Call for Papers
The official publication date will be the date the proceedings are made publicly accessible.
Permanent Access
ACM SIGs may authorize the posting of Open Tables of Contents (OpenTOC) of their scheduled upcoming sponsored conference proceedings with Author-Ized links enabling free full-text downloads from the ACM Digital Library.
OpenTOCs may be kept permanently on the conference website or the SIG website. The SIG must decide which website(s) to use.
The sponsoring SIGs may choose OpenTOC for the upcoming volume (rolling off after 12 months), or a permanent OpenTOC that remains perpetuity (effective as of 2014) on the chosen site(s) to build up a local series archive, or no OpenTOC at all.
For co-sponsored conferences, all co-sponsors must agree to the OpenTOC posting and each co-sponsor may choose its own website(s).
*NOTES:
ACM HQ must be informed of the website(s) where OpenTOC will be stored at minimum of three (3) weeks' prior to event by the designated contact person for each conference.

ACM HQ will prepare and deliver the OpenTOC to the designated contact person for each conference.

If the SIG authorizes posting the OpenTOC, the designated conference leader should carry out that decision for each given volume of proceedings.

If a SIG authorizes a permanent OpenTOC for a given volume, rather than a rolling annual OpenTOC, it is advisable to place it on the site where it is most likely to be maintained.

Full-text downloads from the ACM Digital Library via OpenTOCs, Author-Izer, OpenSurround, OA, SIG membership, and Free articles are all being tracked and will be regularly reported to the SGB separately from downloads via subscription.
For Practitioners
ACM Queue's "Research for Practice" is your number one resource for keeping up with emerging developments in the world of theory and applying them to the challenges you face on a daily basis. RfP consistently serves up expert-curated guides to the best of CS research, and relates these breakthroughs to the challenges that software engineers face every day. In this installment of RfP is by Nitesh Mor, a PhD candidate at UC Berkeley working on the next generation of globally distributed computer systems with a special focus on data security and privacy. Titled "Edge Computing," this RfP gives an overview of some of the most exciting work being done in the area of computing infrastructures and applications. It provides an academic view of edge computing through samples of existing research whose applications will be highly relevant in the coming years.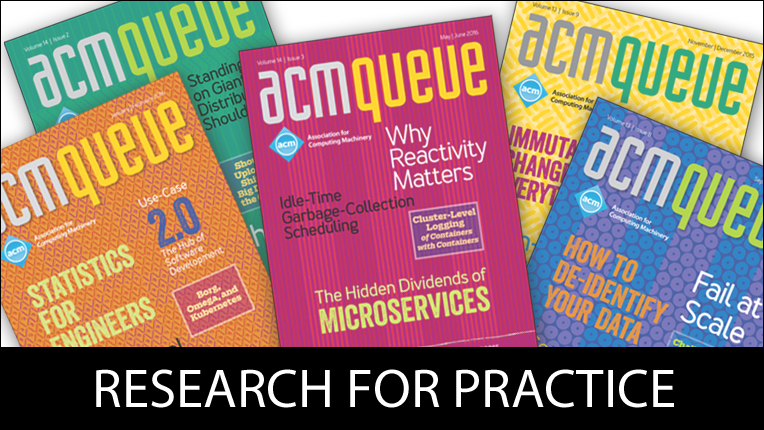 Why I Belong to ACM
Hear from Bryan Cantrill, vice president of engineering at Joyent, Ben Fried chief information officer at Google, and Theo Schlossnagle, OmniTI founder on why they are members of ACM.
Written by leading domain experts for software engineers, ACM Case Studies provide an in-depth look at how software teams overcome specific challenges by implementing new technologies, adopting new practices, or a combination of both. Often through first-hand accounts, these pieces explore what the challenges were, the tools and techniques that were used to combat them, and the solution that was achieved.